The future of internet access is here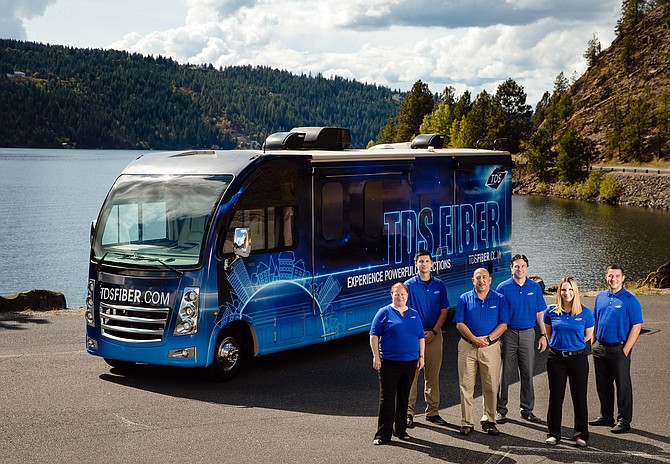 TDS brings fiber-optic internet to Kootenai County
From dial-up to DSL to cable, internet technology has continued to improve. The most advanced evolution of internet access has come to Kootenai County, courtesy of fiber internet company TDS.
Fiber optics refers to technology that transmits data through thin strands of flexible fiber, usually glass or plastic. It's the most efficient delivery technology for the internet. Fiber is capable of producing more speed, bandwidth and reliability for home and business connections than other technologies.
"When the fiber network is complete, TDS will deliver up to 1 Gigabit internet speeds which will provide exceptional bandwidth for businesses and residents," said Jim Butman, president and CEO of TDS.
TDS is highly selective about where they choose to build fiber, Butman said. These communities checked all the boxes: It's a rapidly-growing, increasingly tech-savvy area with many telecommuters and even more wireless devices in homes.
In June, TDS began building an anticipated 700 mile fiber-optic network through the region. The goal is to install a "future-forward" infrastructure that can accommodate the technologies of today and tomorrow.
"We're committed to investing in the communities of Coeur d'Alene, Post Falls, Hayden and Rathdrum," said Erin Danz, director of marketing. "Residents deserve a choice for better internet, TV and phone services.
"Communities of all sizes should be connected," Danz said. "That has been the TDS way for 50 years."
Much of modern life depends on internet access, and not just for entertainment. Many people work from home, homeschool their kids or take online classes for personal and professional development. Others may rely on telemedicine. Searching for jobs, paying bills and other day-to-day functions are largely done online.
While internet access is essential, speed and reliability are important. In fact, Butman said, research shows that property values rise in areas with high-speed broadband availability.
"I'm blown away by how accepting people have been of TDS coming to the area," said Dana Marsh, associate manager of field marketing. "It's amazing how interested people are in the options we provide."
TDS is also interested in local talent. The company has hired more than 26 positions locally and plans to bring many more jobs to the area by 2022.
Marsh said that TDS is working to learn what matters most to the people who live in the area. TDS is looking to be part of the community and has joined all four local chambers of commerce and participated in a number of community events, including Coeur Fest, the North Idaho State Fair and Gem State Rodeo. Employees have also volunteered with the Boys & Girls Club of Kootenai County. Marsh said TDS is looking to support other local charitable organizations.
"We're excited that the area has so many nonprofits," Marsh said. "The community helps its own."
With certain Coeur d'Alene neighborhoods expected to receive services as soon as November, TDS is now preparing for the grand opening of the new TDS Fiber retail location in Coeur d'Alene. Open to the community, residents will have the chance to demo products, win prizes and get answers to their questions.
The three-day grand opening event will take place Oct. 3-5, at 2834 N. Ramsey Road, Suite 109 in Coeur d'Alene.
Residents who have questions can stop by the retail store now or visit TDSFiber.com to register for services and learn more about TDS.