Hello, Rathdrum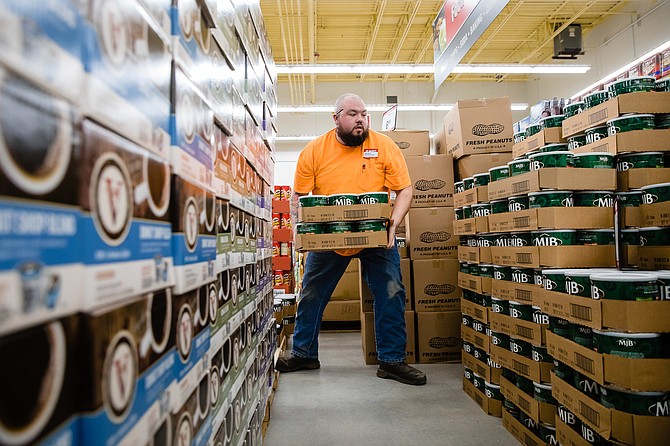 Bi-Mart marks 65 years in the Northwest at new location
After establishing itself throughout the Northwest, Bi-Mart is putting down roots in North Idaho.
The retailer's 80th store is in Rathdrum, at 16102 State Highway 41.
65 years of savings
The first Bi-Mart opened in Yakima, Wash., in 1955, in the garage of one of the original founders. Only open a few hours a week at first, business continued to grow until the store moved to its present location on Fifth Avenue. Since then, Bi-Mart has steadily opened stores throughout Oregon, Washington and Idaho.
In recent years, Bi-Mart opened stores in the Idaho cities of Weiser and Emmett, and then to Kuna, Star and Caldwell. The retailer also has stores in Cheney and Deer Park, Wash.
About 2,500 families in North Idaho already had Bi-Mart memberships before the retailer opened a North Idaho location. It simply made sense for Bi-Mart to expand to rapidly-growing Rathdrum.
"We've built Bi-Mart on the Rathdrums of the Northwest," said Don Leber, Vice President of Advertising and Marketing.
The store is committed to serving communities in this region, with no plans to expand outside it.
"We're all about the Northwest — the items you're going to look for and need for your lifestyle," Leber said. "We feel we can better serve people in the Northwest."
Northwest lifestyle
Each Bi-Mart is stocked with more than 40,000 items in a range of departments, including automotive, hardware, housewares, sporting goods, lawn and garden, toys, food and snacks, clothing and shoes, electronics, health and beauty and more.
These items are specially chosen to suit Northwest lifestyles — and pocketbooks. Bi-Mart takes a "deep discount" approach to merchandising brand-name goods. Additionally, customers don't have to buy in bulk in order to save.
"We've got the right mix of goods and values every day," Leber said. "With our size and scope, we're different from other boxes."
Bi-Mart is a membership store, which means customers "join" Bi-Mart after paying a one-time fee of just $5. This membership covers all family members living in a home.
"That's your membership for a lifetime," Leber said.
Those who already have Bi-Mart memberships are asked to transfer their membership for free to the Rathdrum store in order to receive a free welcome package and be eligible for special offers.
Each Tuesday is Lucky Number Day at Bi-Mart. Rathdrum membership numbers are posted, which means local members can win prizes.
Existing members can also bring guests into the store to check out Bi-Mart's offerings.
Part of the community
As a regional retailer owned by its employees since 2004, Bi-Mart is in a unique position.
"It's all built around being part of the community and serving them," Leber said.
"Employee-owned" isn't just a descriptor. It's part of the company's culture.
Bi-Mart employee/owners generally stay with the retailer for 15 years or more, Leber said. This speaks to employee satisfaction — and leads to customer satisfaction, since Bi-Mart employee/owners often get to know their regular customers.
The retailer also gets involved with local-nonprofits in the communities where they open stores. In 2019, more than 90 percent of Bi-Mart employee/owners participated in supporting the United Way.
Money spent in Bi-Mart stores also stays in the area. The retailer sponsors local schools, athletics, music and arts programs and more.
All told, Bi-Mart and its employee/owners give back more than $1 million throughout the Northwest each year.
"We are grass-roots driven," Leber said. "We're going to support the communities that support us."
Bi-Mart will employ around 40 people at the Rathdrum store.
For the first time in its history, Bi-Mart did not have a grand opening celebration and event to mark the opening of a new store.
Leber said that, in light of recent events, Bi-Mart believes it's most important to open the store without fanfare so residents can take care of their daily needs.
"In these unprecedented times, we believe that the more we share and fight this together, the better it will be for everyone," he said.
For more information, visit www.bimart.com.