Spring means serious green for tree-trimming industry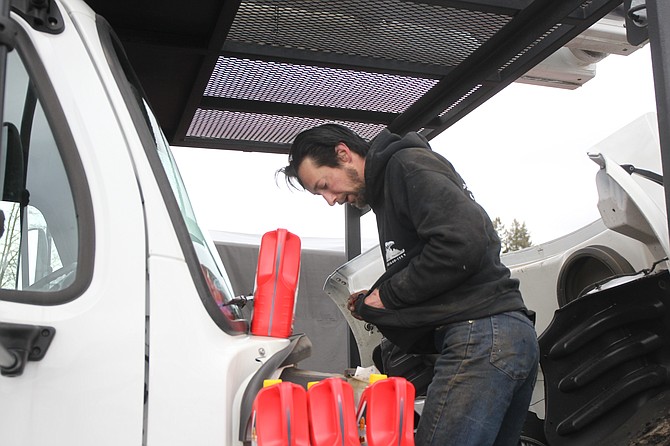 Greg Assade of Rathdrum examined the bottom shelf at O'Reilly's in Hayden with troubled concern as he debated the price and merits of an aluminium oil pan.
"It's not a steel one," he said before he spent three full minutes explaining the nuances between the two. He said staying competitive in the tree service business means a willingness to invest.
The 29-year-old is trying to join the ranks of one of the most physically demanding — and, if successful, most lucrative — industries in the area. The Missouri native made his way to North Idaho in late 2016 to work a series of lumber jobs from the Panhandle to northern Washington. When his father died last June, Greg inherited an early-2000s Kenworth truck, complete with a knuckleboom crane. He didn't know the kind of asset a knuckleboom crane could be, not until he finally picked up the truck in January. The knuckleboom bends near the middle, allowing for it to stretch along awkward angles. It's a perfect tool for reaching narrow pockets surrounded by immovable obstructions.
Such as tree branches.
"I think having the right equipment is just the start," Assade said. "I thought that would be enough. But I've had several months, and I'm already behind."
Getting ahead and staying ahead can lead to unparalleled success in the tree service game, particularly in Idaho. While many smaller trees can be trimmed at more moderate prices, some tree trimming jobs can run more than $1,000, depending on circumstances. Add to that external force of mandated tree maintenance along certain areas in Coeur d'Alene, and prices rise even higher. Once tree canopies begin to bloom, tree services across North Idaho reach a fever pitch to earn the business of local residents.
Assade said he took the heavy truck without realizing the cost of its winter upkeep. Sitting idle in his driveway costs money. Keeping the engine from seizing costs money. Everything about it costs money. It's a common problem for any business that uses heavy equipment, but it's substantially more significant for the tree service industry, which thrives along the wooded streets and slopes of North Idaho during the summer but goes quiet around the first snow.
Brian Peirano knows the winter tree service season well. The Hayden resident has been a trusted hand for Don Taylor Tree Service in Hayden for the past eight years. Before that, he worked the industry in Pennsylvania.
"[The manufacturers] regulate we change the oil every 45,000 miles," he explained, "but the way we use these trucks, we need to change it a lot more than that...You take this to a shop, they'll want $400 to change the oil, easy."
Peirano said he sympathizes with Assade's plight. With little to no income coming in during the winter months, the tree service teams have to pitch in to survive in the hopes of seeing a payday come spring. He pointed to each and every spot on the truck that he'd grease later on.
"It's more grease fittings," he said. "All the pivot points on this have to be greased. There's 36 of them, and that's not even the U-joints. That's just the boom."
Taylor said maintaining that truck is a small but expensive piece of a bigger puzzle he is always trying to solve.
"One of my biggest challenges during the downtime is getting all that equipment maintenanced," he said. "It costs between $1,000 to $2,000 to maintain each one over the winter. Multiply that times 15, and it gets costly."
That cost is the normal price under normal circumstances in a $24 billion industry.
"The other day," Taylor said, "we did about $2,000 in maintenance. The day before, we had both bearings go out in my truck. That one piece of equipment cost me about $6,000."
It's a price Taylor offsets by having qualified people working for him. Having his own team work on his trucks, chippers and equipment when possible satisfies two needs at once.
"I have great people working for me," he said. "One of the things I do is retain my employees. I try to keep them doing jobs as much as possible in the winter. I purposely schedule jobs in December, January and February for some of the dormant work we have. When March comes and the community needs more tree service work done, it's a big relief. That's really the start of the season for us."
While maintaining the vehicles over the winter is a necessary task, Taylor said it often isn't enough for some workers.
"I try to keep my staff happy as much as possible," he said. "One thing I always do is an end-of-year bonus. That just kind of helps keep everyone surviving. And we'll do some work in the winter months, but we try to diversify a little: use our assets and get creative."
That side work includes odd jobs like plowing snow, something Taylor said has become an industry standard simply because of the absence of tree work in the winter.
Now that spring has returned, tree canopies will once again begin to bloom. For some of the hardest-working laborers making their marks in a seasonal industry, it can't come fast enough.