'Recruit locally, operate globally'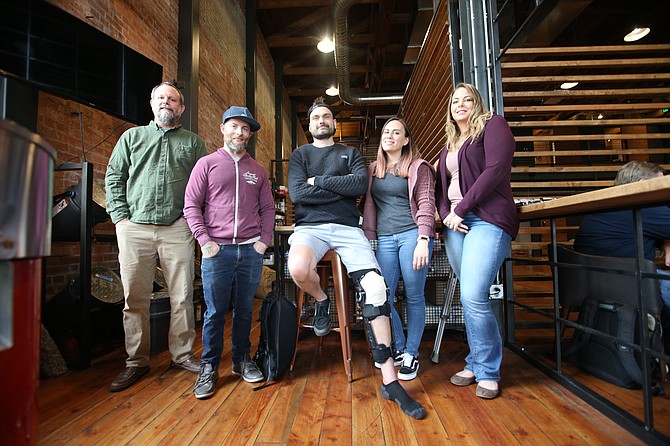 POST FALLS — When Leon Josaitis and Josh Hotsenpiller met in the high school jazz band in the '90s, they didn't know it was the beginning of what would become a lifelong friendship and business partnership.
Hotsenpillar was learning about 3D animation, while Josaitis studied web development. The pair combined their skills to create animated websites, at a time when Flash animation was just getting off the ground.
"This was the genesis of all our work together," Josaitis said.
Years later, after meeting Tyler Fouche, the three created CrowdHub, a digital agency for mobile apps and online connections with clients that include HP and the United Nations.
Then the COVID-19 pandemic hit, and the entrepreneurs were faced with a question: What happens when live events are infrequent, impossible or transforming?
The answer was JUNO, a new digital events platform.
Launched in the summer of 2020, JUNO connects companies and their customers around virtual events.
"We took the tools we made at CrowdHub and leveraged them to handle live interaction and an ongoing 365 platform," Josaitis said.
JUNO's client partners include the American Academy of Family Physicians, the Network of Executive Women and the American College of Emergency physicians.
JUNO assisted the Northwest Council for Computer Education (NCCE) in virtually staging its annual meeting and trade show in March 2021, a four-day event with 250 breakout sessions.
"We needed a digital event platform that could capture the look and feel of our in-person experience online," said Bobby Myers, NCCE director of operations. "With JUNO's team and technology, we did exactly that."
More people attended the virtual event than the live event the previous year. JUNO also attracted speakers from a larger geographic area than previously possible, as well as a record number of sponsors.
The venture began with a few clients who had previously worked with CrowdHub.
"They rolled the dice on us and it was successful," Josaitis said. "Now we're on this meteoric rise that's hard to stay on top of."
JUNO has grown to more than 50 employees in the past six months.
For a while, Josaitis was hiring a new developer every two weeks. He expects another 50 employees to come on board within the next year, including more developers, product designers, production artists, tech support and others.
Recruiting talent from the Northwest is a priority.
"Our goal is recruiting locally while operating globally," Fouche said.
In that regard, JUNO is well on its way. The company has launched events in China, Dubai and the United Kingdom, in addition to the United States.
"It's an exciting time," Hotsenpiller said. "Knowing we can make an impact, not only with jobs here at home, but in connecting people globally."
Even as in-person events become normalized again, digital and hybrid events are here to stay — and JUNO remains in a position to help people connect across distances.
"The events industry is transforming and we intend to be at the forefront with virtual events, hybrid events and digital experiences for our partners," Hotsenpiller said.
Info: www.junolive.co