Starting small, dreaming big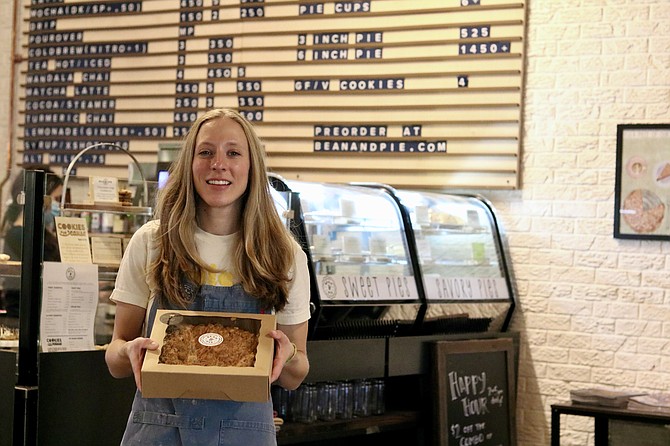 A team of eight is working to build the Idaho economy.
Who are they?
The business coaches at North Idaho Small Business Development Center.
"Our mission is really to help, in our case, North Idaho businesses thrive and grow," Senior Business Coach Warren Mueller said. "Not to just exist, not to just subsist, but to thrive and grow."
In the past 10 years, the SBDC has coached 1,585 North Idaho small businesses. Those businesses meant 1,801 jobs created, $149 million in capital raised and $79 million in revenue increases.
"I'm pretty gratified by those numbers," Mueller said. "It's the businesses that are winning here, and eventually it's North Idaho, our communities, everything, that are winning because these people put in the hard work and achieved those results."
The SBDC offers free one-on-one coaching and a wide variety of free online webinars and workshops to help small-business owners get a grasp on things.
"When COVID hit in March 2020, if you had asked me how many people are going to start a business in this climate I think I would have said zero," Mueller said. "But 11 people started businesses in our region here last year, despite everything that was going on. I think that's just tremendous."
Since 2010, the North Idaho SBDC has helped 157 businesses get started. As part of the Idaho SBDC network, they're funded by the Small Business Administration, State of Idaho and North Idaho College, where they're located in the Hedlund Building.
Coaches are spread throughout North Idaho with offices in Bonners Ferry, Sandpoint and Coeur d'Alene to reach businesses regionally.
Mueller has been at SBDC for six years and is located in Coeur d'Alene.
He said the main thing SBDC offers and recommends to small business owners is to take advantage of the center's free one-on-one business coaching.
Coaches help entrepreneurs formulate plans to reach their goals, and then walk them through executing those plans. They also help with business planning and resources to help businesses benchmark their success.
"We'll answer questions but really, we'll try to engage (small business owners) in this one-on-one business coaching to help them thrive and grow," Mueller said.
Mueller said they usually get their clients through a phone call or on a friend's recommendation. If the person is interested in moving forward, the center assigns a coach based on their location, and then a skills and experience match.
Small business owners can come to seek coaching services at any time in their business. However, Mueller recommends entrepreneurs talk to a coach in the early stages when they're thinking of starting a business. SBDC also works with those looking to get out of their business and retire.
While businesses are different in a variety of ways, Mueller said center staff can coach any business, as the fundamentals are pretty much the same.
Many of SBDC's clients are in food service and daycares. They also have some in manufacturing and technology.
Dennis Weed, Business Coach for Bonners Ferry, said he lives in large agricultural areas so he works with a lot of farmers, agricultural manufacturers and wood product companies.
Location has a large impact on what kind of businesses the coaches work with. Coeur d'Alene coaches work with a lot more food service businesses, Weed said.
Typically, after a coach is assigned, they will start out by meeting clients monthly but will meet more often if necessary.
Prior to COVID, coaching and workshops were mostly in-person, but now most of the advising has been taking place over Zoom meetings. Sometimes coaches will go out to the person's place of business, or meet them at the office at NIC.
Mueller said they begin by discussing the dreams and goals of the business, then work on formulating a plan to meet those goals.
"Not all business ideas are feasible," Mueller said. "It might be the idea itself is not very good, or very viable, or the idea might be a good idea, but maybe a person in their particular circumstances isn't in a place to really commercialize that idea so we can talk through that."
Once the person is in a good place — for example, their family is supporting them — Mueller said they move on to talk about the challenges they're going to face and ways to mitigate roadblocks to success.
After coming up with goals, Mueller said a business needs a marketing plan, operational plan, financial management system and typically employees to help reach the goals.
Mueller said it's important to have the right kind of employees, as well as monitor progress and make adjustments if necessary to reach the goals.
SBDC works to get small business owners all the tools they need to accomplish their goals.
"What we're really about is leadership development," Mueller said. "The real bonus in all of this is if people really develop those skills, then they tend to become good leaders in their communities."
The coaches work with owners to advise them how to be a competent business leader, how to lead themselves, their employees and business overall.
Each coaching experience is different as all businesses are different, but coaches work with each person to sort of tailor the experience to their needs.
For example, Mueller said for those looking to open a restaurant, coaches work with the client to help them craft a business plan to take to a bank in order to get a loan. In a high technology business, the client might need investors, so SBDC will work with them on proposals.
According to the Small Business Administration, five years after formation, about 45% of businesses with employees fail. Ten years after formation, about 60% of businesses with employees fail.
While not every business they coach makes it — usually for personal reasons, Mueller said — a large percentage do go on to be successful.
Weed said they work with clients until the owner gets to a point where they think they're doing well on their own. However, he said they've worked with some businesses as long as 11 years.
Mueller said one pressing issue they're working on now is helping small-business owners get through the effects of inflation and wage increases due to shortages of employees in the marketplace.
"That's probably the key problem that all of us business coaches are dealing with with our clients right now," Mueller said. "They can't find enough employees, which impacts business operations."
On top of that, Mueller said hourly wages are higher, so small businesses have to find a way to still make a profit and stay in business.
Weed said the real issue with the marketplace right now is that many millennials have stepped out. Mothers quit because a lot of daycares closed during the pandemic. Weed said a lot of those who left the workplace as soon as the pandemic hit haven't returned.
"Now we have this huge kind of gap of lost employees with nobody filling it in," Weed said. "So people are becoming imaginative to think outside of the box trying to get employees into their business because everybody's fighting over pretty much the same ones."
When there are fewer workers, that leads to a rise in wages. Weed said he's seen some businesses increase pay 30-40% in the last two years, as well as offering signing bonuses to get employees.
How are these unemployed people getting by? Weed said there's a number of different sources.
Some may rely on parents, others are going back to school, and some are working for about half the year then going on unemployment for the remainder. Bottom line: They're out of the workforce for an extended time and leaving a gap in the workplace.
Kety Bean, co-owner of a small business, Bean & Pie in downtown Coeur d'Alene with her husband Ethan, said that along with everyone else, their biggest challenge right now is finding employees.
Bean has used SBDC's services for around five years to grow her homemade pie business, starting out of her home kitchen in the summer of 2017.
"My husband and I were working around our full time jobs and just started selling to family and friends, and then it was like exponential growth," Bean said. "We just kept doing different events and selling out."
Bean met with Mueller when she was still on the fence about starting the business.
"I studied business and retail, math, and all these things in college, and I worked for a number of large corporations, but like nothing in that sense can prepare you for being a small business owner," Bean said. "There were just so many questions and things I had to figure out so I got in touch with a coach."
While she took classes at SBDC and found them to be helpful, Bean said working with a coach really allowed her to see things from a different perspective and be aware of what was in store. Mueller helped them get the business started and saw them through the process of getting a business license.
In 2018, Bean said she started selling at farmers markets. That's when her business really took off.
Bean said at that point she knew she really liked making pies and had the support of the community. They had no money to open a shop but were able to raise $21,000 with 251 backers.
"It was just incredible," Bean said.
The shop opened in January 2020, co-located in Evans Brothers Coffee. It employs eight people but can range up to 15 in peak season. Bean said they sold out of pies for both their grand opening and Pi Day.
"I do think that having Warren's help and the help from the SBDC has been really instrumental to our success," Bean said. "It's given me a lot of confidence working with someone who's been through what I'm going through and just having somebody to help."
She said her advice for small business owners is to get a coach even if they don't think they have the time because having a professional's input and experience is valuable.
"What we've learned is that you never stop learning," Bean said. "Our business has grown so much over the four years that we've been around."
Beans said what she was working toward back when they started and what she's working toward now are a lot different, but there are still so many unknowns. She's still meeting with Mueller regularly but their conversations look a lot different now.
"I figured a lot out," Bean said. "But it's still just really helpful to have a mentor and someone who's been through a lot of the challenges that come with growth."
Bean said the Coeur d'Alene community is really supportive of small business owners. Her advice to other entrepreneurs is to rely on the community because they're here to support them.
Mueller said having successful businesses is a win for the community because it means good leaders.
"If someone can run a successful business, it's because they've learned the leadership skills to do that," Mueller said. "That successful business and that good leader is a great resource for communities."
Strong small businesses make for strong communities, Mueller said, and those business leaders provide leadership for the communities they live at.
"Just here in Coeur d'Alene, if you look at the people who are in elected office, most of them I would say have run businesses or they're running businesses," Mueller said. "The leadership they develop doing that translates over into a contribution to our communities."
North Idaho SBDC info: 208-665-5085 or https://idahosbdc.org/locations/north-idaho/