Community-oriented sports performance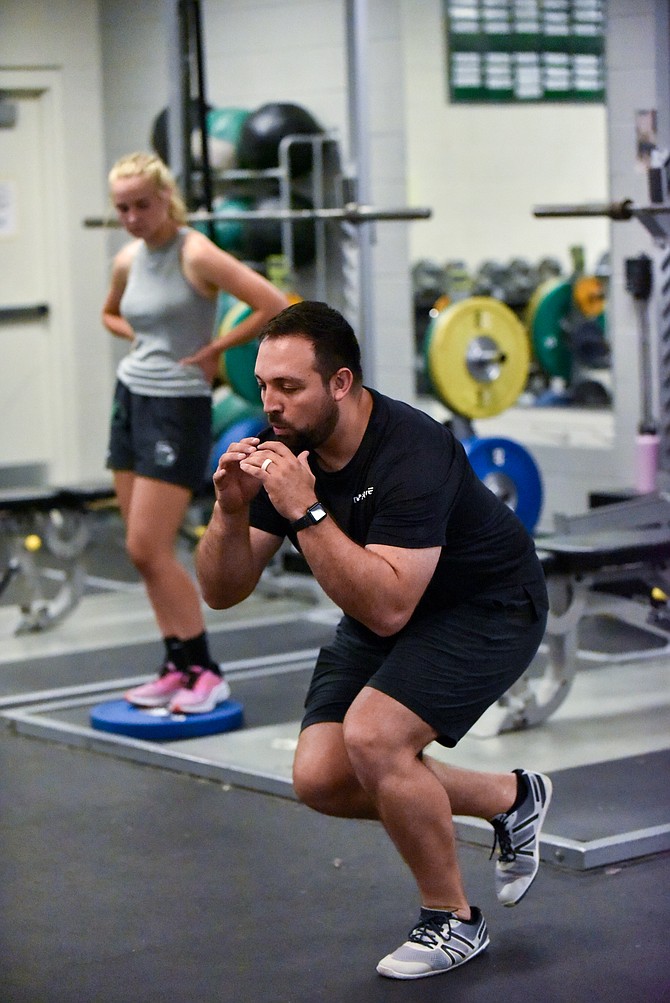 Not being able to help athletes and coaches who wanted to improve their performance led to the creation of Diverge Performance — a new community-oriented, sports performance company in Idaho.
The idea for the company — the brainchild of Taylor Elizondo, Max Ouzts, Armand Nance, and Dr. Paul Brewer — came out of frustration that the four were not able to help people the way that they wanted to.
"We saw a high turnover rate with coaches mostly due to money, weird hours, and consistency, and wanted to find a solution so they didn't have to sacrifice their passion for practicality," Elizondo said.
As the four talked about the issue, they envisioned ways that they could help athletes, coaches, trainers, and school districts optimize the health, wellness, and performance of those they were leading.
"The only way communities perform well is when humans are performing," Elizondo said. "The more people we have taking care of each other locally, the better off our athletes, kids, and people are."
In August 2022, Diverge Performance launched in Boise with the goal of expanding across Idaho, including North Idaho. As part of that effort to reach into the state's more rural area, the company provides services for those wanting quality personal training, team training, online programming, or sports vision training. Elizondo, Ouzts, and Nance head up the strength training side of the business, and Brewer specializes in visual cognitive training.
"We love having the autonomy to really listen to people and then act on their needs," Elizondo said. "You don't always get that when you're working for a larger corporation or bigger business."
Their sports vision service is something unique in itself. The basis of this type of training is geared toward improving decision-making from a visual standpoint.
"It helps with the decision-making process when you're in a chaotic environment," Elizondo said. "It's like a stimulus-response type of training but now we're applying those methods to sports specificity."
For those who play a sport that requires them to handle implements or make decisions quickly, this can be a game-changing tool, he said.
Although Diverge Performance works with many athletes, they also have clients who are looking to live healthier lifestyles.
"We'll train anybody who finds value in it," Elizondo said. "And will continue to educate you on the value of it."
Elizondo has worked with people from many different walks of life. Previously, he's worked with police officers focusing on corrective exercise and improving posture to keep them out of pain. At the moment, he has a client who he's been working with for the past two years. The client is a school teacher who just had his first kid and wants to stay fit and healthy. Another client of his is a starter on the University of Idaho football team that he trains in the offseason.
The company recently signed a contract with Rugby Idaho where they'll be facilitating injury prevention, working on corrective exercises, and offering support in performance management for the athletes.
"We're going to provide weekly services with performance specialists," Elizondo said. "And we're setting up a system where the coaches can call us for help and we'll respond in a short window of time to meet their needs."
So far the company is working out of partner facilities in Boise and Pocatello, and is currently working with professionals in Minnesota to attempt expansion in the Midwest.
When creating the company, the four co-owners envisioned a model that was fit to scale.
"We see ourselves venturing up to northern Idaho if we have the professionals and clients who want to be part of our group," Elizondo said. "We have the material ready to launch, we just need the community involved."
When speaking of professionals, this includes anyone interested in working with the group by becoming a coach, training clients of their own or helping spread material throughout their local community.
On the client side of things, Diverge Performance is providing online training services to whoever is interested, wherever you live. This includes a coach who will program exercises for you based on your availability, monitor training from a distance via feedback or video, communicate with you weekly, and give you nutritional guidance and corrective exercises for $125 a month.
One-on-one video coaching is available in 30-minute sessions, including corrective exercise sessions and nutritional consults, at $35 per session.
For coaches or personal trainers looking to grow their business without all the hassle that comes with it, such as insurance, Diverge Performance has a platform into which they can easily integrate.
"We'll do the payment processing, cover your insurance, and most of the business side of things for you," Elizondo said.
To be a coach on the Diverge Performance platform, an individual needs to participate in the company's continued education which is drawn from physical therapists, direct exercise specialists and other sources.
"We want to use our network to facilitate good coaching education and provide opportunities for the coach as well," Elizondo said.
The company has a package that pays coaches well, sometimes double or triple what they're making at their current facility, according to Elizondo. They're also encouraging coaches to use their online platform to help manage online clients.
"We want good coaches under our umbrella, which is why part of our market is enticing good coaches," Elizondo said.
For coaches who already have a pay scale set, there's no need to change it. Elizondo said the company allows you to set the price range for your market and will take a fixed percentage off the top.
"If a coach thinks they can satisfy their market at a certain price point, then we'll let them determine their own pay," Elizondo said.
For coaches or trainers looking to expand their offerings, Diverge Performance also provides conditioning programs, core programming, exercise implementation, and injury prevention programming that can be easily integrated into aspects of your current coaching strategies. Diverge does this on an organizational level as well.
Right now, Diverge is onboarding coaches who want to invest in the process and be part of the company's growth. The company caters to coaches who feel comfortable generating and maintaining their own clientele with the Diverge Performance platform, Elizondo said.
"I think the thing we like about it the most is it really puts us in a position to connect with our neighbors," Elizondo said.
They even have a system to develop coaches right out of school.
"​​From an educational standpoint, what we do is so important in terms of health, fitness, strength and conditioning, and sports performance," Elizondo said.
Their next big venture is connecting with school districts to help provide supplemental material that helps reinforce healthy habits at home and through a student's day-to-day life.
"We're making efforts to provide levels of free services to entire school districts," Elizondo said. "We have material that we can administer throughout the whole school, K through 12, at free or really low cost."
To catapult this effort, he said that all the company needs is for someone in the community to start the conversation. Teachers, principals, athletic directors, coaches, or anyone who sees value in educating athletes and students on the benefits of health and wellness in everyday life.
"Really, we're just building a big community of people like us, who want to help people," Elizondo said. "That's it at the end of the day."
Information: divergeperformance@gmail.com or divergeperformance.com