Picture-perfect first impressions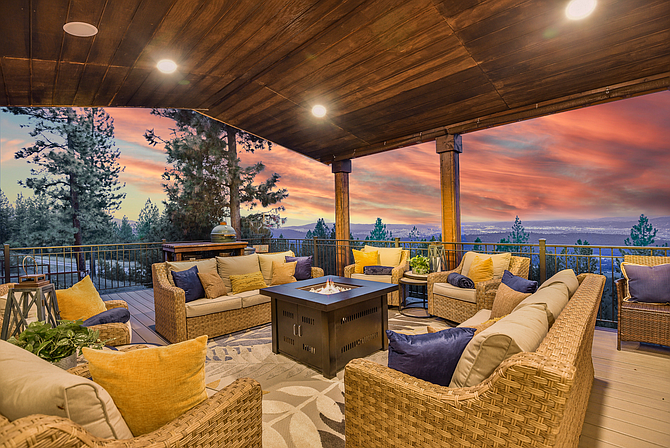 The world of real estate photography has exploded over the last five years as the housing market has gone from smoldering to molten as a shifting economy, fluctuating interest rates, and the basics of supply and demand changed the way people bought and sold homes.
In the wake of this explosion, real estate support industries have seen a massive uptick in their demand as well.
Real estate photography has become a multi-billion-dollar industry in the U.S.
At one point, Coeur d'Alene boasted the hottest real estate market in the country.
This was the perfect turn of fate for local photographer TaylorAnne Walker, the co-owner of Charlotte's Web & Media.
Not exactly a reference to the E.B. White classic, but when Walker and her father discussed business names, she knew that she wanted to incorporate her daughter's name. Then, when they looked at where the bulk of their services would be accessed — the internet, or web — the answer was right under their nose.
Walker, 26, has been a professional photographer for a decade, getting her start as a sports photographer for a professional hockey team and working her way into a diverse array of industries including wineries, motocross and ski resorts.
"When the COVID shutdowns happened, I knew that I needed to pivot, but didn't exactly know which direction to go," Walker said. "After many conversations with my dad, and since the market was exploding in Coeur d'Alene, he suggested I look into real estate photography. We are both always up to a challenge, so after much research and learning, my dad and I decided to partner and create Charlotte's Web & Media."
Walker's father Marty is an established real estate professional in the area, which helped Walker find her footing in her new world. But with her talents, it took little time for her to establish herself as an asset in the world of listing and selling homes.
Many people believe that a clean house and a few cell phone pictures will be enough to get their homes sold, which isn't entirely untrue.
However, statistics from the National Association of Realtors from 2022 say that listings that include professional photography sell 32% faster than homes without professional pictures. This percentage more than doubles to 68% if the listing includes an aerial photo.
These photos can be the difference between receiving a full offer on your home and less than you had hoped for.
"Make sure your real estate agent hires a professional to photograph your home," she said. "Anything less than this is a disservice to you."
Charlotte's Web & Media is a one-stop shop for all aspects of real estate photography including videography, aerial photography, and social media and consultation.
The company is also capable of generating digital floor plans, virtual staging and virtual renovations.
"18,000 people moved here last year. The market is all about remote buyers," Walker said. "According to the National Association of Realtors, 41% of homebuyers' first step during the buying process was to look at properties online. First impressions are crucial in real estate and many of those impressions occur online first. The quality of photographs you use to market your home directly reflects the quality of your home."
Once you've decided to list your home, the challenging task of deciding how to market your home can be made easier if you use a professional photographer in accordance with your real estate professional.
"We offer a variety of packages and services so that agents can utilize high-quality marketing for their clients," Walker said. "For every finished image you see, there were 3 to 10 images blended together to create the finished product. We utilize natural light and a high-powered flash to create images that feel true to life, warm, and inviting."
Incorporating videography into a digital listing has been found to generate more inquiries, over 400% more, according to national statistics. In 2020, 63% of people who purchased homes made offers on properties with virtual tours of the entire property.
"There is a very good chance that the buyer of your property will not be local," Walker said. "High-quality videography makes it easy to 'walk' through a home/property and is even more important on large parcels."
Walker uses drones for aerial and panoramic shots of the property, which help show lot lines and more total area.
"While you don't need a qualification to be a real estate photographer, a Part 107 Drone Pilot's License is required for any commercial drone work," Walker said. "The fines from the FAA are steep for violations. If you are using the images or video to make money (i.e. to sell your home) you have to be licensed to do so."
According to the FAA, for an unlicensed drone pilot, the fine is $1,100 per occurrence/flight where imagery is used commercially, and the fine for a real estate agent who hires an unlicensed pilot is $11,000.
Once a client has settled on a set of services, Walker provides a detailed checklist and does a walk-through of the home.
"Cleaning is important," she said, "but staging a home is crucial to how it photographs."
Once Walker gets the camera in her hands, the magic begins.
"When I was 12, I was handed a camera for the first time and immediately fell in love with it," she said. "One of the pictures I took that day is still hanging on my parents' wall. From then on I wanted to keep learning, improving, and documenting."
Now, she helps people sell million-dollar homes.
"We help people fulfill their dreams," Walker said. "We were at a shoot recently, and the homeowner was so happy she cried while thanking us. We made a difference. Every home we shoot represents a family that is taking a huge step on their journey, and I feel so honored to be a part of that. We photograph homes, but we help people."
Photography packages start at $199, and the price increases depending on the desired services and breadth of coverage.
Charlotte's Web & Media serves the communities of North Idaho and Spokane, from the Canadian border to St. Maries, and as far east as the Idaho/Montana border.
For more information, visit charlotteswebmedia.com or call 208-518-6636.