Contending for last dock standing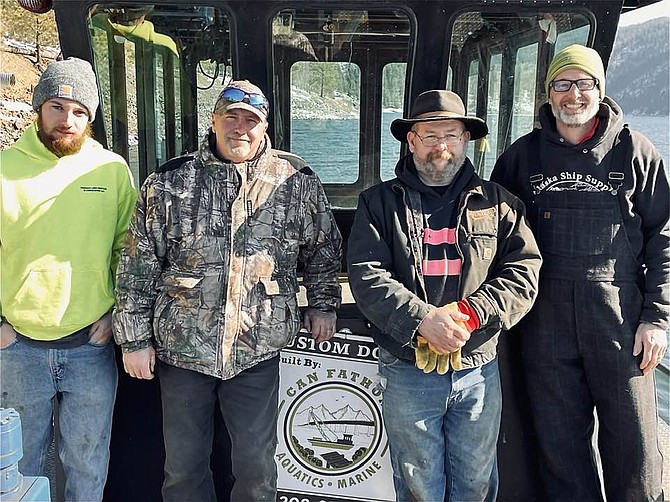 This is a story about docks, our lake, and the tradespeople — both past and present — who spend thousands of hours per year working its waters, both above the surface and below.
"This isn't about me, it's about us," said Troy Sylte, owner of Can Fathom, a full-service marine contractor.
A third-generation North Idahoan, Sylte's first job, at 15, was as a deck hand & groundskeeper for Scenic Bay Marina in Bayview, on the banks of Lake Pend Oreille.
"We're tied to the boatmen that came 150 years before us, and the remarkable work they did with the most primitive of tools. Even today, we use many of the same techniques they pioneered. What's changed is how people use the lake, and namely the impact of wake boats, whose forces are simply no match for the docks of yesteryear," Sylte said. "We aim to build a dock that in 150 years will be a contender for last dock standing."
The marine craftsmen of Can Fathom work as a team to build between 8,000 to 10,000 feet of dock per year. Their docks are engineered to sit higher on the water, constructed from select No. 1 grade timbers, high grade steel and fasteners, and feature unique water ballasts. The result is what Sylte calls a "wake destroyer."
When they're not building docks, the balance of Can Fathom's time is spent doing ecology projects including salvage, shoreline restoration, and invasive plant mitigation, using a suction method that doesn't involve the application of herbicides.
"Wherever and whenever we can, we use turn-of-the-century techniques to lessen the impact of our activities on the lake," Sylte said. "One of our first projects was a pier and dock complex which ran through a sensitive wetland area. Using a cantilever process originally developed to build railroad trestles, we advanced 9 feet at a time, and all without disturbing the sensitive ground beneath our barge."
Sylte, whose professional background includes social work and real estate, financed his own college education at the University of Idaho by working the waters off Alaska as a young man. He considers this to be a culmination of a lifetime gratitude for the fresh air, open water, and the species who call it home. His crew is the backbone of his business, grounded in an industry that is always looking for new apprentices, something Can Fathom does, and one apprentice at a time.
"We love to share what we do with others," Sylte said. "It was good for my grandpa, it's been good for me, and it could be good for someone else."
Info: canfathom.net