Goach aims to up your golf game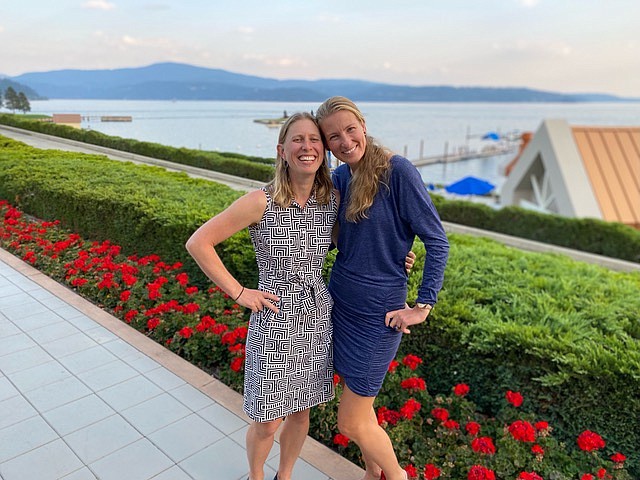 While competing and playing professional golf, Maria Kostina Angel and her sister Anastasia Kostina loathed the agonizing data entry to track their stats.
"Playing competitive golf, I learned the importance of analyzing performance and targeted training in an effort to reach my full potential," said Anastasia, who played on the Ladies European Tour and is now director of Hayden Lake's Junior Golf Academy and a WSU Hall of Famer.
Maria Kostina Angel, golf instructor and coach at Hayden Lake Country Club, said the process for collecting the information was cumbersome and unenjoyable.
That frustration and annoyance with data entry and analytics fanned a desire to create in the sisters. They teamed with golf coach and software engineer David Angel, who is also Maria Kostina Angel's husband, to create the golf-coach app Goach.
The premise was to simplify existing golf data entry and to bring data coaching to everyone, in a readable and accessible format.
"Goach measures eight portions of your game, which are strong and which are weak, and has very specific techniques to improve your game," David Angel said. "Set your goal, and it tailors your program."
The app can be used, he said, by professionals and novices alike to achieve notable results, and the best part is that the data entry takes less than 10 seconds.
"The point of the data, and a specialized algorithm, is that it takes very little data to show strengths and weaknesses," Angel continued.
The app incorporates user scores with data from golf courses across the world. If a course isn't in their database, users can add a custom course or request a course be added by an administrator.
The competitive edge against similar apps or programs is the simplicity. The list of exercises isn't as extensive as some apps can be, because the math and algorithm use the techniques that are the most effective.
"Most people are practicing on their drivers, but the data shows that's not where people are missing," David Angel said. "Drills and exercises in the app automatically improve your game and your swing."
He wrote the code and software for the app, collaborating with his wife, and her sister for user experience and coaching.
The couple have spent several years developing their ideas for the Goach app. The dedication has finally come to fruition with the soft launch, to be followed by a full launch, including a 30-day free trial, at the start of golf season.
Maria Kostina Angel and David Angel met when he hired her to coach his game, and they've woven golf into the fabric of their relationship since.
"We wanted to build a golf software product that would truly deliver results and lower scores," David Angel said. "I've coupled my passion for both golf and software development to help build Goach."
Maria Kostina Angel fell in love with golf when it gave her the freedom to travel the world, coach, and compete, and her dream is to share that level of opportunity with others.
Born in Russia, Maria Kostina Angel began playing golf in high school at the only 18-hole course in the country. She's competed professionally and internationally. Through traveling for golf, she was able, at 17, to move to Hayden with a host family, and she has called this home since.
Maria Kostina Angel played collegiately when attending Washington State University, and she brought her sister to the U.S., who also studied and competed at WSU.
The sisters then competed on the LPGA's Futures Tour, now called the Epson Tour, and work with the competing and coaching experience to simplify and streamline coaching technique into the app.
"Goach is your personal coach that follows your every round, evaluates every part of your game and creates a personalized training plan for you to reach your scoring goal," Maria Kostina Angel said.
Info: www.thegoach.com