Kootenai Health expansion goes well beyond four walls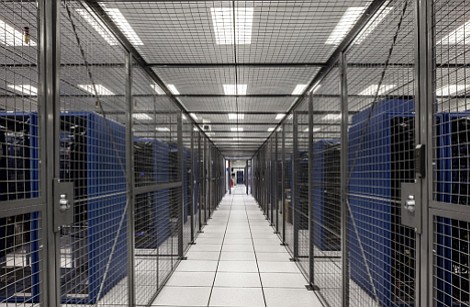 Growth is king in Coeur d'Alene, so it makes sense that the community's hospital would be growing, too.
Phase 3 in Kootenai Health's multi-year expansion effort is about halfway finished and should be completed in March, said Jeremy Evans, KH vice president of hospital and regional operations. The expansion will add 32 patient beds on the third floor, all private, housing patients being treated for cancer, strokes and neurology issues. It will also include a new epilepsy monitoring unit.
The $12 million project continues work that began with Phase I, which was completed in spring 2016. A three-story addition with a total of 100,000 square feet of new space, Phase 1 included the new family birthing center on the first floor, private patient units for orthopedics and neurosurgery on the second floor, and space on the third floor shelled in for Phase 3.
Phase 1 also included the new main lobby on the north side of the building, with valet services and an information desk and greeter, which along with the open and airy floor plan that fills with natural sunlight, helps to provide a warm and inviting place to be received into the building.
"It was also an 'enabler' for Phase 2," Evans said. "So, by constructing the new space, we were able to vacate some existing space in the older building adjacent to our surgery department, which allowed us to expand our surgical services."
Phase 2 was an expansion mostly of the emergency department and surgical services area, with three state-of-the-art operating rooms added to eight existing ORs. The other eight were also upgraded and modernized.
Additional improvements were also made to the pharmacy, sterile processing and central supply areas during Phase 2.
The ER was expanded by about 17,000 square feet and 11 additional treatment rooms were added, for a total of 36. There's a new waiting area and results waiting rooms. A new entrance was created for ambulances, with enough space for five. Evans explained that the emergency department that was designed back in the mid-'80s for about 32,000 visits a year. Kootenai Health now sees close to 60,000.
"So now that we have added more operating room capacity and more emergency room capacity, that trickles down to a need for additional bed capacity," Evans said of the third-floor patient room additions of Phase 3.
Evans said that while the hospital's expansion is a reflection of growth, success isn't measured by the shiny new facilities or the dollars spent on it, but in the number and quality of services offered and the people whose lives are touched — both patients and employees.
"I think Kootenai [Health] has been tremendously successful in building up our quality, our services, recruiting top talent in new physicians, staff and caregivers and bringing new technologies to Coeur d'Alene and North Idaho," he said.
If you build it, they will come, he added.
"But I think the real twist on this is that it's not about building facilities," he said. "It's really about building services."

Evans provided some facts to illustrate how lives are touched.
"In the spring, we will be licensed for a total of 331 beds. We care for over 14,000 annually in those beds.
"Our emergency department saw over 52,000 visits last year. We did over 8,000 surgical cases in the OR, and there were over 1,800 babies born in our birth center.
"On top of that, we employ 3,200 employees, [have] over 400 physicians on our medical staff and over 225 active volunteers. So literally, we touch hundreds of thousands of lives annually through the exceptional caregivers and staff that work here."
While Phase 3 will wrap up Kootenai Health's master facility plan that was created in 2012, Evans expects that within six months, a new plan will be devised for the hospital's next three to five years.
Any predictions?
Evans wouldn't say exactly, but he said the focus might shift away from the main campus to offsite improvements.