Big White Trucks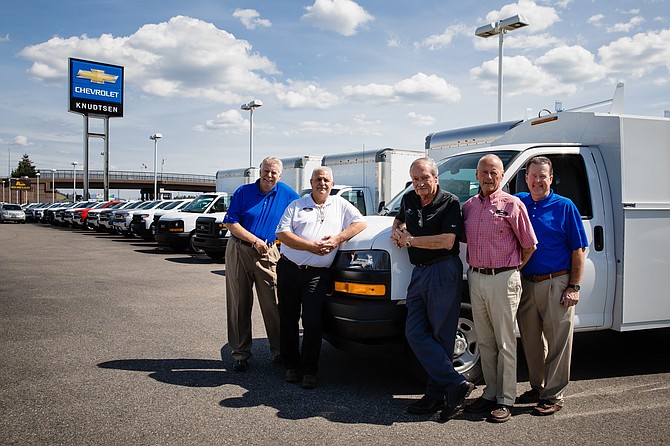 When traffic rolls into Knudtsen Chevrolet or motors past the Post Falls dealership along Interstate 90, there's bound to be a few curious questions.
In addition to the rainbow array of personal-use vehicles on the lot, white commercial trucks and vans now have a special place at the business.
Welcome to "Knudtsen Business Central," where you'll find an inventory of work-ready vehicles for whatever your job requires.
Bob Orians, hired by the 80-year-old family-owned business to start and grow the commercial side of the business, led a similar program at a Portland Chevy dealership.
"This is an investment for the big boys," Orians said. "You've got to put both feet in to do it right. Knudtsen is well-managed and positioned in the market. We're not doing this for practice. We're doing it to provide a wide range of work-ready trucks and vans for an underserved [segment]."
Orians described the early reception to Knudtsen offering the commercial fleet side as "wonderful."
"It's all based on Knudtsen's reputation in this community," he said. "A lot of businesses want to buy here. It has little to do with me and more to do with the Knudtsen name."
The venture launched in March; the company has been building its inventory since.
Orians said some elements of the commercial market slid during the Great Recession, but it has roared back with the sizzling economy. He said the Inland Northwest was a prime spot for such rigs because of its growth and boom in construction.
Municipalities and corporate customers ranging from mid-sized lawn care firms to massive utilitity-owned fleets are examples of businesses looking for vehicles to fit their work needs, Orians said.
"If we don't have what you're looking for," he said, "we'll find it."
Custom builds can take eight to 12 weeks. That's "equipped right to work right," said Orians, referring to the commercial side's slogan.
New commercial vehicles range from $30,000 to $90,000.
"If you pay attention, you'll notice a lot of trucks with cranes in this area," Orians said, referring to some of the higher-end vehicles.
In addition to sales, Knudtsen takes care of the vehicles its sells with a complete service department..
"We're adding two big service bays that will have special hoists," Orians said. They should be completed in the next few months. "It takes a dealership that is serious about the market and has the wherewithal to accommodate this venture."
Clifford Knudtsen opened Knudtsen Chevrolet in 1939 with the help of his brother Wayne G. Knudtsen. Clifford ran the business until his son, C. Wayne Knudtsen, took over in 1955. After 40 years, C. Wayne appointed his daughter Eve as the dealer principal. Together with her brother Eric, the siblings manage the business together.
From a small lot on Fourth and Coeur d'Alene in Coeur d'Alene, the dealership moved a few blocks north in 1966 to Fourth and Spruce. It moved from Coeur d'Alene to Post Falls along Interstate 90 in Post Falls in 2002.
Orians' team members include: Wayne Cofield, commercial sales; Dave Benedict, fleet and commercial sales; and Todd Olson, government and commercial sales.
"The service department and the energies of the general manager and ownership are all involved," Orians said. "This is not a one-man show."
Eve Knudtsen said the company has dabbled in commercial sales and service, but is now "really into it."
"We understand that down time with a vehicle is important," she said. "Time is money. We want to help companies manage their fleet more economically."
Orians said the curiosity from customers is music to his team's ears.
"People have been buying personal cars and trucks over the years," he said. "Now, all of a sudden there's big white trucks and vans, and people want to know what's going on with that."