Word of mouth,free classes fuel studio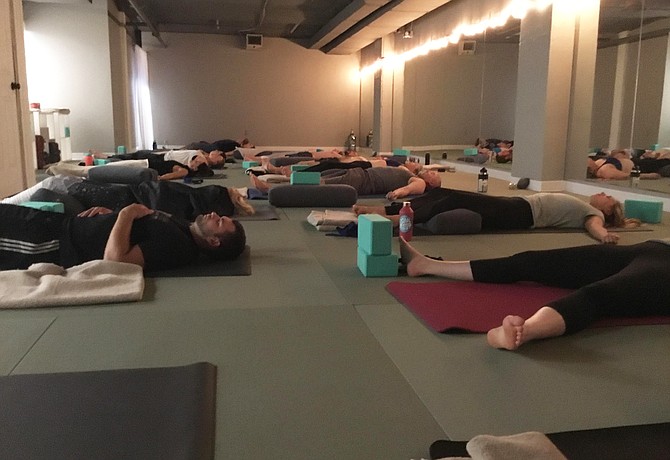 COEUR d'ALENE — Connecting with like-minded people and practicing yoga every day makes running The Path Hot Yoga Studio feel like less work than other jobs Nicole Rainey could have pursued.
"Lifestyle was really important in finding something that I loved to do every day and something that I wanted to share with people," she said.
The 38-year-old yogi, originally from Sandpoint, is minimalist and modest. She made creating a business where she could build community a priority.
"I get to be surrounded by amazing people and community," she said. "I get to exercise every day. I get to coach people in how to move their bodies safely, and I love it."
Rainey opened her studio in the basement of the historical Wiggett Building at 330 E. Lakeside, Suite 1, in spring 2019. She wanted to have a place in downtown Coeur d'Alene where people can take in a yoga session before starting their workday or even squeeze one in during lunch.
"It's a really good lifestyle, and that's why I got into it," Rainey said. "I got into it when I was living in Lake Tahoe — I would go in, take an early class, then I would go to the ski resort and ski and then I'd go back for my evening class. I get to practice yoga all the time. I get to be around health-conscious people, and people who come to my door are super happy to be here."
The work-life balance is good, and so is the financial reward.
"It does pay well," she said. "I've made a living off of it for 17 years and my last studio, I built. After owning it for seven years, it was pretty much running itself. I was able to build a team that understood the vision and studied under me so they understood how to make the practice very safe and adjust it for certain body types."
Rainey's studio was in Bend, Ore. She has also taught in California, Hawaii and Washington. Through her experience as a studio owner, she has learned how to keep overhead low enough to turn a profit while maintaining a positive work environment.
"I teach the majority of the classes, that keeps the payroll expense down low," she said.
A massage therapist rents an office in one part of the space, which helps cover the rent, the studio's biggest expense.
"You get creative [to bring in revenue]," she said. "Just selling group classes is not going to do it. There are other ways."
Breathing workshops, team-building sessions and corporate wellness programs bring customers in, and the variety of memberships, prices and schedules appeal to a number of demographics. Classes last 45, 75 or 90 minutes, and modifications of the poses allow people of every size and ability to stretch their limbs in Rainey's studio.
"A lot of it is breaking down postures, modifying and creating sequences that are friendly for all different levels of yoga," she said.
Her target market is mostly the Inland Northwest.
"The research that I've done shows that people will come to a yoga studio/fitness facility within a five mile radius, so I get really clear on my target market and who these people are," she said. "We reach them via the website, social media."
But nothing compares with word of mouth and an old-fashioned hook: free stuff.
"If people have a good experience, I will personally give them a free class card and then they can give it to somebody in their life," she said. "I've learned that 33% of people who start going to yoga start because of a free class card."
Visit www.thepathhotyoga.com to check out prices, times and upcoming events at The Path Hot Yoga.