Knudtsen Chevrolet celebrates 80 years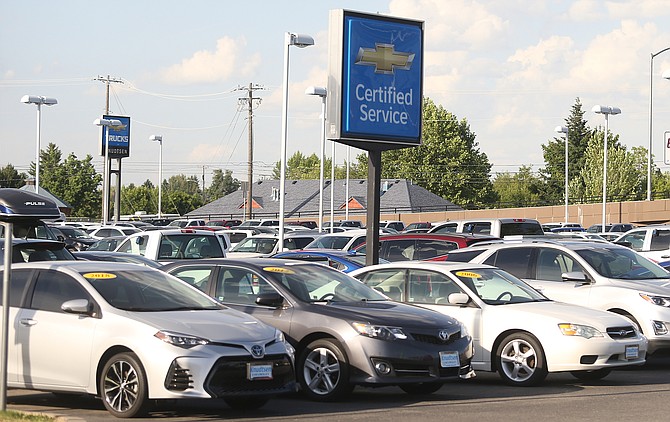 Knudtsen Chevrolet is celebrating 80 years in business. The family-owned vehicle dealership in Post Falls turned 80 in mid-June.
To be sure, eight decades is enough time to mark a number of significant changes in the automotive industry. But Knudtsen's staff — from novice sales professionals to experienced hands — say the secret to success isn't a matter of what has changed but rather what has stayed the same.
Clifford Knudtsen opened the dealership in 1939 with the help of his brother Wayne G. Knudtsen. Clifford ran the business until his son, C. Wayne Knudtsen, took over in 1955. After 40 years in charge, in 1995, he appointed his daughter Eve to the position.
Today, Eve and her brother, Eric Knudtsen, manage the business together. Eve is the dealer principal and Eric is the general manager.
Employees from the service department to the sales department agreed that the business has been going strong for 80 years for two reasons: The staff takes care of its customers and they take care of the community. The Knudtsen siblings are active residents of Kootenai County. They've served on the board of the Post Falls Chamber of Commerce, Idaho Automobile Dealers Association, Idaho State Independent Auto Dealers Association, Concerned Business of North Idaho, the Kootenai Health Foundation, Coeur d'Alene Area Economic Development Corp., Kootenai County Police and Fire Memorial Foundation and were appointed to Gov. Clement Otter's Dealer Advisory Board.
"That's a big thing for Eve, she really likes to be a part of her community and take care of the people in it," shop foreman Brandon Scheets said.
Nevertheless, the automotive world has seen its share of change, certainly with respect to the evolution of the industry's technology. This isn't limited to the latest whiz-bang gadgets in today's cars — it extends to how people buy them. Because of the Internet, pricing information is widely available to consumers, and customers show up at the dealership knowing the details of a car's invoice down to the decimal point.
"I feel like everywhere you go is about the same process," sales associate Leon Duplessis said. "I don't think we have changed our tactics as a business group but the customers' information has changed, and how easy it is to get information on pricing on cars."
But the old ways still work just fine. Eric Knudtsen and fleet and sales manager Dave Benedict said they continue to attract new and repeat customers simply by being honest and trustworthy.
"Our customers are obviously why we are still in business," Eric said. "We give them a good experience, and we do what we say we're going to do."
Service technician Kirk Scott has been employed at Knudtsen Chevrolet for 36 years, almost half as long as it has been in business. Although the vehicles that he works on have changed, he said, the corporate identity instituted by the Knudtsen family hasn't changed.
"It's the personal touch from the owners," Scott said. "I worked at a Chevy dealer in Boise for a while. I spoke to the service manager when I applied for the job and I never saw him again."
That hands-off approach is the opposite of how Knudtsen manages its team. "The accessibility to talk to them on any level isn't very limited. I don't know how true that is for other businesses," he added.
Knudtsen salespeople of all ages agreed that the easiest vehicles to sell are Chevrolet Silverado pickup trucks. The hardest to move are electric cars and well loved used vehicles, especially cars.
"I think in this area, people don't have a need for cars as much as trucks," sales associate Karl Lewis said.
The dealership offers a full sales department staffed by employees who are trained to help and answer all buyer questions. Knudtsen Chevrolet also offers a General Motors-certified service department, a knowledgeable parts department, a bodyshop and finance department.