Jasper and Me: A pleasant trip to the dentist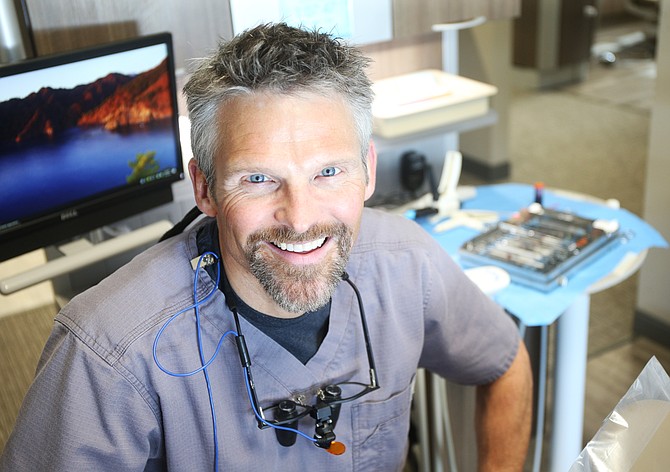 An early morning surprise of a splintered front tooth had me in a dour mood heading down for the mail with Jasper the Dachshund. Spotting our regular mail carrier Paul, Jasper dashed over for the usual treat and kind words. Jasper's approval constitutes a solid personal recommendation in my world, so I asked if Paul knew a good dentist. Without hesitation he replied: "I go to Todd Schini; and before him I went to his father."
After a web search I drove to Todd Schini's office to get a look and make an appointment. It was a newly constructed building, not yet seeing clients, and Todd was arranging lobby furniture. We introduced ourselves and I scheduled an appointment.
From his informative website (www.schinidentistry.com) I learned Todd's grandfather, Dr. Forrest J. Schini, began practicing dentistry 1934 in downtown Coeur d'Alene at the Elder Building on 4th and Sherman. Todd's father, Dr. Robert Schini, joined that practice in 1967. The site changed location in 1971, with Todd joining his father in 1995 and they worked together until 1999. Todd then opened an office on Northwest Boulevard. In January 2017, he moved to the Riverstone location.
Arriving for my dental date, from the front office greeting to being seated in the chair, everybody put me at ease. I mentioned this before he examined me, and Todd said, "It's an absolutely outstanding staff that I'm very proud of." Once we got started, his manner of explaining the details and upcoming procedure also relaxed me. Treatment went so smoothly I actually focused on it, rather than mentally disassociating.
Assessing Todd's technique (from a layperson's perspective), I rated it exceptional. That assessment has a professional context. Twenty of my years in Education were spent training and supervising teachers. The transference from that experience is the ability to recognize the "exceptional." That rare quality couldn't be missed in Todd's work, calling to mind an author who once noted, "We can't define quality; but we know it when we see it."
Duly impressed, and intrigued by the fact that his family has been practicing dentistry in Coeur d'Alene for 85 years, I set up an interview to learn more.
Todd Schini graduated from Coeur d'Alene High School and received his undergraduate degree from the University of Idaho. I asked whether his professional goal, given his family background, was always dentistry.
"I never wanted to be a dentist," he replied. "It was not interesting to me at all. I used to race dirt bikes and despite having received my fair share of broken bones, for a while aspired to be a racer."
The injuries led Todd to consider becoming an orthopedic surgeon or physical therapist "because of the time spent in those offices." Then one day he broke his front teeth.
"I called my dad and met him at the [dental] office and with a mirror watched him do the whole thing," he recalled. "I found myself thinking, 'This is kinda cool' and asked him to 'show me more about what this is.'"
Todd followed up by contacting the University of Washington and Portland's well-regarded Oregon Health & Science University (OHSU) for info on their dental programs. He enrolled and completed the Doctor of Medicine in Dentistry degree in 1995 at OHSU. There was never a question but that he would return to our area.
"Living in CDA was more of a priority to me than a job," he said. "I loved skiing, water, dirt biking and wanted to give my family the same opportunity to experience those things I had."
He's been married to Catherine almost 24 years.
"She stuck with me through dental school and we got married the summer after I graduated," he said. "Catherine is my biggest supporter; she'd accompany me to dental school and just hang out, which can be quite boring!"
They have two daughters. Katie, the eldest, is a junior at the University of Nebraska, majoring in film and theatre with a double major in English.
"Her mom is a teacher and went there," added Todd.
Karabeth is a freshman in the University of Oregon general science program.
I opined that beginning a practice with his father, then moving into his own had to hold not only professional advantages, but also in building clientele. Todd agreed: "People knew the name and friends would come in, some older, some younger."
I asked what he enjoys most about dentistry.
"I always liked working with my hands, loved to work on bikes and love the details of dental work," he replied. "The fun part of dentistry is actually the detail work, for example, trying to replicate what is natural about teeth."
He paused before concluding: "It's a funny profession in that a lot of the work goes unnoticed, but it's still very rewarding."
Attention to detail and passion for the profession provide intrinsic satisfaction, but Todd also gets validation from outside recognition. He has a streak of Top Dentists awards (listed on the website) kept in his private office rather than publicly displayed. Those earned awards take on added significance for being voted and bestowed by specialists in the field.
As for future plans, with his daughters away at school, Todd is enjoying more free time with his wife. And though it isn't readily apparent from the attention and treatment he provides, I mentioned his client load seems busy enough to give the impression he wears roller skates at work.
"I enjoy doing it myself and the challenge," he responded, laughing. "I see a lot of people and the day goes by pretty fast."
That said, down the road Todd is considering sharing the practice with an associate, adding: "I would want to make sure to preserve the quality of the name."
That quality is well worth every effort to preserve while our community continues to reap the benefits.
• • •
Jasper and his faithful human sidekick, Stephen Garger, are always on the lookout for interesting local family-owned businesses to write about. Suggestions? Email: sjgargs75