Business Journal Holiday Gift Guide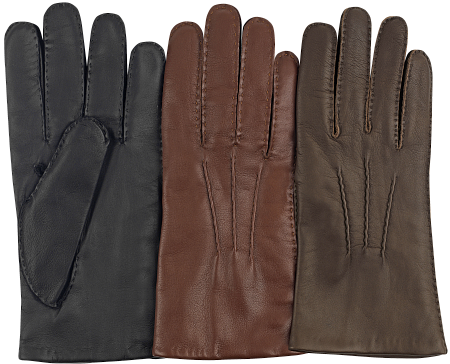 Business Journal Holiday
Gift Guide
• MEN'S GIFTS
SOME DAYS A GUY COULD USE A FEW BELTS
A subtle accessory to dress up your favorite outdoorsman for inside duty, the Clay 1960 is a four-piece buckle crafted from sterling silver. It depicts a buck and oak leaves. "Our main objective is to keep our Western Heritage alive," Clint drawls. "Wearing a fine buckle is just part of dressing well." The 1960 Clay fits on a one-inch belt (choose from calf, lizard, ostrich, stingray or alligator). Made and engraved by hand in Texas by Clint Orms Engravers & Silversmiths. Clintorms.com. Buckle $2,500. Belts start at $130.
PASS IT ON
"You never actually own a Patek Phillippe," the iconic watch ad reads, "you merely look after it for the next generation." And so it goes with Moore & Giles heirloom quality leather apron. Handmade from Italian-tanned English aniline leather, which retains its natural surfaces, the apron is designed to wear well with age, whether you use it in the shop or at the grill. One word of caution: It's heavy. Mooreandgiles.com. $375.
THE SWEET SMELL OF VICTORY
Starbucks repriced coffee. Yeti disrupted the cooler market. Now comes Helmm, which has taken another staid category, greatly improved upon it and taken it upscale. Helmm's dispenser is a handsome and sturdy work of art. Its products, available in a number of scents as deodorant or with added antiperspirant, smells exactly the same at the end of the day as it does when you put it on. Not only is it a superior product, Helmm is sold in a superior way: You can choose to order it on a subscription basis so you never run out. Hippie-complaint, all natural. Helmm.com. $45.
ULTIMATE THROWBACK
In 1948, Jeep invented the SUV with Willy's Station Wagon, which borrowed from the lessons Jeep learned manufacturing tough wartime vehicles. The Jeep Grand Wagoneer is markedly more comfortable, and its iconic styling is still emulated more than a half-century later. These polished beauties have been painstakingly restored from top to bottom. They're mechanically sound and showroom perfect – ready to be your daily driver on the roads of North Idaho. Wagonmaster.com. Prices start at about $75,000.

HAPPY BOXER DAY
Okay, so underwear as a Christmas present might not immediately spring to mind as a gift for, like, grownups. But these are no ordinary boxers, and this is no ordinary cotton. Sea Island cotton — gossypium barbadense — is the tropical version of the plant-based material we know so well. It came to the United States in the late 1700s and was gorwn in Georgia and South Carolina Its fibers are exceptionally long, strong and silky, creating a product of exceptional softness and durability. Sunspel.com has boxers, T-shirts, trousers and short- and long-sleeved polo shirts (Daniel Craig wore one as Jame Bond). Boxers, $165.
CLEANING UP
George Washington was a fan of No. 6, which has hints of clove, orange peel, rosemary, bergamot, orange blossom and pine. Eisenhower liked almond. Jack preferred the scent of Jockey Club. The White House has had an account at storied apothecary Caswell-Massey — which was founded in Newport, Rhode Island in 1752, for centuries. (It traces its roots to Dr. Hunter's Dispensary, which was where orange soda was born, to mask the taste of medicine). Give all three as part of the Presidential Soap Collection. Caswellmassey.com. $29.
THE EYES HAVE IT
The day can be brutal on the eyes -- harsh wind, temperature variance and dry air all conspire. It seems like it's worse when you're traveling. Rejuvenate with Clinique For Men Super Energizer Anti-Fatigue Depuffing Eye Gel, which is a mouthful of a name but happens to tell the story. This gel rolls on, cools the skin and instantly makes a long day a little easier. Available wherever Clinique is sold. $33.
YOU KNOW WHAT IT FITS LIKE
If you're new to North Idaho — or have lived here long enough to know the value of keeping your hands warm — treat a loved one to a pair of bespoke gloves from Chester Jefferies. Choose your style, material, color (about 50 to choose from) and lining, then follow the site's video directions to get the proper measurements. Custom orders take up to 12 weeks; standard orders can still ship in time for Christmas. Expect to pay about $175 for full-grain leather cashmere lined custom gloves with a touchscreen panel. Standard sizes also available. See ChesterJefferies.co.uk.
• FOR THE HOME
SPIN DOCTOR
Not everyone has the room — or the $14,000 — for the 32-inch Replogle Diplomat, the globe of choice for heads of state and captains of industry. Try the much smaller Mova Rotating Globe, which rotates using power from the light in the room instead of cords or batteries. A number of color and planetary choices are available. Movaglobes.com. Prices start at $125.

THE WELL TRAVELED COCKTAIL
Personalize these drink coasters with a map of the recipient's home town, based on U.S. Geological Survey maps. The coasters depict several views showing the three square miles around the address you provide. Orders take two weeks and can't be canceled. From the National Geographic Shop. $49.

IN VINO VERITAS
The Work Cork State offers Idahoans a chance to save and display the stoppers from your 46 most memorable bottles of wine. (If you drink more, Kansas holds nearly 70.) Do note the various states are not to scale, so they can't be put together. Uncommon Goods. $35.
A LONG WINTER'S NAP
It's Idaho. It's winter. It's cold. These are our realities. Ward off the chill with Sunbeam's Premium Quilted Heated Mattress Pad, which won the nod as the category's best from Wirecutter, the product-testing lab of The New York Times. Sunbeam's offering won accolades for its breathable cotton material (steer clear of hot polyester), an intuitive controller that locks to the mattress pad so as not to come unattached and lose power, and the fact that it only needs one outlet, many require two. Amazon, $145.
• DELIGHTS
TURN UP THE VOLUME
We all have a book lover on our lists. Watch your favorite bibliophile's eyes light up as they unwrap a stunning leather-bound edition from Easton Press. These volumes are handmade to the highest standards, with elegant binding, 22-karat inlays, a satin page marker and pages sewn in rather than glued. William Gibson's classic novel Neuromancer, which launched the "cyber punk" genre in the early 1980s. (Gibson coined the term "cyberspace.") Scores of titles available to fit any interest, many, including Neuromancer, are signed by the author. EastonPrice.com, but do check eBay. Prices vary.

BACON OF THE MONTH
Fact: Bacon makes everything better, even, heaven help us, kale. Surprise your loved one with a monthly selection of artisan bacon shipped to their home along with a copy of Bacon Bitz, its newsletter, which gives the details about the product and how it is made. If bacon isn't up your alley, Amazing Clubs has others that might appeal, including cheesecake, hot sauce and beer. Recipients are sent two one-pound packages. About $50 a month, with monthly and annual options available. AmazingClubs.com.
CHOCKFUL OF PERFECTION
Amedei chocolates, made in Tuscany, is considered the ultimate in confectionary bliss. "Porcelana cacao is crafted into a very complex 70% cocoa bittersweet dark chocolate with a predominantly toasted almond aroma and subtly spicy flavors like cinnamon, coriander and nutmeg. Intense yet delicate, with just the right amount of acidity to impart a fresh, clean taste that lingers." And how. You're going to need a dentist and an American Express card: A 1.75 ounce bar of its celebrated Porcelana is $17.99 — and, to borrow a phrase, no one can eat just one. Dozens of delectable choices. Amedei.it.

AW, NUTS
Every family has a few, and they seem to come out of the woodwork during the holidays. Steer into the skid with a thoughtful gift of the finest nuts. Bazzini's giant pistachios come in a five-pound bag, BazziniNuts.Com. $45. Consider also the "Open House" jar of colossal cashews from Koeze.com. Three pounds, $80.

SALT OF THE EARTH
It's the only rock we eat: The long story of salt is the story of humanity. Write a few more chapters with Jacobsen Salt Co. Infused 12 Vial Set, which includes a wide range of flavors from pinot noir to habenero. Williams-Sonoma, $50. Add the Fletcher Mill one-handed salt grinder, $35.
THE PROOF IS IN THE PUDDING
This holiday tradition has fallen by the wayside. Bring it back. The first step is to order a Collin Street Bakery fruitcake. Made with Texas pecans, organic Costa Rican pineapple, and clover honey, it's bound to win you over as it has millions of customers for the past 122 years. Turn up the heat a smidge: Open the tin, poke a dozen or so holes and drizzle in a little bourbon -- an ounce or so is plenty. Reseal the tin and let it sit in the fridge for a couple of weeks and you're ready for a little Christmas Eve treat after the kids head to wait for Santa. The large cake serves 50. CollinStreet.com. $60.
TRULY NOTEWORTHY
Levenger's thick paper absorbs ink beautifully. The pads have an immensely strudy cardboard back, and the perforated pages make a lovely sound when you pull them out. Available in white or yellow paper in several styles. Levenger.com, Five to a pack. $27-$35. Complete the gift with a sturdy, flowing Retro 51 Tornado rollerball. Amazon. About $30.

WOMEN'S GIFTS
GOOD MORNING
Frette linens are among the most exceptional produced anywhere: They're found on the altar at St. Peter's and in the dining car on The Orient Express. The storied house, established on the Via Manzoni in Milan in 1878, now turns its fabled attention to the robe. Its Fur Darling model sets a bold tone for any morning — or whenever the moment calls for an interlude of unparalleled luxury. Add the matching Lower slippers. Frette.com. Robe, $2,650. Slippers, $460.
HEADLINE
Dyson has upended the vacuum industry and the oscillating fan. Its hair dryer is the latest iteration of its thoughtful engineering. The Dyson SUpersonic Hair Dryer is extraoridanrily quiet and generates almost no vibration. The small handheld unit, with four hear settings and three speeds, stays cool to the touch. When you're done styling, it blasts cold air to set your coiff for the day's crimes. Three-quarters of Amazon reviewers gave it five stars. Retailers everywhere. $400.
STOP TRAFFIC
Simple and elegant are always a statement. Whether she's at home in Saint Laurent couture or her favorite pair jeans, help her get her point across with the Etincelle de Cartier bracelet. This stunning piece comprises 163 brilliant-cut diamonds totally just over two carats. Cartier.com. $23,000.
SEE AND BE SEEN
Fulton holds is the official umbrella manufacturer of Her Majesty, and she still uses this ingenius brolly. Generously sized. Fultonumbrellas.com. Anout $50. For the classic look, try Malacca's classic in black, made to order. Scully & Scully, $245.
TIE ONE ON
Trust us on this: No one ever erred with an Hermes scarf. With scores of colors and designs, this choice is limited only by your imagination. Go bold. (Don't worry, they're good about returns.) Prices vary. $315 and up.
OOHs and AHs
Though almost completely impractical, the fur muff elegantly enraptures and enchants as it recalls a bygone era. In white or ranch. Saks Fifth Avenue. $895. For greater utility, visit Cornelius James for custom leather gloves.
LAYERS OF LUXE
Golightly Cashmere says its Poncho is "instantly flattering." Warm and soft. 100% cashmere. Made in the United States. About three dozen colors to choose from. GolightlyCashmere.com (named for the protagionist in Truman Capote's Breakfast at Tiffany's — though his "Christmas Memory" may be better for the yuletide season) $235.