Custom closets: Functional meets fashionable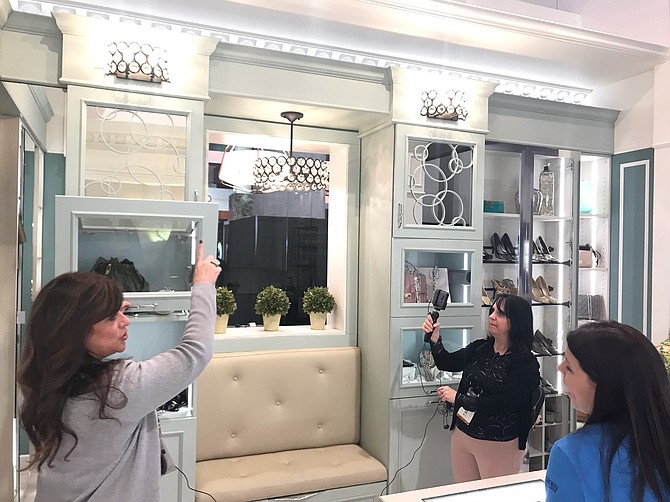 Hard work has always opened doors.
A few of those doors open to utterly awesome closets.
Consumers in 2019 have survived a spate of home trends that have come and gone. One that seems destined to last: Closet spaces as happy places.
Aspen Homes interior designer Jessica Frakes said she has been seeing a trend: Fancy custom master closets have become THE go-to option in new builds.
"Most clients are preferring a closet 'system' rather than your typical rods and shelving," she said. "The most popular features in these closet systems are more dresser-type drawers, shoe racks, lighting and stacked shelving for displaying handbags."
Her customers don't just want function. They want it to look nice. They're upgrading the look of the face of the drawers, the hardware and even the color of the material, Frakes said.
"We use California Closets out of Spokane Valley, and they have a variety of wood grain colors to choose from," she said. "Most clients are gravitating toward the grays and blacks lately."
According to home organizing company Closet World, closets — once a mere afterthought — can make or break how a person feels about an entire home.
"Anyone who's ever spent 15 minutes looking for a particular pair of pants understands that a bad closet can make you want to list your home," reads the "5 Closet Trends For 2019" article on www.closetworld.com. "Closets are a big deal."
Whether they help consumers organize kitchen miscellany or provide a home for the linen, closets play a big role in everyday life. And the more unique to the owner, the better.
"Back in February, I went to the International Builder's Show in Las Vegas and had the chance to see some really amazing closets," Frakes said. "I saw many closets that were designed with seating areas, oversized center dressers, mirrored walls and glass cabinetry. This year I've helped design laundry pass-throughs and spaces for safes inside master closets."
Frakes said the desire for functional-yet-stylish custom closet systems can be at least partly attributed to social media.
"Most clients I meet with are following designers on Instagram for new ideas and have pages and pages of pins from Pinterest," she said. "Of course, everything comes down to budget and getting the most closet for your dollar. From what I've seen, the average spent on a master closet is around $3,000, which I think is worth it because it increases the value of your home and is good for resale."