Haunted Hotels capitalize on long-staying 'guests'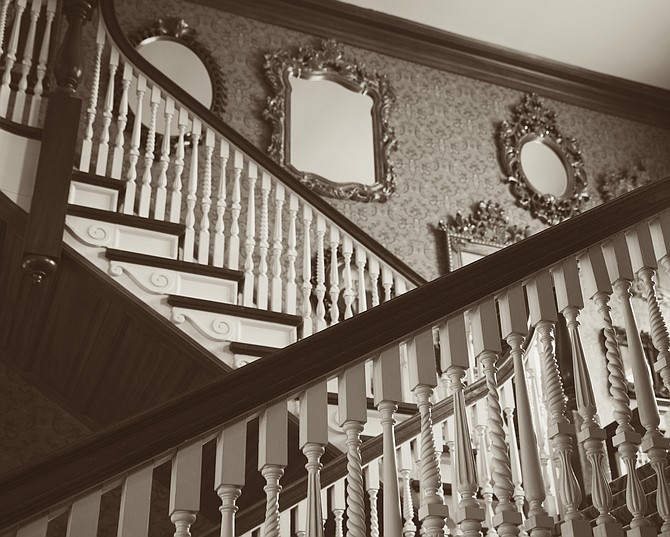 Haunted travel can make Halloween frighteningly fun. A few hotels to check out if you're interested in a good fright's sleep.
The good news is you don't have to go far:
The White Horse in Spirit Lake — perhaps an apt town name — is one of the oldest hotels in the Gem State. It opened in 1908; stories of its haunting started to circulate in the 1920s. The ghost is affectionately referred to as "Big Girl:" She's prone to slamming doors and moving stuff around and even appears as an apparition every now and then. Making reservations? She likes Room 2.
If you want to venture a bit farther afield, try:
• The Hotel Sorrento, Seattle.
Come meet Alice B. Toklas. (Yes, the one of Gerturde Stein fame) She's the (reported) ghost with ties to the arts scene of the 20th Century, where she rubbed elbows with the likes of Hemingway and Picasso. She's said to hang out around Room 408. The hotel was built in 1909 and renovated about five years ago. The hotel holds a dinner in her honor each year — she's said to be spirited but otherwise harmless — and guests can buy a copy of the Alice B. Toklas cookbook, which is part memoir and part pre-Julia Child admonitions on the glory of French cuisine. Rats about $200/night.
• Hotel del Coronado, Coronado, Calif.
Kate Morgan, 24, checked into a third-floor room at this beach resort near San Diego just three years after it opened in 1888. Estranged from her spouse, she chanced to meet her lover after a five-day stay. He didn't show, and she took her own life. Thus began weird occurrences: Flickering lights, doors that open and slam, mysterious footsteps and voices. Kate herself has been sighted. The Del holds an adults-only "Hallo-wine and Spirits party." Rates are about $300/night.
• Hobo Hill House, Jefferson City, Mo.
For seven months, Aaron Clark and his family lived in this three-bedroom house, Then the supernatural started. "We couldn't sell the house in good faith," he recently told The New York Times. Clark listed it for rent on sites like Airbnb, and the house — and a nearby prison, also said to be haunted — has been featured on the Travel Channel show "The Dead Files." Some guests report dark figures hanging around; others say they can smell sulfur. Clark makes no promises, though he notes the very first group we had didn't last the whole night." Rates are about $275/night.
The new Montage Big Sky resort is under construction in the private Spanish Peaks Mountain Club and is projected to open in 2021, the Billings Gazette reported. The resort will include 150 guest rooms, 39 residences, an expansive 16,000-square foot spa and a private 18-hole golf course.
When completed, the structure will encompass 520,000 square feet —slightly larger than a lodge being built at the nearby Yellowstone Club, which has experienced a number of difficulties.
Big Sky Chamber CEO Candace Carr Strauss says the Montage will add the region's 1,500 hotel rooms.
Customers say they want experiences, which would seem to be good news for independent hotels. But they face competition from large hotel chains, to say nothing of new channels like Airbnb. As a result, more independent hotels are joining big chains or shutting their doors.
Three decades ago, two-thirds of hotels were independent, according to the hotel data company STR. Less than 40% are today. Fueling the consolidation trend: the need to tap into effective marketing,z
Accor, for instance, had 3,600 hotels and 14 brands in 2013. Today, after years of acquisition and investment, it has about 5,000 hotels under 39 brands. Other operators, like Marriott International, focus on soft brands, such as Marriott's Autograph Collection, which includes properties like the Emery Hotel in Minneapolis. The upside for chains is individual hotel identities backstopped by robust reservation and marketing resources. Nearly 90 hotels are joining the Autograph group. These hotels usually make their own decisions on uniforms, food, furniture and other areas. They pay a fee, usually about 5% to 10% of revenue, to the parent company.