PEAK continues local innovation legacy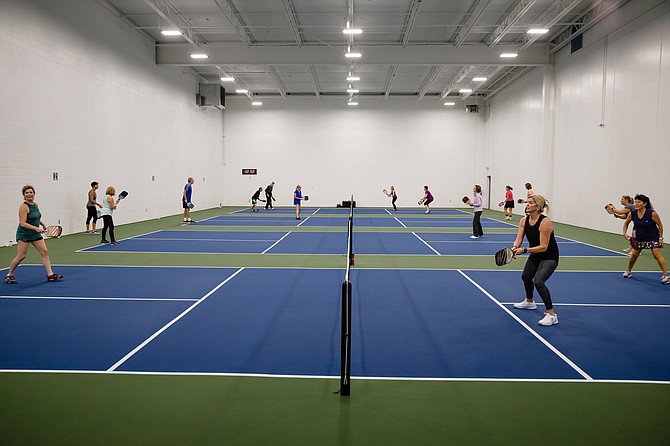 PEAK Health & Wellness Center is still innovating after 37 years.
The locally owned fitness icon — with centers in Coeur d'Alene, Hayden and Post Falls — prides itself on its reputation as North Idaho's leader in exercise evolution. Whether building the area's first indoor pickleball courts, gamifying cardio equipment or coordinating more than 150 complimentary group fitness classes, PEAK has long been a leader in the local fitness marketplace.
"We've always been about progressing," Owner Gary Retter said. "We've always been about anticipating our clients' needs and staying ahead of the curve. We pride ourselves on that, and we pride ourselves on providing state-of-the-art studio space boutiques within one organization, all at an effective price point."
That price point, Retter said, is attractive to North Idaho consumers shopping for fitness solutions. He said most consumers will pay for a membership at a competitor's gym or studio — and then be told they'll need to travel and enroll at a separate facility to join a cycling studio, a Pilates group, or yoga studio, which costs a lot of extra time and money. PEAK customers, on the other hand, have no such logistical concerns. They have access to any PEAK location and its full slate of amenities.
Between the three North Idaho locations, members can enjoy free weights and weight machines, cardio equipment, a basketball court, racquetball courts, indoor tennis courts, indoor pickleball courts, cycling studios and a Pilates Reformer Studio, as well as a kids' club with supervised child care, access to certified personal trainers and certified instructor-led group fitness classes.
For those looking to exercise the soul as much as the body, or to unwind after a vigorous workout, PEAK also offers physical therapy, massage therapy, a hot yoga studio, jacuzzi, steam sauna, dry sauna, fully-stocked juice bar and private executive style locker rooms.
That's a lot. But is it innovative?
"What this innovative, extensive membership gives is a convenience that's simply unprecedented in this area," said Lindsay Cantrell, Operations Manager for the three PEAK locations. "What we've found is, the biggest discouragement for people looking to start or continue a fitness program is a lack of convenience. You're much more likely to keep a routine or start a routine at an athletic club if you don't have to waste time, gas or money running from place to place."
Cantrell added those tiny seeds of doubt and debate can hijack a healthy lifestyle as much as any snacks or sweets.
"If it's a struggle to go, you won't want to go," she said. "If it's inconvenient, it's hard to stay motivated, and if you're a busy person like most of us are, and you're being told you have to drive 15 minutes out of the way, rather than just five minutes, you're less likely to go."
Personally, Cantrell believes that convenience boosts her own workouts exponentially.
"Knowing there's a gym close to home, work, kid's school, or on my way from one place to another gives me more motivation to make that stop," Cantrell added. "Also, consider that our members can get involved in one of many options that each club provides them with the all-inclusiveness that we want to be known for at PEAK."
"In this market," she added, "everyone is looking for a yoga class or a Pilates class. Everyone is looking for cardio, whether it's a cycling class or a step class. The great thing about PEAK is you can just go to cycling class, or you can join a yoga class or a Pilates class. You can work on your cardio or weight train. With PEAK, it's all encompassing, full-service facilities."
The Hayden location alone is a two-story, 66,000-square-foot palace on Government Way. While size rarely translates to innovation, the manner in which PEAK uses its space stands out as particularly creative.
"We built these great indoor tennis courts," PEAK Hayden Customer Relations Manager John Moore said. "But we had all this open space that wasn't getting used. So we reached out to the community and asked what they wanted in a fitness center. Almost universally, they said they wanted more access to pickleball. It's the fastest-growing sport in the country, and now it's hugely popular here in North Idaho. Consequently, we built the area's first indoor pickleball center."
Just in case you missed that last sentence, North Idaho: PEAK Health & Wellness Center in Hayden offers indoor pickleball to their members.
The creativity to maximize space is what inspired PEAK's most recent innovation.
"We've been talking about this new studio boutique idea in our clubs for over a year," Retter said. "So we tried to pilot a group training program in the three North Idaho sites, our western Montana facilities and the facility in Edmonds, Washington. But in Hayden, we were attempting to utilize this in the weight room, and our initial pilot group of members had a difficult time sharing space with everyone else who were also using the weight room. The program grew quickly and we exceeded the weight room."
The solution lay in the space.
"This new program was looking so strong, so successful," Retter added, "that we moved some things around and built our own dedicated group training studio. And now we have this amazing new program that's changing the way we look at group personal training and one-on-one training."
That new program is called MUV Tribe Training, a two-pronged regiment designed for athletes as well as those who are new to the fitness world, and one of the few up-charges in PEAK's arsenal. The first workout focuses on high-intensity cardio through light weights, intended to raise the heartrate and build energy. The second is a workout designed to enhance muscle-building strength. All PEAK Personal Trainers began the MUV Tribe Training certification process in September. They utilized it as part of their group training challenges, with successful results. PEAK will be ready to launch the program at its Hayden club in mid-December, followed by the Coeur d'Alene and Post Falls facilities in early 2020.
Cantrell said that PEAK is — and will always be — a fitness center for everyone at any stage in their physical lives.
"What I really love about PEAK," she said, "is when someone who is starting a new healthy lifestyle, someone looking to change up their fitness routine, or even just trying us out for the first time walks through our doors and sees that we are a non-threatening gym. What I've learned during my time here is, it takes a lot more strength for people to walk in here and try something new. We have a lot of people who are in here for the first time ever. Every single one of our Personal Trainers is ready to help people of all ages, all shapes, all sizes. The most important thing we are offering at PEAK is a welcoming atmosphere. That face-to-face, non-judgmental support is the first thing our members need in order to succeed."
Success, Retter and Cantrell agreed, doesn't just live and breathe in a business's creativity. It also evolves through its tools, which is where PEAK's innovation takes a mountainous leap.
"This is a digital world," Retter said, "and we decided to embrace the challenge — early on — and stay ahead of the technology that's out there. Members can use their smartphone to scan a code on our Life Fitness equipment; that will bring up a video on your device, showing instructions on how to properly use that particular piece of equipment that you are using. Our cardio and cycling equipment are all hooked up to the internet. Of course, we offer free Wi-Fi to our members and guests. And now we offer Myzone in our facilities."
Myzone is an advanced wearable belt that straps along the bottom of the ribcage. Aside from many of the benefits of a smartwatch — such as competitive rankings, a social platform and built-in storage — the wearable also provides an in-gym live effort display, data on gym equipment and an optional gamified platform to compete with other PEAK members.
"It's really important we stay ahead of the technological curve," Retter emphasized. "That's what keeps us competitive in an ever-changing market."
Retter also said that what really amplifies PEAK's innovation is the fact that it's locally owned and operated.
"We're not a big chain," he said. "We're not a big corporate run club that doesn't have any skin in the local community. We've been locally owned and operated for over 37 years, and it's important that we stay that way. That means always reaching out to see what our community needs, and it means finding new ways to provide that need. It means listening, it means getting creative, and most importantly, it means planning ahead for the future."