'It's a calling, not just a career'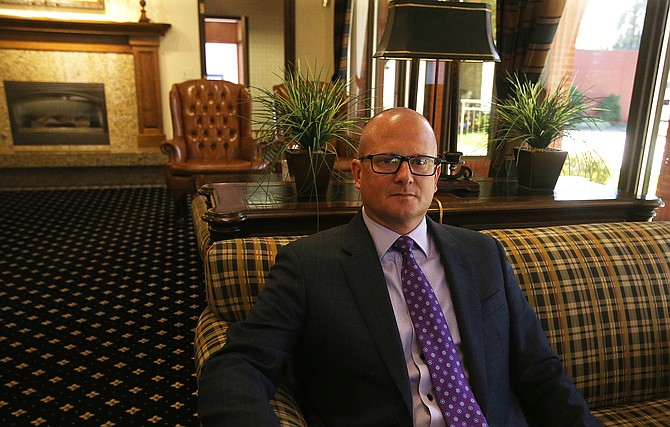 In the business of death, learning is a constant.
Everything else is not.
"We think we've seen every scenario of death because we've been doing this so long and we share our stories," said Yates Funeral Homes funeral director Eli Yates.
"But we haven't," he said. "There's a lot of things that catch us off guard and upset us."
Yates is the third generation to carry on the important work of Yates Funeral Homes, which conducts funerals, burials, cremations, memorials and everything that goes along with preparing loved ones for their final resting places. Yates Funeral Homes was founded at its original and current location, 744 N. Fourth St. in Coeur d'Alene, in 1952. The second funeral home, at 373 E. Hayden Ave., Hayden, opened in 1978.
Eli first realized, as far back as grade school, how much the work of his dad, Dexter, and grandfather, Gilbert, meant to people.
"I started to see how they were held in the community," Eli said. "That's what first sparked my interest in funeral service."
He attended North Idaho College and Boise State University, eventually transferring to the Cincinnati College of Mortuary Science.
"The same college my grandfather went to," he said.
One lesson Eli has learned from his dad and grandfather is that this industry is not as much of a business as it is a calling. He easily could have started on his career path in North Idaho, but his elders wanted him to broaden his horizons and see how things are done in other funeral parlors before joining the family business.
"When I came to Grandpa and Dad, they said, 'That's all fine and dandy, but you're not going to start here,'" he said. "So they sent me to Boise, and I went to work for Summers Funeral Homes."
The apprenticeship before mortuary school was a smart move.
"In Ohio, for example, it's the law that you can't work at a funeral home until you graduate mortuary school, so there's a ton of kids that came to school and they saw their first autopsy and they passed out," Eli said. "I was fortunate. I was subjected to all that and served in an apprenticeship before I went to mortuary school. Right then and there, before I went off to school, I knew it was what I was going to do."
He was 22 when he started his licensed career in the funeral profession. Since then, he has learned the hard lessons of how to deal with unexpected deaths of children and suicides. He has also learned that funeral directors have to be good listeners.
"We know that hidden in stories families tell us are the intimate details needed to create a meaningful service," he said. "The best personalized funerals all start with a funeral director who knows how to truly listen to their families."
Another necessary element of this profession is adaptability. Eli said it's important to be able to change on a daily basis and to understand funerals are for the living, not the dead.
"People coming into this career will need to have exceptionally strong communication, listening and organizational skills. Additionally, due to the nature of this profession, funeral directors should be willing to work an on-call schedule meaning nights, weekends and holidays also to be prepared to spend time away from their own families," he said. "Most importantly, they should be able to adapt with change. Funeral directors will need to provide a tremendous amount of support to people in a time of need. If people coming into this profession are willing to do this, they will have a potential for a lifelong, rewarding career."