Local event companies recovering from pandemic slump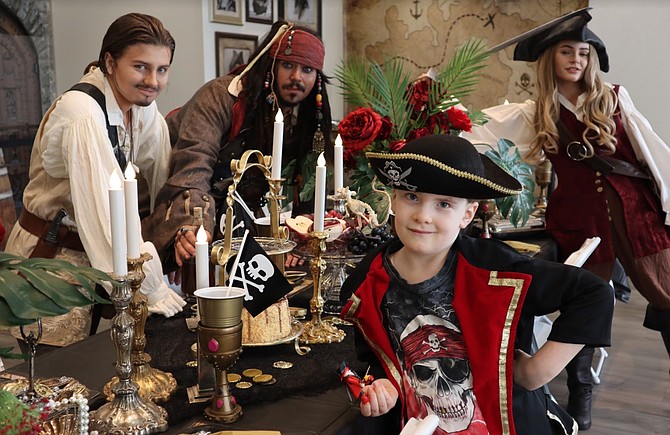 Jeni Cook had a plan.
"I had a retro photography studio," the Hayden entrepreneur enthusiastically recalled. "I specialized in old retro photographs, and we decided to start doing events. We were going to do a 'Roaring '20s' event, and it really wasn't getting the traction we wanted. So I started thinking: 'What other kinds of events can we do to get some interest?'"
Before long, a lightbulb flashed in Cook's head, an idea she thought — almost rightfully — would catapult her career forward: murder mystery events. And just like that, in March 2019, Crime Scene Entertainment was born.
"As soon as we put that idea out, we sold out of tickets," she remembered fondly. "I scheduled a couple more events that year. We had an '80s prom and a couple other events, and eventually, it got to the point where I had to leave the photography studio behind and focus on Crime Scene Entertainment, because it was really starting to take off.
"And then," she added, her voice dropping with the weight of deflation, "COVID hit."
Not even a year old, Crime Scene Entertainment came to a screeching halt when the coronavirus struck. As COVID-19 required people to isolate to slow the spread of the disease, shutdown and stay-at-home orders prohibited social gatherings of any kind. Corporate events — like the kind Crime Scene specializes in — became all but extinct, with no guarantee of a comeback.
"It completely shut us down because nobody could have the social gatherings we rely on," Cook said. "We tried to start a virtual one during the pandemic, but it wasn't getting the response we needed for it to work."
It was the same story for North Idaho Events, a company specializing in vendor-connected shows such as marketplaces, trade shows and job fairs.
"Right before COVID, we just did a 1950's retro Valentines Day dance," said April Howard of North Idaho Events. "Then, just like that, I had to start canceling like crazy. I think it's been 22 trade shows I've canceled this year."
It wasn't until May, when Gov. Brad Little's stay-home order was replaced by a staged re-opening, before hope returned to event companies. But it wouldn't be until early August before Crime Scene held its first public event.
"We had our first event in the Athol community center," Cook said proudly, "and we helped raise some funds for the Athol food bank. We were very excited to take part in it."
But the Athol event — like all events in the COVID-19 era — required adjustments from the norm. Social distancing was one critical key Crime Scene had to follow. The changes event companies have to make in order to accommodate health protocols change the way events look to customers. It was a hard change for Dreams Are Forever Events, which specializes in themed parties with characters such as pirates, wizards and — as the Dalton Gardens company's bread and butter — Disney princesses.
"It's really important for the kids to see our faces," Heather Roberts of Dreams Are Forever stressed. "We have to wear masks without wearing masks. So we decided on face shields."
It was one of several adaptations Roberts said the family business was more than happy to make in order to stay alive. Perhaps the most challenging change is one of the most personal interactions a child can experience at one of Dreams Are Forever's public events.
"The kids love to hug us," Loren Roberts said. "But at the public events, our actors are kind of (cordoned) off. So that's been challenging."
Loren added that the health protocols make private events a different matter, giving kids and princesses more leeway to interact. The ever-changing rules are the most challenging obstacles for event companies to overcome, according to Kandi Johnson, executive director of the Hayden Chamber of Commerce.
"At the Chamber, we have the same basic issue as the event companies," Johnson said. "With the changing guidelines, today we might have money invested in one avenue, but then it has to change, just like that. But with event companies, they're really putting themselves out there. If they're taking reservations, people give them their money, and then the company has to give it back. That's a real challenge."
Johnson pointed out, however, that the pandemic has illustrated a basic principle that consumers won't forget anytime soon.
"I think people still want to come together," she said, "and these event companies are perfect providers of that."
Johnson's point is, so far, playing out. As the North Idaho population has emerged back into the world, so, too, have event companies' calendars.
"We have a job fair coming up Sept. 16," North Idaho Events' Howard said with a glimmer of hope in her voice. "That's from noon to 3 p.m. at the Hayden Discount Cinema. In one of the theaters, we'll have speakers come up and talk about how to nail an interview during the pandemic, how to make a resume shine, things like that. We'll have workshops. It'll be great."
Howard is also in the planning stages of a drive-through senior expo in October, where vendors will pop open their trunks to offer their wares. She has booked the first floor of the Best Western Coeur d'Alene Inn on Appleway in Coeur d'Alene on Nov. 12 for CHEERS, a luxury Christmas bazaar where customers can go from room to room to shop for higher-end products and services. And Howard isn't alone.
"This Halloween, we're looking at having a drive-through event," " Heather Roberts of Dreams Are Forever added. "We're looking at having a set-up where people can drive by with their kids, where we can wave and interact safely. We're thinking it'll be attached to food fair and a safe space where people can trick-or-treat. We're still figuring it out, but that's looking promising."
As for Crime Scene Entertainment, Cook said her company is slowly but surely climbing back.
"That's been the hardest part through all this," she said. "We have events coming up, like a Coeur d'Alene Cruise murder mystery Sept. 26. In November, we're doing an event for the Rathdrum Parks and Recreation Department. So things are looking up."
Cook said the most hopeful solution to the company's biggest problem — adapting to constantly changing health protocols in public spaces — is about to be solved with one signature. Crime Scene Entertainment is negotiating a lease agreement for a private space, a to-be-announced location that would let Cook and her team facilitate established protocols to keep her clients safe.
"We just want to have a place where customers can experience events again in a safe atmosphere," Cook said. "That's the plan."