Playtime just got better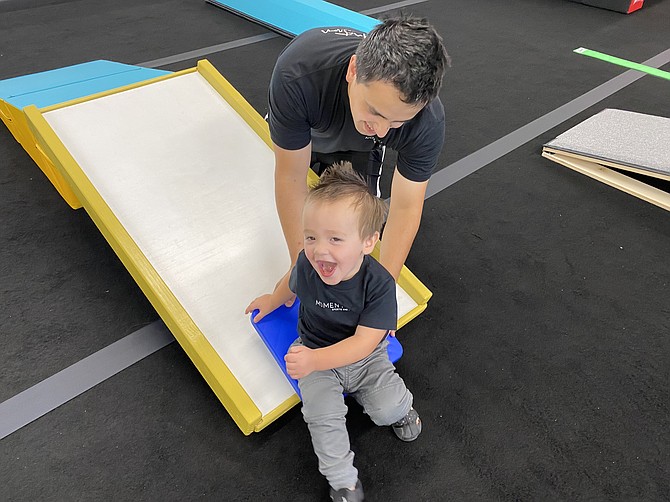 New children's play center opens in Coeur d'Alene
Momentum Sports and Play Center is 3,600 square feet of obstacle courses, cartwheels, dancing, and ninja training for Coeur d'Alene kids.
The visionaries behind Momentum, Josh and Katherine Terra, have dreamed of opening their own children's center since they were 18 years old. Now 30, the two — and their 16-month-old son Finn — have made their vision a reality.
"We talked about big, crazy ideas of creating a place for kids to go after school with all kinds of cool gym equipment and technology," Katherine Terra said. "The core of our idea was to build a place where kids would feel welcome, known, and safe to explore and pursue all kinds of different interests."
Their new facility includes a 20-foot trampoline, padded blocks and obstacle course, gymnastics mats, and a ninja rig — a steel cage with interchangeable attachments such as climbing ropes, a cargo net, floating planks, and monkey bars. The large, open floor plan also offers a dedicated preschool program area, a multipurpose room for Science, Technology, Engineering, Art, and Mathematics (STEAM) classes, and birthday parties.
Signing the lease on their location just three days before COVID shutdowns, the Terras had to navigate the choppy waters of opening a business while surviving a pandemic.
"So many doors have been closed to us because of the current economic environment that we ended up finding just one option to do each thing that needed to be done," Katherine said. "Looking back, it seems like just the right door stayed open for us each time we needed to make a big decision."
While getting the business started may have been daunting, the self-made Terras say they couldn't be more excited. While they don't have any big grand opening plans, Momentum's first Kinder Morning Playtime, Ninja classes, gymnastics, and minis class began Aug. 17.
"We are so ready for this," Katherine said. "We have outlined all of our processes and procedures, consulted with industry experts, and put all of our experience and passion into developing Momentum Sports and Play. There's a healthy amount of fear there, as there likely is with anything you've poured your heart into, but we are seriously so excited to get started."
In an age of COVID concerns, play centers are a mecca for bouncing, crawling, running, and touching everything. The Terras added multiple sanitation stations for quick access and the use of a botanical disinfectant to fog the entire gym. Due to social distancing and safety precautions, Momentum has limited the number of classes to one or two per hour.
"We have our current class and event schedule for our opening stage, and we have a schedule for each phase of projected growth," Katherine said. "We have experience growing programs, which has helped us anticipate our future needs and prepare now for what we expect to happen later on, such as establishing solid hiring, safety certification, and training program for new employees."
Momentum's classes include gymnastics, barre, ninja courses, home-school PE, coding and robotics, and various kinder playtimes for preschoolers. Both Katherine and Josh believe that Momentum's children's activities are not simply based on the premise of fun, but childhood development. According to the American Heart Association, higher levels of physical activity have been linked to positive outcomes such as higher academic performance, less stress, fewer symptoms of anxiety and depression, and a healthy weight.
"Our Kinder Gym classes include opportunities for fine and gross motor skill development, socialization, physical activity, and more," Kathrine said. "We start with movement and stretching that teaches body awareness, our skill of the day, as well as two different circuits that teach balance, strength, and coordination."
The Kinder Gym classes, which range from walking age to 5 years old, involve a variety of structured song, dance, and sensory activity to get the gears turning in every little tyke. As the children start to develop, parents have a variety of gymnastics, dance, and ninja courses for children to try.
Previously an elementary school teacher, Katherine believes her experience with children has aided her understanding of the different ways kids learn. Serving as a gymnastics and cheerleading instructor since she was 16, she's got some expertise with Momentum's tumbling and dance classes.
"I've witnessed how important positive social interactions with peers and adults are to a child's well-being, and that is something we will make sure our kiddos get every time they walk through our door," she said. "Being a teacher has motivated me to make Momentum a place where we build self-confidence in our kids and inspire them to set goals and work hard to achieve them."
Momentum's Tumble and Twirl classes are a combination of Katherine's talents. After realizing children love to dance but get tired of traditional steps, Katherine combined tumbling skills to keep kiddos on — and off — their toes. Starting the classes with basic dance moves and ballet positions, Tumble and Twirl incorporate counting to music, tumbling skills, and circuits to keep kids motivated.
Their separate gymnastics courses are precursors to competitive programs and follow USA Gymnastics standards and progressions. Learning the four traditional events — bars, balance beams, vault, and floor exercises — Momentum students will learn handstands, cartwheels, walkovers, back handsprings, and aerial tumbling.
It was Josh's passion for parkour, tricking, and freerunning that inspired Momentum's Ninja program. Offering classes from young ones to teens, the Ninja program will teach students a mix of tumbling, strength, coordination, and discipline.
"With the arrival of American Ninja Warrior, a new sport known as 'ninja' has developed in our industry," Katherine said. "It combines martial arts moves with gymnastics skills and obstacle course training, and it's so much fun."
The Ninja Program is individualized, forming a web of progressive understanding that molds to students as they master skills.
"We don't hold students back for not mastering a skill in an area that they aren't as strong in, but instead, teach them strategies to attain those skills while still challenging them at their overall ability level," she added.
With home schooling becoming a popular reality from COVID-19, the Terras are offering PE and STEAM courses as well as a Math Club.
The STEAM classes are divided by age, with classes for under 10, 10- to 13-year-olds and 14- to 18-year-olds. Josh, who graduated with a bachelor's in engineering, said he's looking forward to teaching those classes and aiding students in understanding higher content.
One lesson plan he's excited about is using virtual reality to capture footage of students doing a skill in the gym and teaching children to take that image and convert it into a video game.
"Starting, we will be working on 3D printing and modeling. In September, we plan to start coding and robotics," Katherine said. "Our Math Club will focus on assisting students with their home-school math work. Josh will work with upper-level math, and I will help with intermediate elementary and middle school."
To prepare for Momentum's home-school programs, the Terras purchased a set of Chromebooks, two 3D printers, and preordered Vex, Arduino, and Raspberry Pi robotics and coding kits.
Their classes and annual registration fees are reimbursed by most charter and learning programs such as Tech Trepp, Overture, and Harmony, Katherine said.
Pre-enrollment for Momentum's courses is open online.
"We weren't expecting as many people to be so excited about our gym, as we haven't been able to go out and meet families at vendor fairs or post many pictures since we're still waiting for some of our equipment to arrive," Katherine said. "I've enjoyed calling our families to schedule their first classes — hearing how excited they are makes us even more determined to deliver top-notch instruction and service."
Website: https://www.momentumsportsandplay.com
Phone: 208-966-4535