Sen. Risch visits honored veteran-owned business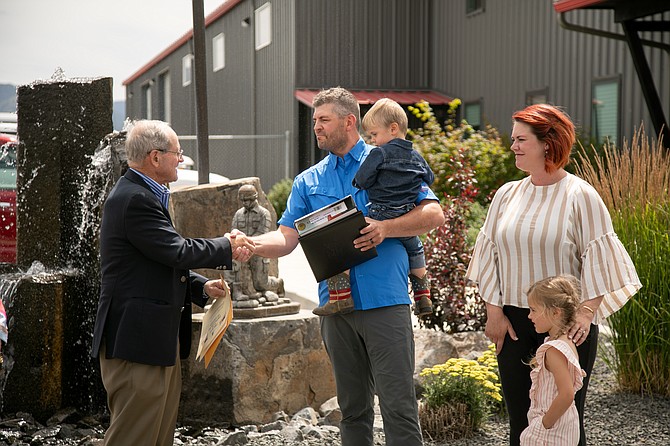 Critical Power Products and Services in Post Falls was selected as the Veteran-owned Idaho Small Business of the Day for Nov. 14, 2019. On Friday, July 24, Idaho Senator James E. Risch visited Critical Power Products and Services to present their commemorative plaque and flag that flew over the nation's capital.
As a member and former chairman of the Senate Committee on Small Business and Entrepreneurship, Senator Risch recognized a small business in Idaho each month. However, in honor of Veterans Day, Senator Risch honors a veteran-owned small business for each of the 10 days the Senate is in the legislative session in November.
"America's veterans have protected the very freedoms and values that give each of us and our children the ability to achieve the American dream," said Risch. "The skills veterans learn as members of the military are invaluable and undoubtedly contribute to Idaho's flourishing veteran business community. I am proud of the sacrifices veterans have made to protect our country and that they are choosing Idaho to call home when they complete their service in the military."
"We are proud to be selected as the Veteran-Owned Small Business of the Day," said Will Alt, CEO of Critical Power Products and Services. "Idaho is home to many veteran-owned businesses and to be recognized among our fellow veterans is an incredible honor."
Critical Power Products and Services is a Service Disabled Veteran-owned company.