SILVER LINING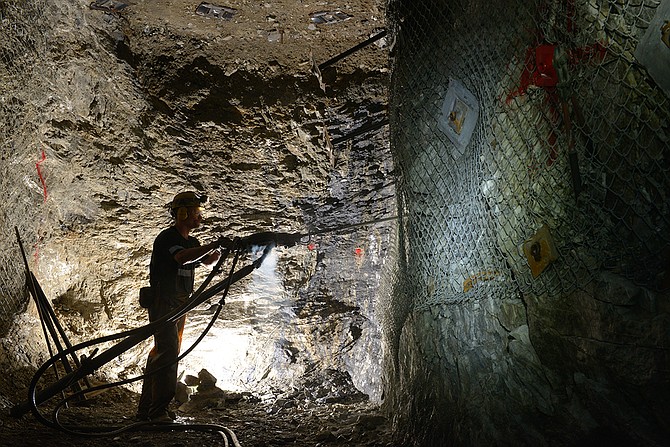 With three-year strike behind it, Hecla Mining plans to be back at full production by year's end
On Jan. 6, Hecla Mining Company and the United Steelworkers of Local 5114 in Mullan ratified an agreement that ended a three-year strike at the Lucky Friday mine.
The strike had started March 13, 2017.
When workers returned, it was good.
"To see that parking lot full again is wonderful," said Michelle Horning, Hecla human resources manager. "We were all very excited after three years of negotiations."
Luke Russell, vice president, agreed. He said everyone was happy to be moving forward.
"The culture is different now than it was historically at Lucky Friday," he said. "We are really working as a team in back stopping each other with a common goal to make the Lucky Friday mine successful for the next 20 or 30 years."
It's off to a good start.
In recently announced second quarter 2020 financial and operating results, it reported:
• Sales of $166.4 million, an increase of 24% over prior year period.
• Gross profit of $34.1 million, an increase of $54.3 million over prior year period.
• Cash provided by operating activities was $37.5 million while there were $10.8 million additions to properties, plant, equipment and mineral interests, resulting in $26.7 million of quarterly free cash flow.
• Silver production of 3.4 million ounces and gold production of 59,982 ounces.
• Net loss applicable to common shareholders of $14.2 million, or $0.03 per share.
• Adjusted net income applicable to common shareholders of $7.3 million, or $0.01 per share.
• Strong balance sheet with cash and cash equivalents of $76 million, repaid $160 million of revolving line of credit, leaving $50 million outstanding; expect full repayment by year end.
"Despite the pandemic, Hecla had its second highest quarterly silver production since 2016 which, combined with higher prices, resulted in almost 25% more revenue than a year ago and generated about $27 million of free cash flow," said Phillips S. Baker, Jr., Hecla's President and CEO. "I am extremely proud of our workforce's adaptability and commitment in this challenging time which positions Hecla well to improve our cash flow generation in this higher silver and gold price environment."
He said Hecla currently produces about a third of all the silver mined in the U.S., almost three times more than the next primary producer.
"That number is expected to grow as Lucky Friday ramps up," Baker said. "As the United States' largest and oldest silver producer with America's largest silver reserve and resource, Hecla gives investors unique exposure to higher silver prices."
Of the 200 who went out on strike, a little more than half returned to Lucky Friday as it is ramping back up to full production by year's end and aims to have about 275 hourly employees.
It is hiring for electricians, millwrights, underground miners and mine support, mill operators and maintenance mechanics.
"We have been able to hire good, experienced people," Horning said.
Russell said Hecla is working with North Idaho College Workforce Training Center on developing company-specific training modules.
"The mine of the future demands skill sets to meet rapid changes in the mining industry. Because our needs are changing rapidly, we need those positions today," he said.
Horning said since the three-year contract was signed, Hecla has implemented a progression system that gives employees opportunities to grow and develop skills.
"Look at the way we mine — it's changing," she said, pointing out they are phasing out jacklegs, an important but dangerous piece of mining equipment.
Russell said Hecla is "very optimistic" about the years ahead.
Exploration work and development takes them 10,000 feet below the surface.
"The grade gets better as we go deeper," he said.
What has made a difference, he said, is the culture of teamwork, positive atmosphere, adopting new technology and developing new skill sets.
"Everybody seems to be aligned that this is what we need to make the mine successful," he said. "We're very excited bout the future of Lucky Friday, the company and the community."
He said Hecla is poised to supply what's needed.
"If you look at alternative energy, solar, wind, silver is a critical mineral for those technologies," Russell said. "It is premised on silver."
Demand will only increase, too, with more wind turbines and electric cars.
"The way we are evolving in our consumption is dependent on silver and copper and the things that we produce," he said.
Hecla is the largest lead and zinc producer in the U.S.
"We are the first part of the supply chain for the consumer goods we all expect and want to have. And it all begins with mining, and we like to say it begins with Hecla," Russell said.
Others have noticed.
During the strike, Hecla earned several awards as salaried employees stepped in where needed.
"A lot of them were used to miners so they became miners again," Horning said. "We had geologists driving haul trucks."
She called it an "amazing time, just watching everybody come together the way they did and willing to step out of their role and into something else to keep things going."
Hecla Mining Company's Lucky Friday Mine was named a "Pollution Prevention Champion" by the Idaho Department of Environmental Quality for their environmental stewardship practices in 2019. The Lucky Friday was among only four Idaho businesses chosen for the prestigious award.
"Our Lucky Friday Mine's commitment to responsible mining practices, to the community we work in, and to the environment is reaping real benefits to ecological systems, to our neighbors, and to Idaho," Baker said.
"The upgrades, process modifications and recycling projects that have been implemented at Hecla's Lucky Friday mine have resulted in significant reductions of waste, water, and energy used by the mine for the production of silver, zinc, and lead," Ben Jarvis, DEQ's pollution prevention coordinator, said in a press release. "With growing demand for these metals, eliminating waste and pollution from production is more important than ever."
Specifically, the Lucky Friday was recognized for:
• Investing in state-of-the art water treatment facilities that reduced the concentration of lead and zinc in the water released by over 95 percent.
• Creating a water recycling program that reduced the average freshwater use by 95 percent in the Concentrator Plant.
• Reducing waste generation by minimizing hazardous waste, improving recycling and repurposing.
• Partnering with the State Department of Transportation to repurpose approximately 120,000 cubic yards of waste highway material as part of our tailing's impoundment reclamation project.
The Lucky Friday Mine was also named a 2018 Sentinels of Safety award winner by the National Mining Association for its stellar safety record. The Lucky Friday was recognized along with only 19 other American mining operations—six coal and 14 mineral/non-metal mines.
The award is sponsored by the NMA and is presented annually to mines with the best safety records and those that have worked the most employee hours without experiencing a lost-time injury.
Lucky Friday won the small underground metal mine category for achieving 114,829 injury-free hours. It requires a minimum of 4,000 injury-free hours and is based on data provided to the Federal Mine Safety & Health Administration.
"It was an amazing accomplishment," Russell said.
And Lucky Friday remains in the running for the award again.
Russell said Hecla is committed to investing in technology and people.
He said the U.S. has the toughest regulatory requirements on the planet, and Idaho, some of the toughest in the nation.
"Doing it right here at home is the best place to do it, to be able to provide the supply chain minerals we need right here in Idaho," he said.
Hecla Mining Company is 130 years old next year. Many employees have been with Hecla more than 40 years.
"Which is really a testament to the culture here," Russell said.
"We as a company have the long view in that we know that when times are good like right now, metal prices are up," he said. "But we also know it will be cyclical and metal prices will come down. So we plan for that lower price environment, take advantage of the higher prices environment."
Hecla has an experienced board that understands the cyclical nature of business and is always "thinking about what may come next."
Hecla also takes pride in its community standing and contributes to charitable organizations and helps in other ways.
"We see it as a partnership," Russell said. "You develop a partnership with the community. What's good for the mine is good for the community and what's good for the community is good for the mine."
Listening, he added, is more important than talking.
"We need to listen firsthand then respond, be transparent and open in our dialogue," he said.