2021 housing forecast: Little inventory, big prices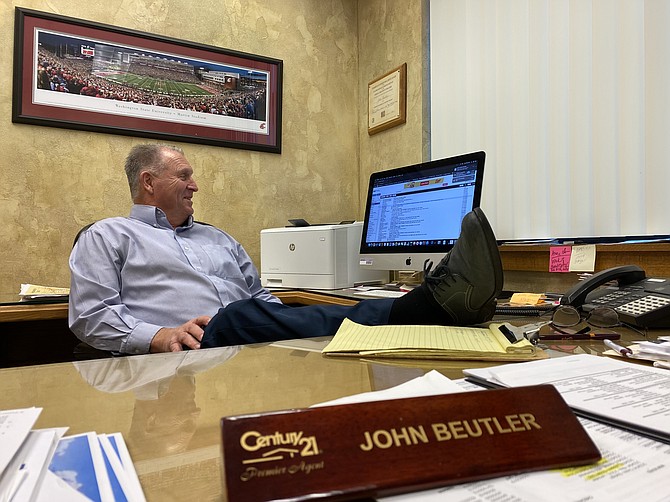 It's not news to any Kootenai County resident that housing is flying off the market and prices are going up.
In a deep dive of what 2021 could bring, three real estate agencies said prices will still go up, hopefully with the inventory to support it.
John Beutler, the owner/broker for Century 21 Beutler & Associates, has been a Realtor for 42 years. Beutler was quite candid about the state of Kootenai County's housing market when asked about torrid recent sales versus the ever-decreasing supply of available units in 2020.
"Yes, inventory is low," he said. "We recognize that it is strictly supply and demand. With low inventory comes increased prices, which we are experiencing right now."
However, the low inventory isn't new as all three agencies have seen a slow in available housing for several years. In 2014, which was about two years since the market low in 2012, the Real Estate Multiple Listing Services reported about 2,400 residential properties were for sale at years end. In 2019, there were roughly 1,595, a stark low.
By the end of 2020, there were just 371.
About half of those 371 were single-family homes, said Jennifer Smock, the co-owner and managing broker for Windermere/Coeur d'Alene Realty, Inc. That's drastically lower than the approximately 1,400 available in 2019.
Compared to November 2019, the number of sold properties was up 7% in 2020, Joel Elgee of Coldwell Banker Schneidmiller Realty said, but the price increased 15%, and residential listing inventory was down 77%. Elgee has been charting market statistics for about 15 years, and in the latter five months of 2020, he said the amount of stock on the market fluctuated between 50% and 70% less than standard rates.
"In my 17-year career, it is definitely the lowest inventory we've ever seen," Elgee said. "Last year, at year's end, we were down about 12% in residential inventory, which also is why prices went up, but not like this."
Historically, a 5% to 7% increase is expected, Beutler said, as the national appreciation rate hovered around 5% for 30 years before 2015. Last year, based on the median sales price, he saw that rate was well over 20%.
"This is unsustainable, especially if you look at the steady increase every year since 2012," Beutler said. "Incomes have not increased at the rate of appreciation we are experiencing, which will make home-buying more and more difficult for the first-time homebuyer and move-up buyer."
The average price of a house varies throughout the county, Elgee said, but here's what they looked like at the end of 2020:
Kootenai County
2019: $341,651
2020: $406,520
Coeur d'Alene
2019: $352,318
2020: $412,628
Post Falls
2019: $307,589
2020: $359,622
Rathdrum
2019: $308,676
2020: $349,846
Hayden
2019: $406,497
2020: $476,993
South Kootenai County
2019: $699,831
2020: $1.26 million
Waterfront
2019: $920,195
2020: $1.097 million
When COVID-19 first raised its ugly head in March, Beutler admitted he was concerned. After several years of semi-stable projections since the housing market hit rock bottom in 2012, he expected sales to fall victim. However, the reverse occurred.
"The political climate in other states has really contributed to the high sales activity," Beutler said. "Buyers looked at our area as a safe place to live and with less governmental impact."
Smock also believes COVID and the ability to work remotely increased the interest in local real estate.
"When people are cooped up in their small city apartments, the thoughts of having more space instead of less drive them to investigate areas that accommodate this," she said. "Our area has been a bit of a hot spot for years now, and this pandemic has only intensified that."
Before COVID, Smock said housing values were reasonable considering migrant buyers' previous locations. By December, however, it was a different conversation.
"Buyers are quickly discovering they are being priced out of entry-level homes at a rapid pace," she said. "Even move-up buyers or higher-end buyers are experiencing difficulties getting offers accepted."
Kootenai County has been a common relocation destination for Californians, Beutler said, with historically about 60% of all out-of-state buyers coming from the Golden State. 2020 was slightly different, he said, as an increased migration from Oregonians and Washingtonians was added into the mix.
"The main difference is that in the past, people would come and visit, take a look at the area and leave, maybe come back in a year and look again or buy," Beutler said. "This time they have come and made a purchasing decision almost immediately. They realize with the low inventory, if they want to be here, and they do, they need to buy now."
The primary issue right now, Smock said, is twofold. On one hand, homeowners benefit from historically low interest rates that allow them to refinance their homes rather than putting them on the market, which Smock said has exasperated inventory levels.
On the other, resale inventory levels are so low there is added pressure on new construction sales, which lengthen the process.
"Buyers are finding themselves homeless and desperate," she said. "Many coming from other areas are paying with cash and are willing to go tens of thousands of dollars in some cases over the asking price."
In December of 2019, Smock said their residential median sales price in Kootenai County was about $315,000. In December of 2020, it was about $370,000.
"That is a significant difference in a 12-month time frame," Smock said. "Certain market segments are seeing increases of 20% to 25% since the beginning of the year. This is unsustainable appreciation in our area."
Anecdotally speaking, Elgee said it's reasonable that homeowners would avoid putting their house on the market in the middle of a pandemic. This, to Smock's earlier point, influenced Kootenai County residents to stay in their homes and refinance at the low - currently near-zero - interest rate. For reference, 2019's and 2018's rates were between 2% to 2.5%.
If that value jumps, the housing market could be adversely affected.
"We have extremely low rates at the present time, which affect affordability," Beutler said. "If the (U.S. government) raises the rates, say 4% to 6%, it would cause a huge slowdown in the market."
Looking ahead, Elgee and Beutler expect prices to climb somewhere between 7% and 10%. That's much lower than the crushing 15% jump of 2020, a drop in prices that Smock believes is imminent.
"We will be grappling with the inventory shortage for years to come," she said. "However, I do feel we may see a bit of a slowdown of price appreciation as buyers are choosing to move somewhere else because we have surpassed some affordability comfort zones."
Beutler expects the county's median sales price to extend over its 2020 $400,000 tip, noting Realtor.com's predicted increase of 7%. Nevertheless he's optimistic that an increase in the available property will balance the community's growing interest.
"I hope more inventory will come available, and we can supply the need for the first-time homebuyer," he said. "The interest has always been here. We are fortunate to live in such a beautiful area. We just have to remember what we have. It is a special place."
Elgee's predictions are low-interest rates, increased prices, and the possibility of more inventory.
"We anticipate rates staying low as there is a lot of national pressure on keeping money flowing and the economy moving," Elgee said. "We're expecting to see some recovery, and maybe even significant recovery of our inventory support as the number of people feel more settled to put their house on the market."
For those looking, Elgee is recommending to keep their eyes open. Search actively, regularly if not daily, he said, and don't get frustrated if they're not finding the perfect house because the likelihood one will come along in the future is very strong.