2021 tourism forecast: More Idaho travel in new year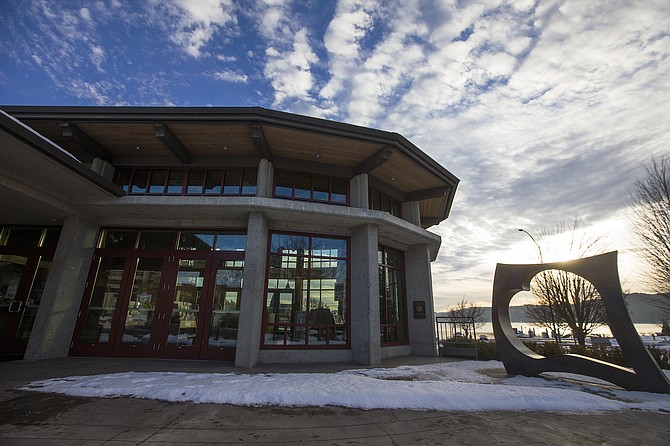 As twilight sets on a year filled with anxiety, closures, cancellations, unimaginable unemployment rates and economic collapse, travel and tourism leaders are looking to a brighter 2021.
For the first time in history, North Idaho forfeited its biggest tourist-attracting events as COVID-19 became increasingly rampant. Parades were not held on Sherman Avenue, Art on the Green went virtual and auto enthusiasts had no Car d'Lane to show and shine their vintage rides.
Even one of the Northwest's biggest attractions, Silverwood Theme Park, felt the sting of the pandemic and subsequent travel restrictions paired with park-goers opting to stay home.
"Overall, considering the theme park industry, we had a good year," Silverwood marketing director Jordan Carter said. "Before COVID hit, we were tracking for an even better year than 2019. But, unfortunately, the entire industry was affected by the pandemic. However, the future looks bright in 2021, as our passes and early bird tickets are on target with pre-COVID numbers."
Silverwood has an exciting new roller coaster to introduce to the world when it opens in May. The single-rail coaster, Stunt Pilot, pays homage to the air shows that used to be held at the park in its early years.
"We are so excited to bring a world-class coaster to the park, and especially excited that it is being manufactured by Rocky Mountain Construction in Hayden," Carter said. "We hope this will draw a lot of business to the area, especially after a pandemic year where people didn't travel as they usually do."
He said judging by season pass and ticket sales, Silverwood is optimistic about the year to come.
"I don't know if we will see 2019 tourism numbers until 2022, but I do see hope with people investing in summer vacations," he said. "I hope that the border is able to open and we see the Canadian traffic make their way back to our area next summer. I think that will be a large boost to the tourism industry."
In a year when travel by cruise ship and airplane was significantly down and urban destinations were less desirable, Idaho Tourism reported that the Gem State actually achieved the second-highest revenue-generating year on record for the 2% lodging tax collections at $13.6 million in tax revenue for the 2020 fiscal year. This is a change of just -3.91% year over year, despite the COVID-19 setback in the final quarter, Idaho Tourism manager Diane Norton said.
"The panhandle of Idaho was the recipient of people seeking outdoor recreation opportunities and respite from restrictions," she said. "Idaho's low population and natural wide-open spaces were seen by many as a great destination to get away from it all and take a road trip to one of our outdoor-oriented recreation areas."
Online orders for maps and travel guides are up 109% over 2019, Norton reported. New visitors to www.visitidaho.org are up 341% over last year. The winter tourism digital marketing program "Cool Times, Warm Memories" has created a 696% increase in page views over 2019.
Norton said Idaho Tourism is also optimistic about what 2021 will bring. Idaho Tourism staff will create a scalable campaign concept that leverages what they know about travel trends coming out of 2020 and embraces uncertainties going into 2021.
"We will continue to monitor the COVID-19 statewide guidelines set by the governor and continue efforts to educate Idahoans and people that choose to vacation in Idaho to travel responsibly," she said. "Visit Idaho's COVID travel map will reflect community information and be updated as Idaho moves through the stages of recovery."
At the Best Western PLUS Coeur d'Alene Inn, nearly all of the groups that canceled in 2020 booked into future years.
"This, coupled with pent-up travel demand from individual travelers, should bode well for 2021, particularly in the second half of the year," President J.J. Jaeger said.
He said the Inn is also excited to offer its popular comedy shows again next year.
"This has been such a strange and challenging year for our industry," Jaeger said. "Despite that, our team here at the Coeur d'Alene Inn has done an amazing job of rising to the occasion and continuing their focus of taking great care of our guests. I could not be more grateful for and proud of them."
Like so many professionals working from a distance, Jaeger said he can't wait to get back to more personal interaction and in-person meetings and events.
"I won't be sad when we don't have to video conference anymore," he said.
Jaeger also serves on the board of directors for the Coeur d'Alene Convention and Visitor Bureau. He said the board is "very focused on marketing all of the things that make our area so special."
"Activities such as golf, lake cruises, special events and Silverwood Theme Park are a major points of focus for the board," he said.
CVB executive director Mark Robitaille said the CVB is ready to commence an ad campaign to illustrate the many winter activities in the region, with a broader reach to attract more visitors.
"We will continue the momentum into the spring with our traditional seasonal campaigns highlighting events, should we be able to safely conduct them — area golfing, outdoor recreation, arts and culture and all the places to stay, dine and relax," he said, adding that many CVB partners have also increased their messaging to reflect the abundance of outdoor activities with the ability to socially distance.
Although it is uncertain when the Canadian border will open, Robitaille said he believes a proposed date will come with a significant decrease in the number of new COVID cases in the states.
"We've been fortunate with fewer stringent restrictions, so I believe we have done better than many bordering states and regions," Robitaille said. "My advice is to hang in there – that there's light at the end of the tunnel, and the CVB will continue to attract travelers to our region.
"With a vaccine on the horizon, we're optimistic people will feel more confident returning to their travel habits."