Post Falls Chamber: A new year and new leadership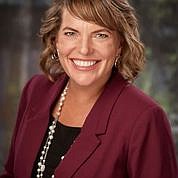 2020 is finally behind us and 2021 is perhaps the most anticipated year in decades! "New year — a new chapter, new verse, or just the same old story? Ultimately, we write it. The choice is ours," according to Alex Morritt. So "Do not wait until the conditions are perfect to begin. Beginning makes the conditions perfect." — Alan Cohen.
With a new year comes new leadership. We are proud to announce our new Chairman of the Board, Julie Holt, foundation president for Kootenai Health Foundation. Julie received the leadership "baton" from our now Past Chairman of the Board, Jerry Lyon, president of North Idaho Region First Interstate Bank.
We have a solid executive team, which includes Chair-Elect Eric Knudtsen, General Manager for Knudtsen Chevrolet; Randy Oaks, principal with Haddock & Associates; and Jessie Morrow.
Our returning Board of Directors includes: Mark Woodworth, The Murray Group; Dena Naccarato, Post Falls School District; Christi Fleischman, Knock Marketing and Design; Graydon Stanley, North Idaho College; Brian Brigham, Northwest Specialty Hospital; Tag Jacklin, Riverbend Commerce Park; Tavis Throm, State Farm Insurance; Jason Faulkner, city of Post Falls; Scot Frazer, Cascade Defense; and Cindy Jordan, Jordan Sales and Service.
This group has had to lead through many challenges this past year and they met each situation with a conviction to do the very best for the community of Post Falls and the region as a whole, and I am honored to work alongside this incredible team in 2021!
One of the most valuable aspects of Chamber membership is the relationships you develop. Julie Holt, Chairman of the Board, shared her focus for 2021 at the Annual Meeting in December and her focus will be to help support each other and create success for our members through our relationships.
All of the Chamber staff could not be more excited about this approach to 2021. Our programming will be focused on ways to grow relationships with fellow members, city and regional officials, nonprofit organizations, Chamber Board and staff, as well as our surrounding community. Together we are stronger.
Our first event is the 2021 Community Recognition Virtual Banquet, slated for Thursday, Jan. 21. This is a special evening where we partner with our nonprofit friends at the Post Falls Food Bank and the Boys & Girls Club of Kootenai County to recognize individuals and businesses that are making a significant impact in our community. It is always heartwarming to hear these stories, and reminds us of why we choose to work, live and play here in Kootenai County.
Looking ahead to our first Connect 4 Lunch in 2021… Tuesday, Feb. 16, we are pleased to welcome Steve Sims from Cascade Defense speaking on Cyber Security for our program.
There are many great things to come in 2021. On behalf of the Post Falls Chamber of Commerce, we wish you an incredibly successful New Year!
• • •
Christina Petit is the president/CEO for the Post Falls Chamber of Commerce.