Far from fleeting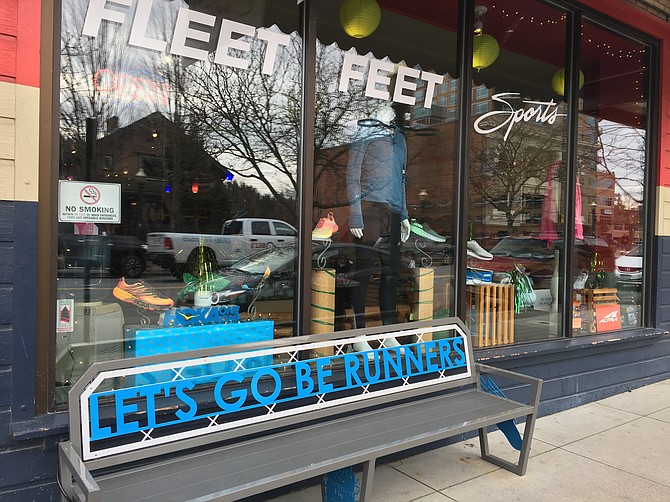 DowntownCoeur d'Alene store dedicated to keeping runners going
Garth Merrill can't help himself.
The running quips flow effortlessly in response to questions as he sits for an interview in his office decorated with pictures, posters, shoes and sayings — all running-related.
How many years have you been in business?
"Fifteen years and running."
How has it been?
"It's been a good run."
Even the bench outside the front of his Fleet Feet store on Sherman Avenue shares that theme: "Let's go be runners."
That's what Merrill has long said before leading a group run that starts and ends at the only running specialty store in Kootenai County.
But it's not for show. It's not about sales. It's not just business. Running has been in his heart since he was a kid growing up in California.
That long and windy road that runners love led him and his wife Nancy to Coeur d'Alene nearly two decades ago. They opened their store and weathered some storms, figuratively and literally.
"There have been a few stretches over the years when the economy wasn't so good and it sort of felt like subsistence living and it's possible other people would have cashed out, but honestly, I didn't have anything else I wanted to do," he said. "So we held out until better times came, and they have."
And darned if they're not still standing in this age of online shopping and brick and mortar stores fighting for a foothold.
Like any race that tests resolve and endurance, it's been painful at times — but gloriously fun, too.
"It's certainly had its ups and downs," Merrill said of owning a store that offers everything running (and some swimming). "Every winter as the business slows down you sort of grit your teeth, but overall it's been really positive and it kind of just keeps getting better.
"You know, you get deeper involved with the community. Maybe it's because you've been here a while, but you start to appreciate more of the stories that come through the door, which there are a lot."
At 1,600 square feet, it has done well enough in downtown Coeur d'Alene to establish a firm following. That's due to customer loyalty and new clients thanks to the area's steady growth.
People, simply put, buy enough shoes and gear here to keep Merrill and his staff of six on the run.
"You either get to help them or hear their stories or be involved with them in some way," he said. "I feel like we feed off the energy of the community around us."
Running isn't retail rocket science. Fleet Feet has survived and thrived by putting people first. That, Merrill said, is pretty much their motto, which comes naturally to someone who's been running since he could walk.
A cup on his desk reads, "Coffee. Run."
And shoes seem to be resting in every corner and even hanging from the wall.
"Owning a shoe store, you get quite a collection of shoes," he said, laughing.
How many?
"I have probably 30-40 pair of shoes," he said.
Merrill attended high school in California, where he ran track, competing in the mile, the two-mile, the 800, relays, hurdles and long jump.
"I had modest talent and over the top enthusiasm," he said.
He later competed at the community college level and ran cross country at Humboldt State University.
His major was journalism, and he worked in the field about a decade before deciding he wanted to own and operate a running shoe store.
"Ever since I was a little kid, it was something I thought about," he said.
He managed a Fleet Feet store in California years before he and wife Nancy moved to Arizona, where he also worked at a running store.
Next, the Merrills set their sights on Coeur d'Alene and opened Fleet Feet in the downtown area.
Like a marathoner, it has survived ups and downs. It's here for the long run.
"You have to have a love for it," Merrill said. "You have to love it enough to hate it every once in a while. You have to love it enough to give up things you love about it. Time is a big thing."
Merrill generally works six days a week, tracking merchandise, sales and service.
Equally important is connecting with the community through fun runs, field trips and training programs.
"I'm grateful we're one of the hubs of outdoor life in this area," Merrill said. "All these things kind of feed into the whole outdoor spirit in Idaho here and we're really happy to be part of that."
It's had an impact.
"Thankfully, the last couple years, we've been getting a lot more new customers. The growth in North Idaho has been reflected positively here," he said.
He credits that not to anything he's done, but to his staff in helping folks pick the running shoes that will work best for them.
"We go through a pretty comprehensive fit. We get folks down to barefoot gait analysis," he said. "It still comes down to what's comfortable for the customer."
Fleet Feet recently began using a new 3D scanner that takes a detailed image of the foot.
"It's something that didn't exist when I started," he said.
Merrill still runs, but he hasn't fully recovered from right knee surgery to repair a torn meniscus about 18 months. It was his first significant injury and longest layoff in a half century of running.
Asked if the injury happened while running, Merrill laughs and shakes his head.
"Happened when I was bending over to pick a weed up in my backyard. It was not a good story," he said. "But it took me out for a long time. The comeback has been hard."
There was, though, a bright side.
"It's given me a chance to maybe refresh my perspective of what running should be," he said.
His motivation remains the same.
"I really enjoy, through and through, just the act of running. Running itself is like pure pleasure of the body," he said. "There's that, and I like some of the more technical aspects of it. I like trying to run fast, and the skill set that's involved in trying to do that."
There's more.
Running, he says, brought a lot to him — most important, it's how he met his wife and they have a son, Bo, 9.
Is Bo a runner?
"Sometimes," his dad said, smiling.
He feels good about Fleet Feet's direction.
"We have really good people on staff. They care about the folks who come through the door. More people seem to be finding us," he said. "We have a good cross section of customers."
Some are just starting their running journey. Others have thousands of miles and hundreds of races behind them. And some are medical referrals, folks looking to regain lost health.
Whoever it is that comes through the door, Merrill believes Fleet Feet can make a difference in their life.
"You put all of those things together and I feel good about where we're going," Merrill said. "I feel good about where we are and where we're going."
Customers, he said, will find shoes, shirts, shorts, gloves, watches, and water bottles at Fleet Feet, but also, something more intrinsic.
"Hopefully, some information — and inspiration," he said.