Idaho Central Credit Union opens new Cd'A branch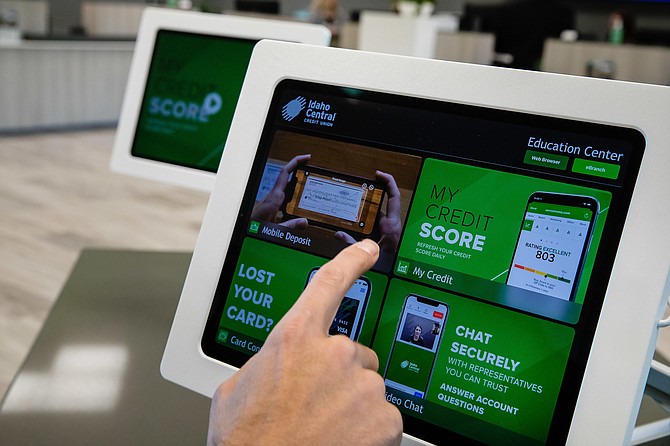 Appleway location brings services under one roof
For almost 80 years, Idaho Central Credit Union has served members throughout the Treasure Valley, Magic Valley, Eastern Idaho and North Idaho.
Now the credit union is revolutionizing its services in the Idaho Panhandle.
ICCU has opened a new branch on Appleway Ave. in Coeur d'Alene. Located right off I-90, it's ICCU's 38th location in Idaho.
The project has been years in the making and will transform ICCU's capabilities and customer service in North Idaho.
"You still have the small-town feel while also being able to access professional services and new technologies," said Michael Wolsten, ICCU's assistant Vice President of North Idaho.
The 8,600-square-foot branch features a drive-through with three lanes and six tubes, plus an ATM. The branch brings member service specialists, financial service officers and other services together under one roof.
"To have everyone in one building to service our members is great," said branch manager Emily Haas. She's been with ICCU for 13 years.
After opening in February, the new location is already making a difference for ICCU members. The day the branch opened, Haas recalled, a member was able to simply walk upstairs to speak with someone regarding a mortgage, rather than schedule a meeting at a different time or location.
And that's just the beginning. ICCU's Appleway branch is intended to be a one-stop shop for members.
"The level of service this location is going to provide our members with is amazing," Haas said.
The new branch is a testament to ICCU's commitment to North Idaho, she said, in both form and function. Designed to be energy-efficient, the building utilizes state-of-the-art technology to sense when rooms are occupied, in order to better control the use of lights and heating.
"We've put a lot of pieces into the design to make sure we're being environmentally friendly," Wolsten said. "We want to be good stewards of the space we have."
The opening of the Appleway branch is also expected to help ICCU expand business offerings in the area, including business loans and merchant processing, as well as services for private clients.
"We'll be able to help some of those folks who are business owners but may have specific needs with their personal accounts," Wolsten said.
All loan officers at the Appleway branch are business certified. The branch also offers business lending and business relationship services under one roof.
"This can really be a hub for businesses to come together and get everything done in one place," Haas said.
Additionally, the Appleway branch has an entire floor dedicated to a call center. ICCU's only other call center is in Pocatello, so North Idaho members had no option but to speak with agents located in a different time zone.
"There's something to be said for answering the phone in Coeur d'Alene," Haas said. "That's so exciting."
Wolsten said ICCU intends to hire 30-40 call center agents by the end of the year.
"We'll continue to grow with our call center and other professional services," he said.
ICCU will celebrate the opening of the Appleway branch with a ribbon cutting on March 5. In the future, the space may be available on a select basis for training and community events — another facet of ICCU's commitment to North Idaho and its residents.
"There's a lot of excitement and expectation for us to be able to do more good in our community," Wolsten said. "We're here to stay."