Post Falls Chamber celebrating community leaders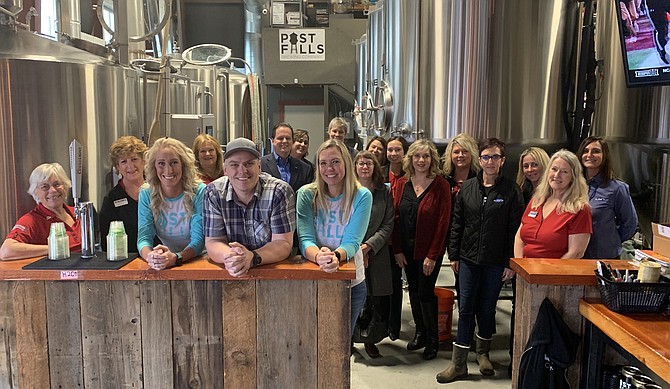 Greatness is not what you have, but rather what you give. For nearly three decades, the Post Falls Chamber of Commerce has been coming together to celebrate community leaders who leave their unique mark along the way as our community grows and flourishes. We were thrilled to celebrate some deserving community businesses and leaders at the Community Recognition Gala presented by Numerica Credit Union.
Congratulations to the Triple C VIPs (Deb Wheeler, Sherry Wallis, Mindy Hatcher, Amy Boni, Andrea Fulks, Kay Poland and Tonya Myers), Spirit of Post Falls award, bankcda, Business of the Year award, Jessie Morrow, Volunteer of the Year award, and Pat Knight, Citizen of the Year award.
March is an exciting month for the Post Falls Chamber; we are honored to welcome Dr. Joe Kent of Axis Spine Center as our keynote speaker. Dr. Kent will be speaking about regenerative medicine by way of stem cell therapy at our March 17 Connect 4 Lunch meeting.
March 25 is our Annual Reverse Job Fair presented by the Business & Education Committee. Last year, seniors from Post Falls High School, New Vision High School and Genesis Preparatory Academy were awarded more than $21,000 worth of college scholarships funded by local businesses.
We couldn't be more proud of this annual event, hosted, planned and executed by the Business & Education Committee. Event Chair, Jessie Morrow, Kootenai County Fire & Rescue is well underway with planning the event.
Looking ahead… Wednesday, April 22 is our Community Business Fair. Thank you to our Grand Sponsor, Northwest Specialty Hospital. This is a wonderful event to promote commerce in our community with 90-plus businesses under one roof. Awards will be given for: Best Booth, Marketing Guru, Most Creative and Best Food.
To register for events and programs, visit our website at www.postfallschamber.com.
— On behalf of the Post Falls Chamber of Commerce