2019 tourism fantastic; 2020 looks even better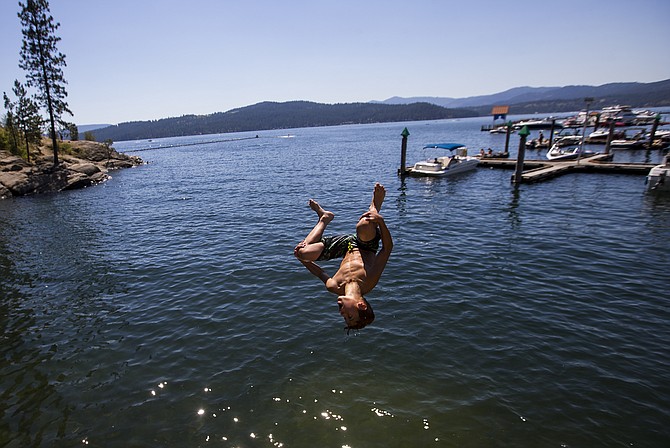 It's no secret — people have discovered North Idaho.
In Hayden, visitors love it so much, they're buying homes and moving there after falling in love with the area.
"We get requests for people who want to move here more than anything," said Hayden Chamber of Commerce President Kandi Johnson. "I definitely have seen an uptick as far as traffic and interest in our area, partly for people who are wanting to move here, versus just vacationing. People who are vacationing are coming here for a reason. And people will say, 'I've vacationed here for years, and I'm finally getting to move here.'"
Before those homes are bought, when tourists are just visiting, they eat in local restaurants, sleep in local hotels and camp sites, they shop in local businesses and they spend their out-of-state money in the local economy.
North Idaho tourism experienced a lucrative 2019. As an industry that bolsters many sectors of business, the 2020 forecast for North Idaho's tourism is also expected to be booming.
"So far things are looking good," said Coeur d'Alene Convention and Visitors Bureau executive director Mark Robitaille.
Robitaille reported that lodging tax collections for July to October 2019 in Region 1 (North Idaho) is up more than 10.7 percent over last year at this time and Kootenai County is up 10.8 percent. These whopper increases are on top of an 11 percent increase in 2018.
A 2 percent lodging tax is collected when guests stay in hotel and motel rooms, as well as vacation homes, cabins, condos and other structures.
"We've been experiencing these increases every year for the past 15 years ranging from 7 percent to 12 percent, so tourism growth has been strong and steady," Robitaille said. "The current tax increases, strong economy, increase in hotel inventory and additions of restaurants, shops and activities to town make us look toward a stronger upcoming year."
Robitaille said that in recent conversations with industry partners such as The Coeur d'Alene Resort and Silverwood Theme Park, both are seeing strong advanced group reservations. Silverwood is experiencing a soaring volume of advanced e-ticket sales compared to the same time last year.
"Silverwood had another record year in 2019 with over 725,000 guests visiting the park — up 1.39 percent," said Jordan Carter, Silverwood's director of marketing. "According to preseason sales for tickets and season passes, it looks like 2020 is going to be another great year at the park."
Carter said the preseason sales are up more than in years past, and the theme park is strategizing to grow emerging markets including Portland, Vancouver, B.C., and Edmonton, Alberta, all of which increased by at least 16 percent in 2019.
"This year, in 2019, we hired over 1,400 cast members to come work at the park and give guests unforgettable memories during their visit," Carter said. "We are already planning for 2020 and can't wait for summer to come to Silverwood again."
The Best Western Plus Coeur d'Alene Inn also reported a good 2019 with things only getting better.
"The year (2019) started off a bit slow due to some heavy snow early on, however, during the latter part of the year we have seen record results," said President J.J. Jaeger. "We have experienced particularly positive growth in the meetings and convention market and in banquets. The community has been very supportive of the Inn with local events and we are very grateful for this."
He said he expects 2020 to be another positive year for tourism in North Idaho.
"Tourism experts such as Smith Travel Research are projecting an overall slowdown in the growth of tourism," he said. "However, Coeur d'Alene is a very desirable location and this should translate into a good year in 2020. In addition, the Coeur d'Alene Convention and Visitors Bureau received a $715,000 grant from the Idaho Travel Council. These funds are being put to great use promoting tourism in our area."
Post Falls, which has been one of the fastest-growing cities in Idaho for several years, has also experienced an increase in revenue from the lodging tax, pointing to growth in tourism in the River City as well.
"According to the analytics of our www.visitpostfalls.org tourism website, unique visitors to our website are up significantly from last year at this same time," said Deb Wheeler, operations manager for the Post Falls Chamber of Commerce. "We have tourism advertising campaigns that we run from May through December and we have had strong interest in people looking to visit Post Falls. The click-through rates on our digital advertising are almost five times the national average."
She said the chamber plans to emphasize Q'emiln Park's rock-climbing venue and its ever-expanding trail system in the coming year.
"We have about 350 acres to work with around Q'emiln Park," Wheeler said. "It has great cliffs and fingertip-climbing rocks, and you don't have to drive a huge distance to get here and climb, and it's all open to the public. Post Falls continues to make trails and markers, and they make it a really friendly place to visit with restaurants and accommodations close by.
"We are looking forward to even more visitors coming to Post Falls in 2020."