Lake City Shoe Repair: Heart and sole of craftsmanship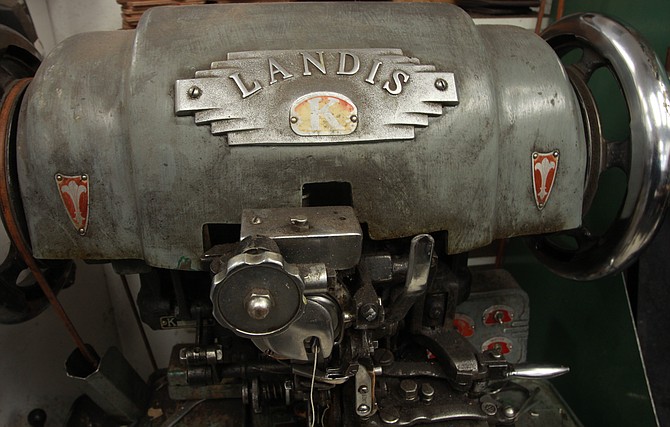 On his road to business ownership, a younger Wayne Johnson gave up trucks for treads.
Although he's no longer rolling down the highway in a diesel machine, Johnson's focus is on rubber meeting the road.
At his Lake City Shoe Repair at 3115 Government Way, Johnson daily attaches treads to the bottom of boots and shoes, sews leather, and fits footwear to uncommon feet.
He's been doing it in Coeur d'Alene for 45 years and doesn't plan to stop any time soon.
Although running a business for four decades has not always been smooth sailing, it was his gear grinding behind the steering wheel of big rigs in southern Idaho that led him to a career in footwear.
"The trucks and I didn't get along," Johnson said.
Before becoming a truck driver, Johnson had worked in a shoe shop. After poking around at other work, including in a Utah steel mill, Johnson decided to pack up and head north to purchase a shoe business in a place called Coeur d'Alene.
"I had never heard of this place before," he said. "But I knew shoes and knew the business."
He and his wife and small children headed north on an adventure.
"We had $10 and a credit card," he said. "You wouldn't want to do that these days."
When he purchased it, Lake City Shoe Repair was located at the northern edge of old Coeur d'Alene near East Harrison Avenue. Over the years the business moved around. It was located at Ironwood Mall, and then 7-11 Plaza along Best Avenue, where the business was destroyed in a fire.
The goodness of others helped him rebuild, he said.
"Someone had a fundraiser and donated $8,000," Johnson said. "If it hadn't been for that I couldn't have restored the business."
He saved the shop's old iron machinery including an Adler long arm sewing machine, a Landis stitcher from the 1940s and a huge buffing and grinding machine that shapes new soles.
The business landed at its present location less than a decade ago after leaving a space farther north along Government Way. His clientele has followed him through the years, he said because boot makers and shoe repair shops — once common — are hard to find these days.
"There aren't many of us around," he said.
And because Johnson provides a product that is becoming more popular: His diabetic shoes and inserts qualify under most insurance plans because diabetic shoes and inserts have been shown to drastically reduce the need for amputations, he said.
In addition, Johnson, a certified pedorthist, can provide custom shoes to unusual feet by making a mold used to manufacture a shoe or boot to fit feet with abnormalities, or ones wracked by disease or injury.
Although his shop sells shoes, logging boots, purses and belts, as well as laces and leather maintenance products such as boot goop and polish, much of his time is spent behind a small wall mending, sewing and buffing.
Visitors to the store are greeted with the smell of leather and glue.
"People always mention it, but I can't smell it," said Johnson, who wears a boot maker's apron and whose hands are accustomed to the tools of the trade — hammers and pliers and draw knives.
He collects repair work, which is prepaid, in large totes. Because of the large volume of repairs, he is usually several weeks from being caught up.
"A few years ago it really took off," he said.
So, he tags the boots and shoes with blue tags if they are ready for pickup, and with orange tags for the owners who have failed to retrieve their wares.
After a while — and after the store has made several attempts to call the owners — those shoes are donated to local charities.
Johnson has no shortage of help around the store. He has 25 grandkids, and a couple of them are saving to buy iPhones.
They have a role model in their grandfather who for years delivered newspapers at night, including on a lake route in a boat to Cottonwood Bay, before returning to the store to fix boots and shoes during the day.
"They come in a couple of nights per week," he said of his grandkids. "That's what you have to do."
Johnson also fixes zippers.
"All kinds," he said.
And stitches coats, purses and belts.
"We'll fix just about anything," he said.