LOVING THEIR LOCALS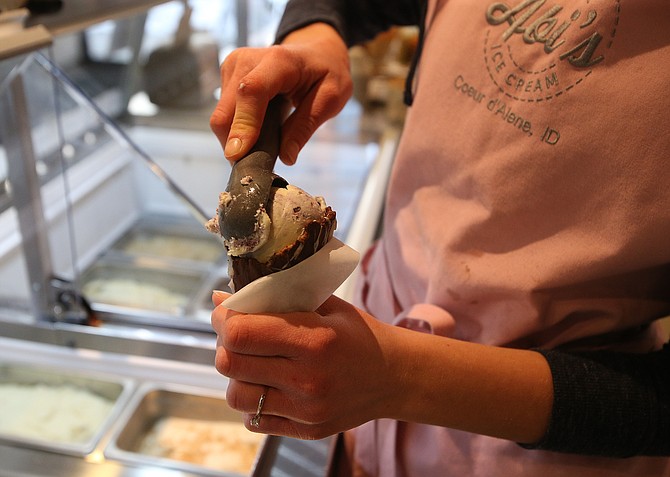 It's no secret that winter can be difficult for local businesses that thrive in the season of tourism.
Fewer visitors can mean fewer people in the shops, pubs and restaurants, shorter hours and less revenue.
And yet, the hardy folk who stick out the North Idaho winters are the ones who help keep the doors of local businesses open to see the next busy summer.
"I'm super thankful for our local customers because they are the ones who continue to come in every week," said Connie Young, owner of Flame & Cork Wood Fired Pizza at 9225 N. Government Way, Hayden.
"They're the ones who keep us going through the winter," she said. "They're committed to coming in and they're faithful to us. I appreciate them."
Paying attention to the locals is a business tactic that pays off. Although Flame & Cork offers "Two-for-Tuesdays" ($22 for two) pizza specials, happy hour deals and "Wine Down Wednesdays" ($1 off wines and appetizers) throughout the year, Young said her business thrives on returning customers.
"We honestly try to provide really good customer service and make sure our food's as good as it can be so people want to come back," she said. "I love seeing our locals every week. You get to know them. I try to keep tabs on them."
An ice cream parlor seems like an unlikely destination in the winter, but Abi's Artisan Ice Cream at 112 N. Fourth St. in Coeur d'Alene would disagree.
Aside from offering fresh, made-on-site ice cream with unique, mouth-watering flavors like brown sugar bourbon, Abi's inventory includes items that will warm hands and bellies on snowy days.
"In the winter, people do want hot things," said owner Maren Scoggins. "We have hot chocolate, the ice cream lattes and hot chocolate made with ice cream."
Abi's invites people to swing by from 2:30 to 5:30 on Tuesdays and Thursdays to capitalize on specials featuring these palate-pleasing treats, or stop by any time a sweet tooth comes on.
"Come in get out of the snow, enjoy free WiFi, charging stations," Scoggins said. "People can just hang out and try something new."
Foot traffic isn't as robust in the winter, but that's not a problem for Abi's. Because its ice cream is made on site, Abi's can adjust its production based on the weather, winter tourism and special events.
"We also try to make sure we take care of our locals and give them what they want in the winter time," she said. "We build that local business."
Scoggins said having a truly local product is a strength of Abi's that year 'round North Idahoans can appreciate.
"In the winter, it's important to remind people what it is that makes you special," she said. "If you have something that is truly local, people will go out for that because it's special.
But people don't have to wander around with ice cream cones in their frozen hands. They're welcome to take orders to go.
"We actually sell quite a bit of ice cream in the winter," Scoggins said. "People take it home in the pint and go home and eat it by the fire and watch Netflix or whatever."
Scoggins also knows her business needs to be open for revenue to come in, even in the dead of winter. Abi's is open seven days a week (except on Thanksgiving and Christmas) and into the dark evenings.
"People know we're open, and that's a big deal," she said. "They get really frustrated when businesses are closed."
In Rathdrum, Westwood Brewing Co. has an advantage in the winter.
"Out here in Rathdrum, everybody drives a big truck," said Westwood general manager Josh Loken. "In four feet of snow, they're still piling in."
Westwood Brewing, in a historical building at 8162 Main St., is a neighborhood watering hole for all seasons. Patrons enjoy trivia at 7 p.m. Wednesdays, karaoke on Fridays and live music on Saturdays.
Also on Saturdays is the sought-after prime rib special.
"It's killer," Loken said. "We do a great prime rib. We smoke it six to eight hours."
Loken said in the summer, Westwood competes with Coeur d'Alene and Sandpoint, but in the winter, "January and February are our rocking months."
"It's our busy season during winter," he said.
Customer service is also a pillar of Westwood's business model.
"Bottom line, we treat each person that walks through the door as special and amazing as they are. We try to make the experience at Westwood one of a kind," he continued. "If you want to bring your kids in here, or have a date night, we want to make sure when you walk out of here that you're blown away. It's something special."
At 3430 E. Seltice Way in Post Falls, the Larchwood Farms Huckleberry Thicket gift shop is named for a seasonal berry, but don't call its business seasonal.
"It's more people in the summer than in the winter, but there's still a lot of people in the winter who get out and get birthday presents," said owner Marla Hedman. "It's surprising how many people get out and shop."
With an Idaho-centric inventory boasting huckleberry goods, jams, teas, drink mixes, chocolates and gift baskets, as well as clothing and keepsakes, Huckleberry Thicket is relevant throughout the year.
"We have good prices on everything we have in here," Hedman said. "We do a lot of T-shirts, sweatshirts, bear items. And moose."
The customer service is a draw for returning customers. And the Huckleberry Thicket truffles are also a must-have for visitors, winter snows or no.
"We give away truffles every day," Hedman said. "It's an everyday special. And we have really good help. The people are really well-liked that we have out front, and I think that says a lot."