The price of love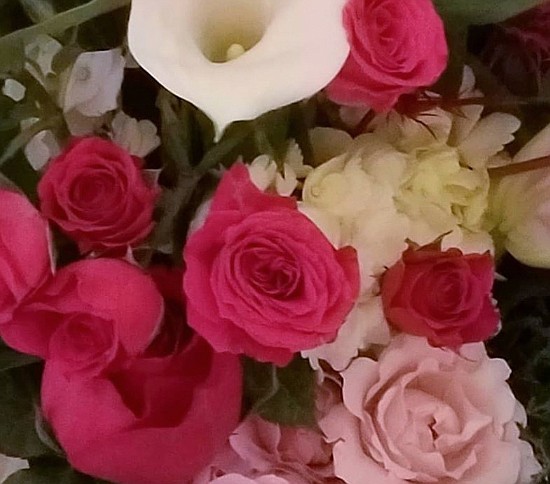 Flower sales blossom for valentines
With Valentine's Day fast approaching, florists locally and nationwide are gearing up for their biggest sales day of the year. But just as fleeting as romance might be, so too are the economic forces that dictate the flower business's successes up to what is essentially the bouquet industry's Super Bowl.
Susan Griffin, owner of Coeur d'Alene's Susan Marie Floral Design CDA, said romance is unique; as such, a symbol of love should be specially crafted.
"Personalized," Griffin said. "I think that's what my customers tell me. They recognize I go the extra mile to personalize and make everything just very, very special. That is not a normal thing. I'm all for it, and I don't know if the average florist is these days. I don't know if they take a more 'McDonald's' approach, but in this 'right now' era, I think people want something special. Just for them.
As such, Griffin said the ability to custom-design requires both speed and resources. Finding the balance, she added, is one of the most narrow needles she threads this time of year.
"I would love a week's notice," she admitted, "but I do same-day [arrangements]. If I have at least three days' notice, that usually gives me enough time to create something really special. That way, I can pull in any flower and get it in. But if I don't have the time to get that flower, then I wouldn't be able to give the customer exactly what they want, and that doesn't make anybody happy."
Griffin said the nature of giving someone flowers is an act that requires all parties — sender, receiver and creator alike — to put their hearts into a bouquet.
"I really am in the satisfaction industry," she said. "If the person buying the flowers isn't happy or doesn't think his significant other will be happy, then it doesn't feel like a satisfying experience."
In other words, last-minute decisions will get that special someone the flowers she needs, but not necessarily the flowers she deserves. Griffin said how that perfect flower arrangement looks, however, often comes from unusual places: Her competition.
"I do get plenty of requests from people who have looked online at different websites," she said. "All of us in the industry have gotten calls from people who've looked online at TeleFlora or FTD. They'll look at those sites — which have great pictures — but then they'll call and say, 'Can you make that for me?'"
Much like high fashion, the flower industry has its own runway season, which usually begins in late September. National competitions set the stage for magazine editors, wedding planners and floral bloggers to hand over their influence. By the end of each year, when the first bridal shows launch, designers have what they need to determine the materials and trends for the spring season. Roses might be the standard buy, but their accessories, hybrid colors and nuances are determined the year before.
The decisions to use certain materials — including the flowers themselves — often are made because of factors having very little to do with love. Like any other commodity, supply depends on everything from trade tariffs to economic timing to political turmoil. Another factor — one that has a more lasting impact on the industry — is the whim of Mother Nature.
"On and off, Mother Nature does play a big part," Griffin said. "When a lot of our product comes from other countries, it does affect our industry — not only the price, but also availability. Orchids come from, among other places, the Philippines."
So when an event like the January eruptions of Luzon's Taal volcano happens, the future of orchids — not to mention the 1.8 million people who live in nearby Manilla — can be threatened.
Doom and gloom aside, the forces that dictate Valentine's Day flowers are more about what people want, rather than what Mother Nature decides to spare.
"Almost like fashion trends," Griffin said, "someone says a particular flower nobody wanted last year is now the next big thing."
While those Valentine's Day displays of affection can become extravagant, that doesn't mean they have to break the bank.
"I'm a strong believer that everyone should have flowers," she said. "It's good for you. It's good for your senses: emotionally, physically, mentally. My personal standpoint is: You let me know what your budget is, and I'll make it work."
Arrangements can start anywhere from $25, but be prepared to spend a little more to go a little further.
"If you're saying to yourself, 'I'm really looking to wow my lady,' you should expect to start around $50," Griffin estimated. "But to really wow her, you're looking at $79 and upward. But like I said, we're still going to go with what your budget is. If you are only prepared to spend $25 or $30, then that's what we'll do. We'll make it work."