Hole-in-the-wall, whole in the heart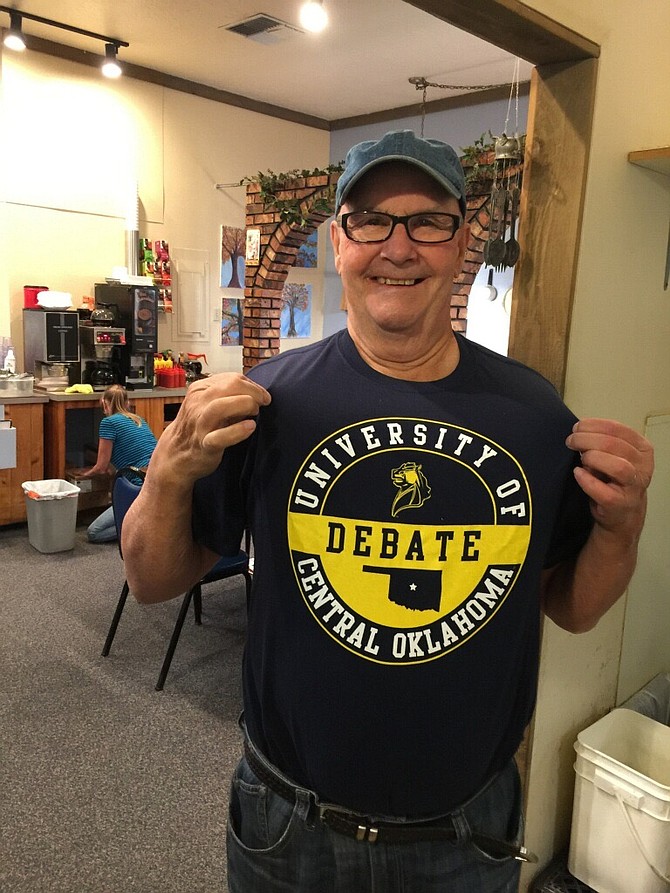 Kim Kaiser knows everybody.
And just about everybody in Hayden knows the owner and "face" of The Blue Plate Cafe.
"Hayden, although it's getting bigger, it's still a small town. And we all pretty much know everybody," said Kaiser, who always seems to be there, waiting on customers with a heartfelt smile.
That's part of why regulars like Nasser "Rocky" Shadman of Rocky's Body Shop keep coming back.
"Can't find a better place. The price is good, they're very friendly, and make it (the food) to your desire — and pretty much once the price is good everything just falls in place."
"My customers are my family," Kaiser said.
That isn't lip service. While other family businesses befriend customers and learn names, Kaiser collects their contact information. If a regular doesn't show up on time, they're likely to get a call.
"I like their numbers, because we worry," she said.
"If I feel something's wrong, I have their phone numbers and we check in."
Of course, as they come to know them over time, Kaiser and Blue Plate waitress Mallory do keep track of customers' names and lives.
"They're family," Kaiser repeated. "So we always try to incorporate how their day's going or on the personal side how things are going, as well, because we care about that."
It's that sense of family that draws customers like Joseph Slattery, who's been frequenting The Blue Plate nearly since it opened.
"Basically it's people I think that pull me in," he said. "(It's) a good start in the morning, gets my day going."
"Plus the food's good," he added. Slattery likes "basic stuff:" The French toast, sausage and eggs, and — the seasoned potatoes most of all.
Charles Goodman, also a French Toast fan, agreed, adding that he often goes for the lunch special, as well.
"The food is always, always good. I've never had a bad meal in there," he said.
The cafe is largely run by family, too, as Kaiser co-owns the cafe with her brother Kidd Kaiser.
While he handles the cooking, Kaiser and her youngest daughter Sevi take the front of the house, serving and chatting with customers. Her four elder daughters have all worked at the café at one point, as well.
Kidd and Kim Kaiser grew up in the restaurant business, prepping and cooking with their parents.
The breakfast and lunch "hole-in-the-wall" — as Kim affectionately describes it — was originally owned and bought by their parents Terry and Jan Kaiser in 2001, a year after selling their prior restaurant, Sargents in Hayden. The siblings have had it for the past nine years.
Dad hasn't fully retired, however.
"My dad still comes in and makes the soup every day and does the lunch special, because he's not ready to sit at home quietly," Kim explained.
"And he makes the best soup," she added.
"He is welcome as long as he is on two feet to do whatever he wants to do."
The homey atmosphere of the cafe adds to this effect. A whiteboard menu displays specials. Side tables are separated by vaulted brick. A sign asks clientele to "be nice or leave."
And salt and pepper shakers in the guise of cows, cats and dogs (with matching fire hydrants) greet at every table, although the detail came by accident.
"We had never done breakfast before and we'd been open the first day and realized we didn't have any salt and pepper shakers," Kim said with a laugh.
They used sets Jan had picked up at rummage sales, with the motto "the funkier the better." Nowadays, the eclectic collection is supplied entirely by customers, who find quirky additions at stores and on vacations.
"I haven't bought a set of salt and pepper shakers in about seven years or eight years," Kim said.
Likewise, much of the café's bric-a-brac are gifts from customers.
"People find things, they bring them to me…(the shop is) decorated half by customers and not by me," she said.
"And it makes it feel like it's kinda part of their home, too. And that's how we want to make them feel."
Perhaps it's that sense of home that motivated regulars to do the checking-in on The Blue Plate during Gov. Brad Little's stay-at-home guidelines.
Kim said some groups would come in to send checks to her staff and give out gift certificates.
"They kept my staff afloat… they're plenty part of the reason we got to reopen again," she said.
"I'm in their debt."
Kim hopes the area continues to support local businesses with their patronage as her customers have, especially through this coming winter, as it will be a long time before restaurants have their heads above water again.
After all, that's what the Hayden community is all about.
"We all have this tight knit community of just being small and local around here and we all kind of look out for each other," she said.
Slattery said the cafe is great for making connections and getting to know others in the community, describing several habituators as well as a "new, older gentleman" he just met.
"It seems like when people go into the town here they go there and you get to meet them, so it's a good catch-all for them." Although Slattery says practically "all the people that come in there are regulars."
It's also good for Slattery's construction business, helping him to meet more of the community he works in. He says the Blue Plate crew knows everybody and helps customers get in contact with each other.
Like Slattery, Charles Goodman has met many of the fellow regulars, who are now friends.
"I got a great bunch of people that go in there and we all get along good and talk to each other," Goodman said.
He said it's "the people, the food, and the prices" that keep him coming back.
"When they do their work they are professional but still they make you feel at home," he said.
"You're just like family. You come in, and you have a good time, and it's comfortable," Slattery agreed.