The future of fiber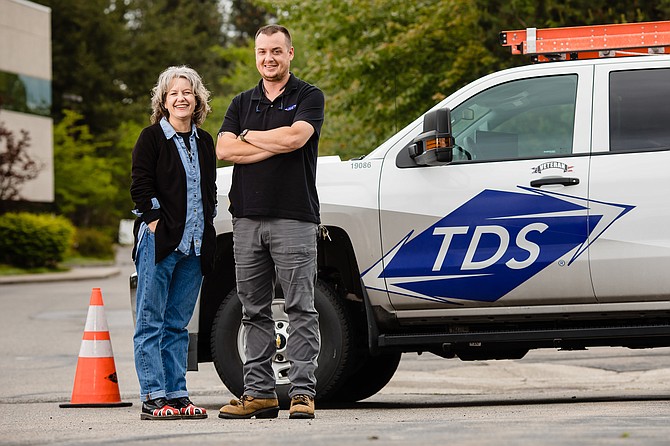 In the midst of a global pandemic, more people than ever are working from home, learning remotely and relying on telemedicine. Searching for jobs, paying bills and other day-to-day functions are largely done online.
For these activities and more, a fast, reliable internet connection isn't a luxury. It's a necessity — one that can be hard to come by in rural areas.
That's where fiber internet company TDS comes in.
"The company was founded on bringing telephone service to rural America," said Anita Parisot, Associate Field Marketing Manager for TDS.
Though the technology has changed since TDS got its start, the goal remains the same.
"It's still living that heritage now, 50 years later," Parisot said.
In 2019, TDS began building an anticipated 700-mile fiber optic network through the region. The company is bringing fiber internet service to Coeur d'Alene, Hayden, Post Falls and Rathdrum through a multi-stage build. In fact, some neighborhoods already have been completed!
"Fiber is the way of the future," said TDS field service supervisor Josh Ferguson. "It's really going to change things around here."
Fiber optics refers to technology that transmits data through thin strands of flexible wire, usually glass or plastic. It's the most efficient delivery technology for the internet. Fiber is capable of producing more speed, bandwidth and reliability for home and business connections than other technologies.
Parisot has long understood the importance of connectivity. She moved to Coeur d'Alene — her husband Mark's hometown — in 2000, a time when few people were working remotely. Since both Parisot and her husband were working from home, the most important quality they were looking for in a home was a fast internet connection.
"We were probably some of the only people who cared about that back in 2000," she said.
The landscape has changed dramatically in the last two decades, which became more clear than ever in recent months.
"We can work from anywhere we want to," Parisot said. "That's been a huge eye-opener. But we still have challenges throughout North Idaho with connectivity."
Having raised three children in Coeur d'Alene, Parisot is keenly aware of the need to build infrastructure that allows Idaho's youth to remain in the area. She envisions a future where young adults can return to Idaho after graduating from college. Internet connectivity can help make that possible.
"We have to have the infrastructure," she said. "We have to make sure all our kids have an even playing field."
From remote learning to teleworking, connectivity is essential.
"Our kids need to be able to be connected," she said.
Additionally, research shows that property values rise in areas with high-speed broadband availability.
Many factors play into the quality of an internet connection. Even a radio station tuned to a particular frequency can cause connectivity issues. But that's not a concern with fiber.
"We just don't have those kinds of interferences," Ferguson said. "Our system is going to hold up in heat and cold and any other conditions."
Born in Coeur d'Alene and raised in Post Falls, Ferguson said he's excited to help bring this technology to North Idaho — and that feeling is contagious.
"Everybody has been dying for it," he said. "Every time I drive down the road, people are waving me down, saying how excited they are. It's a matter of time before we can get to every area — but we'll get there."
Since coming to North Idaho in 2019, TDS has worked to understand the specific needs of the communities they serve.
When COVID-19 forced Idaho to shut down, that knowledge came into play. TDS stepped up to support the Boys & Girls Club of Kootenai County, donating to their food bank and donating outdoor sinks to help maintain hygiene standards when the club reopened. The company also partnered with Cancer and Community Charities (3Cs) to help feed local families and picked up the tab for first responders, health care workers and other essential employees at two local restaurants, Caddyshack and Jimmy's Down the Street.
These actions were another way for TDS to demonstrate their going commitment to this area, Parisot said.
"All the communities we're going into, that's what we're working to do," she said. "Helping to build that infrastructure and create opportunities for our kids."
Residents who have questions can visit www.TDSFiber.com to learn more.