Drive up to home-cooked goodness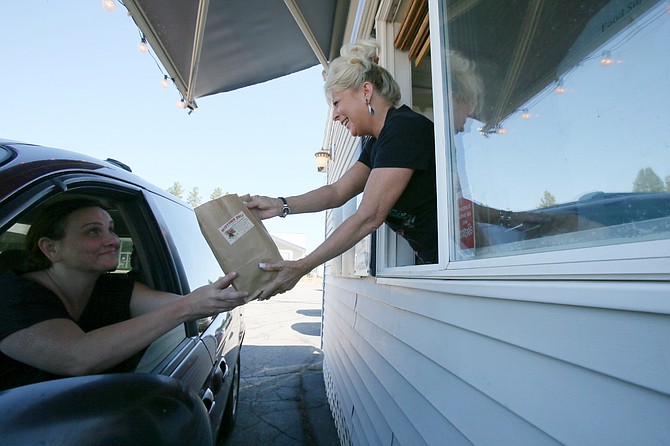 Massive sandwiches, homemade goodies, warm hospitality are specialties at Midtown Drive Up Deli
What looks like an elongated espresso stand is positioned in the southeast corner of a commercial parking lot at 503 E. Seltice Way in Post Falls.
As customers get closer — if their olfactories haven't already picked up on the mouth-watering scent of roasted garlic, grilled bread and fresh-baked cookies — they'll realize this unique structure is Midtown Drive Up Deli, where owner Mikele (pronounced "Michael") Williams and her employee/good friend Lori Nirk treat every customer to home-cooked goodness and old-fashioned hospitality.
"The best part is the customers. Some of them get so excited — 'I'm so excited to be here!'" Williams said with a big smile. "And we both look at each other and laugh. It's like, 'Do you want to come in and make your own!?'"
This best-kept-secret of the River City all began 14 years ago when Williams and business partner Jim Carpenter converted a 12-by-20-foot cabinet display trailer into a drive-up sandwich destination.
"It was very slow-going," Williams recalled. "We opened the 20th of December. It was a Friday. The auction house was here, so we thought if we open the night the auction is going on, there's going to be a lot of traffic, it will give us a tiny bit of exposure. Oh, hell no. People didn't even notice. They parked in front and they were kind of like, 'What's this?'"
Without advertising, Williams said Midtown took some time to catch on.
"I've never advertised it," she said. "I wanted people that would just come taste the food and appreciate the food, rather than doing punch cards or advertising. I wanted it to be word of mouth."
A world of flavor began to populate in this small space, as she dreamed up recipes for soups, cakes, scratch-made dressings, cold salads and other accompaniments.
"It was stuff to bide my time, because we pretty much just sat in here and drank beer all day because there were no customers and I refused to advertise," Williams said, again with a chuckle.
Midtown's sandwiches are no-nonsense hunger eradicators, bulking with meats and cheeses like oven-roasted turkey, ham and pastrami and provolone, pepper jack and Havarti. They can be ordered cold or grilled in house-made garlic butter. And for less than $11 for a whole, even the most famished will have to admit they're full.
The sandwiches are a meat-and-cheese operation only, with grilled/fresh onions, pickles and pepperoncinis as the only vegetable options. The breads — French, wheat, rye, tomato herb — are ordered special from Yoke's Fresh Market. Everything is sliced upon order.
The concept for these hunger-fighting super sandwiches came to Williams when she was working at a print shop in Spokane as a kid and enjoyed Domini Sandwiches, a family-run business that serves huge cold deli sandwiches.
"The owner, Al, was an old Italian man, and he smoked cigars, and we always got such a kick out of him to see those big huge cigar ashes at the end of his cigar," Williams said. "He'd be back there slicing meat and making these sandwiches, and it would be crazy busy. And it's probably the most popular place in Spokane still."
Williams brought this idea to Post Falls, warming up the sandwiches and expanding her menu with creative desserts and sides.
"I didn't go to school for it, I just always liked to bake and cook," she said. "My baked goods are all made with butter and they're delicious, I like to go overboard on the contents."
When the pandemic struck, Midtown was at an advantage. With just a few outdoor tables and no dining room, "We got busier," Williams said. "We were like in a bubble."
Around noon Tuesdays through Saturdays, lines tend to form as people drive up for a delicious sandwich and a fun exchange with the personable Williams and Nirk. They recommend calling ahead to avoid the lines, and customers with call-ins can knock on the back of the building to get their goods.
For larger orders, give at least 24 hours' notice.
Midtown Deli is closed Sundays and Mondays and open 10 a.m. to 4 p.m. Tuesdays through Fridays and 11 a.m. to 3 p.m. Saturdays. Holiday hours (and menus!) vary.
Info: 208-777-9145