Mama Tiaz owner cooks up a dream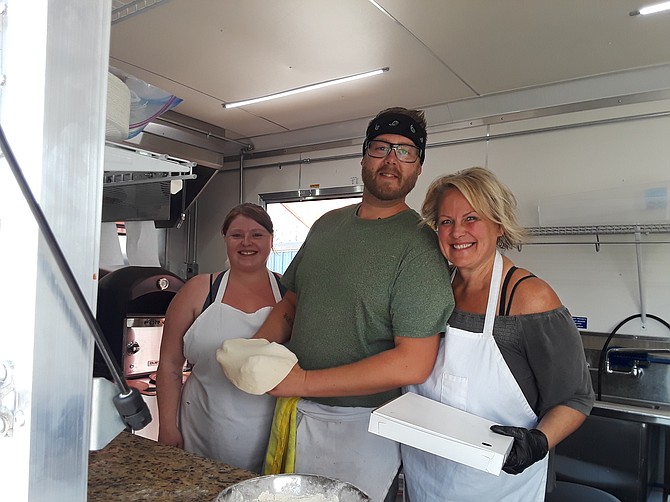 Tia Tarpley gave an apologetic smile just before 2 p.m. as customer took a Mama Tiaz pizza, protected in its white box, back to his car at the Prairie Pavilion on the northern end of Coeur d'Alene.
"I know we scheduled this interview for our slowest hour," she explained, "but it's not slowing down."
Nothing has been slowing down Tarpley since she started Mama Tiaz Authentic Pizzeria & More, the next step in her climb up the local food scene's ladder. She's had her sights set for some time on the road the restaurant industry is driving down: the lucrative and creative migration toward the food truck.
"This has been so fun," she admitted with her unbreakable smile. "In the last 21 days, I've had two days off, and I'm home making dough. I come home from this and I roll dough. I'm tired, but it's so much fun, it's not even work to me. I know everybody always says, 'If you find a job that you love, you'll never work a day in your life.' And it's kind of proof right now for me, because I have never been so happy and had so much fun doing something."
While her joy is heartfelt, it is by no means the byproduct of a whim. Tarpley has been eying the possibilities of her newest venture with the focus and resolve of a successful and experienced businesswoman because, well, she is one. The owner of the Jamba Juice on Ironwood in Coeur d'Alene for the past 16 years, she said this was a dream she was no longer willing to put off.
"Running Jamba for the last 16 years, it really has given me a good foundation as far as the customer service side," she said. "I had never really run a business before then, and — Jamba being Jamba — they really focus on the customer service side, so I really learned a lot about how to take care of your customers."
Open since summer, Mama Tiaz is the newest addition to the Prairie Pavilion's lineup, designed to add an Italian flavor to the feeding ground's already-diverse group. The menu offers a sometimes-traditional, sometimes-eclectic blend of personal pizzas and Italian foods. While her dishes are still expanding as her business progresses, Tarpley said a key to making her food truck stand out won't be found on any menu.
"One of the things I always wanted to do is have an off-the-menu, rotating pizza," she said, "something different, something unique, something unforgettable."
"Everyday, I learn something new and create something new," she said. "I hope to express that in our pizzas everyday, too."
But that fresh outlook shouldn't be confused with naivete. Tarpley said her time as owner of Jamba Juice equips her with not only the skills to run a successful business, but also the skills to recognize how to build a successful business from scratch (no pun intended), let alone bring in the dough (OK, that pun might have been intended). The secret ingredient, in this case, is the same that has built iconic fast food franchises and artisanal pizza establishments for decades: consistency.
"Because I ran Jamba for 16 years now, I knew what the costs of goods are," she said. "I want to know how many slices of pepperoni we put on a pepperoni pizza, and it needs to be consistent."
The count of mushrooms that leaves Mama Tiaz with each vegetarian pizza is just one item on a much larger spreadsheet Tarpley negotiates hourly, but at the end of the day, she also recognizes a bigger picture.
"I know what I have to make in order to pay rent and to pay salaries," she said. "Our first three weeks, we sold no less than 40 pizzas a day, at a minimum. That is pretty exciting. And I know we're new and people want to try new things. But it's progressing. I sold all of my pizza (dough) for three days in one day. I keep running out. So that was the exciting part for me."
The excitement hasn't fallen only at Tarpley's feet. Mama Tiaz is a family affair, with son Devon and his new bride Alyssa by her side beside, manning the two ovens.
"I love this just as much as Mom does," Devon said, "and I'm good at it. She started this probably eight or so years ago, when we'd have get-togethers at home. We'd have between five to 20 people come over, and I would be the one behind the barbecue or the pizza oven, so I've been cooking by my Mom's side through this, and I love it."
One of Devon's labors of love, as it turns out, is Mama Tiaz's proprietary ranch dressing, a homemade concoction.
"I wanted something that was phenomenal," he said, "that people would go back and say, 'Hey, I want to go back there and try that ranch again.' There are so many different aspects about a business that people can latch onto and want to have over and over again. Our ranch is just one of them."
The Tarpley family didn't start the engines on this dream at Prairie Pavilion. They launched at Stateline, gathering an early following from the bar scene by the border in a much different food truck.
"It taught us that we want to focus on pizza," Tarpley said. "We did a lot of bar food, which is nachos, fried mozzarella sticks, things like that. But that's not really what we had envisioned. So we're focusing on Italian creations."
But the Prairie Pavilion isn't the end of the road for Mama Tiaz. Quite the contrary, Tarpley said she sees her food truck as just the beginning.
"I think, ultimately, down the road, I really do want a brick-and-mortar," she said. "I want to serve local beers and to have a fun place with a fun vibe where people can come after work, hang out and watch the game or whatever. Probably in the next five years, I can see, possibly, that happen. That's kind of my indulgent dream."
Tarpley then smiled as she created another customer's indulgent dream, a loaded pizza with extra sausage. The interview had to end. Today's lunch hour rush didn't look like it was going to stop anytime soon.