Neighbors helping neighbors: Rosenberger Construction builds homes, community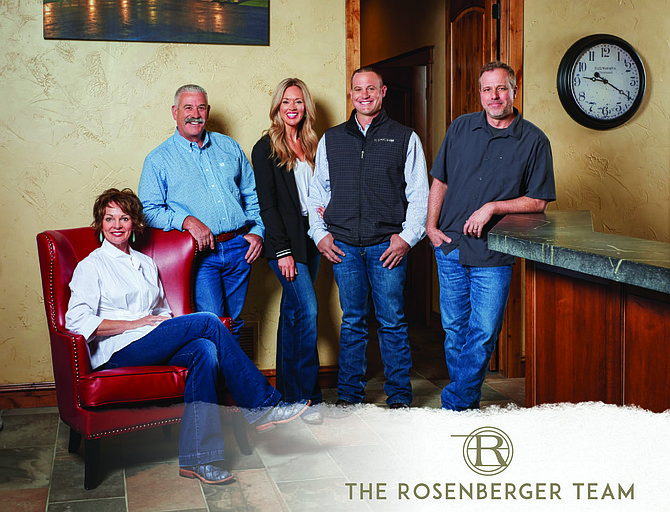 The Rosenbergers know a lot about building homes — and building communities.
Whether they're crafting dream homes for clients, or supporting local children through a variety of charities, the Rosenberger family believes in helping their community thrive.
That's evident from the beautiful touches they create in custom-designed homes to the relationships the owners of this family-owned business build with their clients.
"We're very hands-on," said Shelley Rosenberger, who owns and operates the 40-year-old business with husband Ron Rosenberger
"We often say to our clients, 'To build a Rosenberger home, you're going to be working with and talking to a Rosenberger every day.'"
Their inspired designs have a signature quality, combining high-quality materials and the latest technologies with experienced local craftsmen.
"Our homes have a lot of exterior dimensions. We use what we call a triple layer fascia system," said Shelley Rosenberger describing the signature trim board along rooflines of many Rosenberger houses. "Our homes definitely stand out."
In addition to their dramatic exterior details and rooflines, the Hayden-based business is known for its personal approach. Starting with simply being there.
In addition to maximizing customer input and assisting with every part of the process, the Rosenberger crew likes to remain available. This personal approach means clients have direct access to their general contractors — as well as other members of the business.
Rosenberger Construction, LLC is a family-oriented custom home-building business. Husband and wife duo Ron and Shelley — as well as son and daughter-in-law Blake and Breana "Bre" Rosenberger — all work actively in the business.
While Hayden-native Ron's 35 years of experience in the industry make him a great general contractor, the other family members fill their own key roles in the office, assisting with interior design, marketing, sourcing materials and filling the role of superintendent. Award-winning home designer Tom Dickson joins the work "family" as chief designer.
Not every family works well together, but the Rosenbergers' belief in what they do unifies their purpose and drives the company's success.
"When I think about it, it is a testimony to our devotion and our commitment to our clients that we somehow make the whole family thing work," Shelley said. "I think the reason it works is we really believe in what we do.
"We value and cherish the clients that become friends after the process. And that's a huge testimony."
Further testimony is the fact that five clients within the last 18 months have come back to build with Rosenberger Construction again.
The custom-home business is thrilled at the compliment, but you can bet it won't all go to their heads.
"We agree our homes are beautiful, but it's what you can't see that really matters," reads the Rosenberger Construction website, referring to the solid materials and workmanship that underlie reliable, lasting construction.
But what you really can't see when looking at one of their beautifully-made homes, is what the family does for the community.
"Neighbors helping neighbors always changes the way a community lives and thrives," the website reads.
The Rosenberger Construction philosophy of neighborliness focuses especially on younger members.
"We're really child-centered. If it's a group that supports or shores up our kids we are all in," Shelley said.
Rosenberger Construction sponsors multiple youth-related charities around town. They are regular financial sponsors of the Boys & Girls Club, Children's Village and Camp Journey, which helps children with cancer diagnoses attend camp with trained medical professionals. They also support Idaho Youth Ranch's annual Wine, Women and Shoes event.
In addition to helping medically and economically vulnerable kids in the community, the company supports local 4-H youth.
"They are really amazing, hardworking kids that have excellent work ethic," Shelley said of youth in agriculture, "and we just want to also support our really talented young people as well."
The Rosenbergers created the nonprofit Night at the Ranch dedicated to encouraging children raising livestock to sell at the annual county fair auction. An annual fundraising event at the Rosenberger family ranch raises funds used to support 4-H children and young adults at the Kootenai County Fair's livestock auctions.
The idea was born during the fair itself, when Shelley and Ron noticed some kids walked out of the auction, selling their livestock for less than the price it took to raise them.
"Ron and I were heavily involved in the 4-H project from the time our kids were old enough to be in it. Eventually we became leaders to help out," she explained.
"And then we were at these stock sales and we were watching these kids come out of the ring actually losing money. They didn't make enough money to pay off their debt on the steer or the pig or the feed."
Ron began to ask fellow business people in the community to pitch in donations to bid on kids' project animals. Initially, it was a small, grassroots effort, but after a few years' success and encouragement, they founded a board and began the annual Night at the Ranch fundraiser to increase their impact.
"We came up with the event and coordinated with some key leaders in the community, got together with them and said if we pulled something like this together, would you come? We had an overwhelming response from local businesses saying, 'Yeah, sign us up.'"
Every year, corporate-sponsored tables pack in about 400 people for dinner, a show by a Nashville entertainer, auction and best of all, a meet and greet.
"We actually have kids with their 4-H animals at the event, so guests can walk around and talk with kids and meet them firsthand."
In addition to adding bidders (at least two are required for the auction to proceed), by participating, the Rosenbergers and fellow supporters encourage bidding at prices that help 4-H participants break even, if not earn a little extra for next year.
They also encourage participants by buying belt buckles and giving additional cash rewards to the champions and reserve champions for quality and showmanship in each of the three age categories. Rosenberger says this is to "reward excellence," further encouraging 4-H youth to keep up the hard work.
Now in its seventh year, the event is still going strong. Although Rosenberger prefers not to be ostentatious about it, Night at the Ranch does quite well — typically bringing in between $100,000 to $150,000, if not more.
"It's been wildly successful," she said. "We have to limit the tables filled every year. We always have a waiting list and we are grateful for that."
The event's success has also significantly increased the number of 4-H entries.
Still, the sitting board member credits the kids themselves with the event's success.
"They're the kids that are going to be the future leaders in our community. They're the do-ers, they're not quitters," Rosenberger said. "They are pretty incredible. So they kind of sell themselves that night."
Rosenberger says many of these kids rely on earnings to not only come back the following year, but also for school supplies or gas money to get to work.
"And now the money that they can earn through the livestock sale allows them to cover their expenses."
The Rosenbergers do not cut corners with their homes, and they don't like to leave stones unturned for our kids.
So while the "Rosenberger difference" is probably evident in their custom-built homes, the difference they make in the community might be more apparent when those future leaders grow up.
Rosenberger Construction is at Rosenbergerhomes.com and Facebook.