Mobile Spaw: Pet grooming convenience, right to your door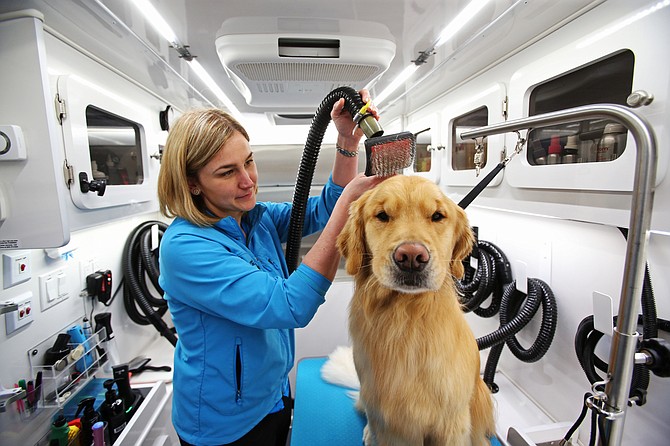 The walls, floors and surfaces of the Mobile Spaw pet grooming salon are neat and clean.
That is, until a blow-drying session with a fluffy client changes the interior to a blond golden retriever hue.
"Sometimes it's like a fur snow globe in here," Mobile Spaw owner Stacia Reeser said as her client, Cache, patiently waited for his grooming session to begin.
But before and after every session, the detail-oriented, soft-spoken Reeser sanitizes her 50-by-28-foot workspace and puts everything back in order. Each bottle is labeled and each tool is carefully organized where she can access what she needs while giving full attention to her clients.
"Everything is about efficiency and having the right tools for the job to make my life easier," she said.
For those who don't know it's a grooming van, they may not even realize they've stepped into a doggie salon.
"Washing dogs is smelly," she said with a grin. "But I want it to be clean, and I don't like to work in a gross environment."
Reeser, 34, opened the Mobile Spaw in September 2017 after 10 years of working in pet grooming salons. She found a gap in the market and went for it; while the Spokane area has several mobile grooming options, offerings in Coeur d'Alene and Hayden were nonexistent. With her fully equipped Ford Transit van, she brings her work station right to her client's front door.
Reeser is certified in advanced pet first aid and CPR. She's a member of the National Dog Groomers Association of America, Inc., the National Cat Groomers Institute of America, Inc. and the International Professional Groomers, Inc., and she frequently attends conventions and seminars to continue her education.
"I enjoy working for myself. I can make decisions on how I run things," Reeser said. "You have to be independent. I have to have better time management, good people skills. I have many different kinds of clients, so you need to be able to interact with different people."
When Reeser meets new clients, she sets future appointments with them to instill a sense of security and routine, which is helpful for the pets and their humans.
"Once I take a client on, I feel like it's a better relationship with the client to have all of their future grooming appointments set aside for them for the year," she said. "If I take on a client, I'm making a commitment to them and their dog or their cat to always have space for them. I make sure I have all their appointments set for the year, whatever is best for their schedule and how they want their pets to look."
Cleanliness, convenience and comfort are three items high on her priority list, as well as customer service.
Teresa Mullen of Coeur d'Alene has trusted Reeser with her golden retrievers Cache and Daisy since Mobile Spaw first opened. Mullen credits Reeser with keeping her fur babies in optimal health, as Reeser documents any new moles, bumps, scratches or hotspots she discovers on her clients. She does not perform medical exams, but she gives the animals inspections and lets their owners know if she sees anything out of the ordinary.
This is how Mullen was alerted to a cancerous tumor on Daisy's lip.
"My veterinarian said, 'If you can find a really good groomer, it's worth every penny because they're going to be the ones that see the dogs regularly and they'll be the ones that discover the hotspots, the cancerous tumor on her lip, the ear infections,'" Mullen said. "We are so lucky. I feel like she's just part of the care and maintenance of the goldens. The way she grooms them, I can't come anywhere near that. And she spots things, and that's been priceless."
This trust is evident in how her dogs react to Reeser, who uses her gentleness and understanding in her interactions with her four-legged clients.
"When she comes, she does both of them, and they both want to go," Mullen said. "They'll both run to the door, and they really look forward to when she pulls up."
Once that trust is established, Reeser is happy to make arrangements to visit when owners are working or running errands.
"People have to feel safe with you in their home," Reeser said. "I have quite a few clients where I don't even see the clients and I come when they're gone. They're at work, I come and groom their dogs, they come home and there's a magically clean dog waiting for them."
Reeser and her clients know the routine: leash, short walk, bath time.
"The convenience has been wonderful. I don't have to throw them in the car," Mullen said. "And you never know when you're going to run into an aggressive dog at a dog wash. And getting them up in those tubs with the other dogs barking, it's just not the same experience."
Reeser's business has expanded to about 75 clients, and she recently hired her first staff member. Mobile Spaw's services include, for canines: nails trimmed and buffed; bath with luxury shampoo; conditioning treatment; ears cleaned; breath freshening and dental health check; hand fluff dry and skin health check; and brush and comb out. By request: custom haircuts; finishing spray; puppy bling (bandanas, necklaces, bows). Prices start at $79.
For felines: nails trimmed; ears cleaned; face/eyes cleaned; face trim (Persians/Himalayans); bath with luxury cat-safe shampoo; hand fluff dry; and comb out. By request: custom haircuts; cat-safe finishing spray.
Weight limit is 65 pounds. New clients are being placed on a waiting list at this time. Refer to www.mobilespaw.com for other policies, prices and services.