Pearls of wisdom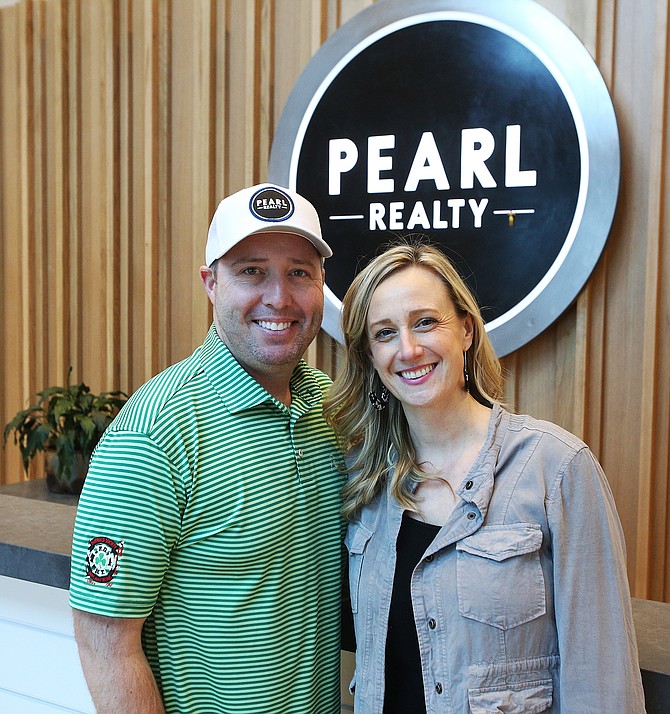 New real estate office on Government Way a place to live, work and really play
The new home of Pearl Realty at 9493 N. Government Way is bright, spacious and inviting.
It is a place of large windows, vibrant art work, and roomy offices.
It is a place where real estate deals will be signed and sealed.
But it's more than a place to work.
It's a place to play. To have fun. To unwind.
You get the picture. But if you don't, picture this:
Pearl Realty has a giant screen for shooting a round of simulated golf.
It has an arcade room where kids, and adults too, can play video games or watch a movie.
It has a large kitchen with bar stools.
And that's just downstairs of the two-story, 7,500-square-foot site.
Upstairs is a putting green, a gym with Peleton bikes and other gear, and his and her locker rooms.
Plans call for a "backyard oasis."
"Live, work, play," Karen Pearl said.
"Our vision was to have a place where people would come in and smile," said broker/owner Joel Pearl, wife Karen joining him on a building tour.
"Even if you're not buying or selling, come hang out," Joel added. "Come say hi. Life is more than just real estate. It's about people. We want to make it an environment where people feel happy just to stop by."
Real estate, doing it well, is a demanding profession, Joel said. So he likes to reward his team.
"If they want to bring their kids to the office, or bring their puppy to go run out back, let's make this an environment where people want to come hang out and be happy and not feel like it's the traditional corporate cubicle mindset," he said.
The team
To make way for Pearl Realty, the former home of Hospice of North Idaho was demolished, with the existing foundation used.
Karen Pearl, with an eye on design, helped manage the project and worked with Ginno Construction.
She and Joel are delighted with the results.
"It is incredible to see the success," Karen added.
It's a small family at Pearl Realty — a staff of about 10.
"That was intentional," Joel said. "Our focus was to hire high-level people."
Joelle Goodman is the director of operations. Jeff Kreis is director of residential sales, Idaho. Tony Hanna is the director for residential transactions in Washington. Don Crawford is director of commercial sales and leasing. Rob Crain is the in-house filmmaker and photographer.
"We have a very focused approach on how we run things," Joel said.
Both Pearls speak of the advantages of having an in-house videographer with Crain's talents.
Karen pointed out that whether they have a listing for $300,000 or $5 million, videos with music can be part of the marketing program.
"It's a really neat service," Karen said.
"Whatever is relevant, whatever is necessary," Joel said. "If you need it done tomorrow, we'll get it done tomorrow."
In a competitive environment, Pearl Realty has held its own.
"We're seeing tremendous results and I think people are seeing the difference," Joel said. "I think the numbers speak for themselves consistently over the years."
As he stands in his new office, Joel shakes his head and says, "We never started out to have our own office and have a space like this."
"It really developed over the years," he continued. "I think when we started having such incredible people that worked as part of our team, we felt we needed to have a home for them that was relevant and comfortable and a space that fit the talent that we have."
In the beginning
The Pearls, who have four children, started on this real estate journey 16 years ago.
Before kids, Karen worked at the Coeur d'Alene Press as a reporter for two years. Joel began his real estate carer after working as a caddy at The Coeur d'Alene Resort Golf Course for a few years. He laughs when he describes his first office — small, dark, in a basement.
"I sort of joke, 'I worked from below ground up to get here,'" he said.
He recalls caddying for longtime real estate professionals, and he listened and learned as they played.
"People I have a lot of respect for, locally, who are still in the business. From that experience, caddying for these few tops agents, that I just found it very interesting," he said. "I've always enjoyed real estate. I enjoy the research side. I really enjoy working with people. I feel like it translated incredibly well."
His father, Jim Pearl, is a geologist.
"So I didn't come from sales or a business background, more of a science background," Joel said.
He hoped to make about $50,000 his first year, something that could support a family in North Idaho.
"It was seven days a week for the first year. Every day I was at the office," Joel said.
"Grinding," Karen added.
There were days she wondered if it was worth it. Joel assured her it was.
"Just trust me, this will pay off," he said.
It did.
His first year, he sold 55 homes with a volume of about $15 million
"It almost became too much to handle," Joel said. "And that's where we developed the team concept. That set in motion what we have today. Here we are, 16 years later. It's pretty fun."
But make no mistake. It was not easy.
"It's really quite a process," he said. "There have been long days and sleepless nights."
Joel adds: "I always say this to my children: 'You can't beat a guy who never quits.' We just haven't quit."
Now, he doesn't have to work 24/7.
"I'd rather spend time with family," he said.
Beyond dollars
In his career, Joel Pearl and his team have sold thousands of properties, valued in the $600 million range. But it's not the number of sales or the money he emphasizes. Rather, it's the number of people he's worked with and helped buy or sell property.
"Well more than 1,000 families," he said.
"And we've become friends," Karen added. "It's really special to be in this industry. You get to meet a lot of amazing people. And you help them in a very stressful time in their life. Selling their home can be very stressful."
Whether buying an entry-level home or a million-dollar home, people are treated the same, she added.
"I think it's our people, their ability to connect with people, and treat them with kindness," Karen said.
"To me, that's the key… just being kind to them," she said.
Their approach has worked.
"We feel like we don't need to sell a billion dollars worth of real estate. What we need to do is have very happy past clients," Joel said.
"The more we take care of people, the more business that comes back through our doors. The mindset here is really not volume. It's quality of agents, quality of experience, and the friendships that have been developed."
Pearl speaks of a team that is "incredibly hard-working and talented."
"And kind," Karen added.