Retailers ready for shopping season unlike any other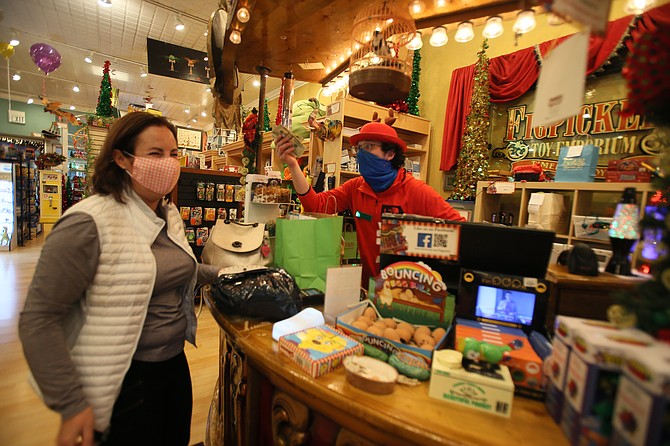 'Tis the season for local retailers to think outside the box as they outsmart big box stores and court consumers away from corporate online giants.
In North Idaho, craftsmanship, customer service, creative delivery methods, irresistible promotions and steals of deals will be keeping cash registers singing as silver bells are ringing and shoppers rush home with their treasures.
"I think that this year, it will just be really important to get people excited about the holidays, so we're starting right off," said Annie Wensman, co-owner of The Spice and Tea Exchange.
The Spice and Tea Exchange, at 2061 N. Main St. Coeur d'Alene in Riverstone, recently opened a satellite store in The Resort Plaza Shops. It offers a variety of fine spices, handcrafted seasonings, loose-leaf teas and other culinary items.
"We're going to do a 12 Days of Christmas. We have a Black Friday and Small Business Saturday program planned," co-owner Judy McAfee said. "We're praying that COVID will go away."
Across the street at 2048 N. Main St., the Well-Read Moose independent bookstore is limiting the number of people inside and requiring masks to prevent the spread of COVID-19. To offset lighter foot traffic, it has ramped up print advertising, shipping and special ordering as well as its online store, which now has more gifts, gift cards and custom gift boxes for purchase.
"It's been, obviously, a challenging year," owner Melissa DeMotte said. "It's just a different experience."
The Well-Read Moose just started a children's subscription service for people who want to send books to young readers.
"We're trying to do more to drive activity to our website and allow people to shop with us without having to come in," DeMotte said.
People are shopping with a purpose these days, rather than taking their time and enjoying those random interactions with others, she said.
"We're also doing appointment shopping," she said. "So much of it is trying to be creative: How do we reach the customer? There's a menu of new services that we're trying to promote to allow people to support a local business without having to come out. But for the ones who want to come out, yay!"
Beth Rich Brown, owner of Mix It Up at 513 Sherman Ave., Coeur d'Alene, said she and her team are ready for the holidays.
"We'll be having in-store specials," she said. "At this minute, we're completely totally decked out. We have it stacked to the ceiling."
She reported that her store, which offers an eclectic collection of colorful and whimsical home décor and gifts, had a "really robust" year despite being closed six weeks when the pandemic locked down everything.
"We're counting our blessings every day," Brown said.
Mix It Up offers free gift wrapping and will have specials on candles when people support local on Shop Small Saturday this weekend. It will soon also host a pop-up show at the Hayden Lake Country Club as well as invite guests in for ArtWalk and Elf on the Shelf activities downtown.
"Customer service, it's our mantra here," Brown said. "We always tell our customers, 'If you want to go online, we'll take care of you, but we want to see your smiling face in our store.'"
Memory Lane Gems in the Plaza Shops is also decked out for the holidays and ready to assist customers on site. Owner Lynn Rinker said she doesn't do much online because of time constraints and difficulties restocking an inventory with many one-of-a-kind items.
"It's a little harder to get merchandise because there were no trade shows," she said. "I know a lot of vendors from the trade shows, and I call them personally, but they've been low on staff. It's been really hard to get inventory, and shipping is expensive right now. We're not Amazon."
Rinker said she expects jewelry to be a must-have item this Christmas as gold and silver prices increase.
"If people are going to get something, they're going to get it now," she said. "I didn't raise any of my prices, according to the gold and silver cost. I kept my prices down, which is starting to be a little difficult because I can't replace things."
Retail is seeing many challenges, Rinker said. "You can't guess how it's going to go," however with people canceling vacations and cruises, they may be willing to spend more this season.
"Generally, I'm expecting a nice season because people love Coeur d'Alene," she said. "I expect it to be a good season."
Figpickels Toy Emporium navigated the pandemic with virtual shopping, custom-made gift baskets and curbside pickup, but Brett Sommer, who owns the store with wife Susan, said they'll be cautious and responsible to not put their shoppers in a hazardous environment.
"Most of the stores don't have to worry about 90 people in their store at once," he said. "Our challenge is approaching it in a way that's respectful but sends the message that we care about our employees, we care about you and want to do the right thing."
Figpickels strongly recommends visitors wear face masks as they browse its giant inventory of toys, games, puzzles and more.
"We have such amazing customers. We have the best in town," Brett said. "Now we're getting all these new people who come to this area and they're discovering us."
He said it's tough when plans fall apart, like the cancellation of the holiday lighting ceremony and parade, which is a busy night for all downtown businesses.
"We don't make too many decisions because it's going to get blown away next week," Brett said. "You keep trying to reinvent, and after a while, you get reinvention 'frybrain.' It's something a lot of people are talking about."
As toy stores across the country close, he said Figpickels remains viable and busy.
"We are so fortunate to have people in our store making our numbers that we can pay our bills," Brett said. "I am optimistic about what the holiday season will bring."