Historic bed and breakfasts for sale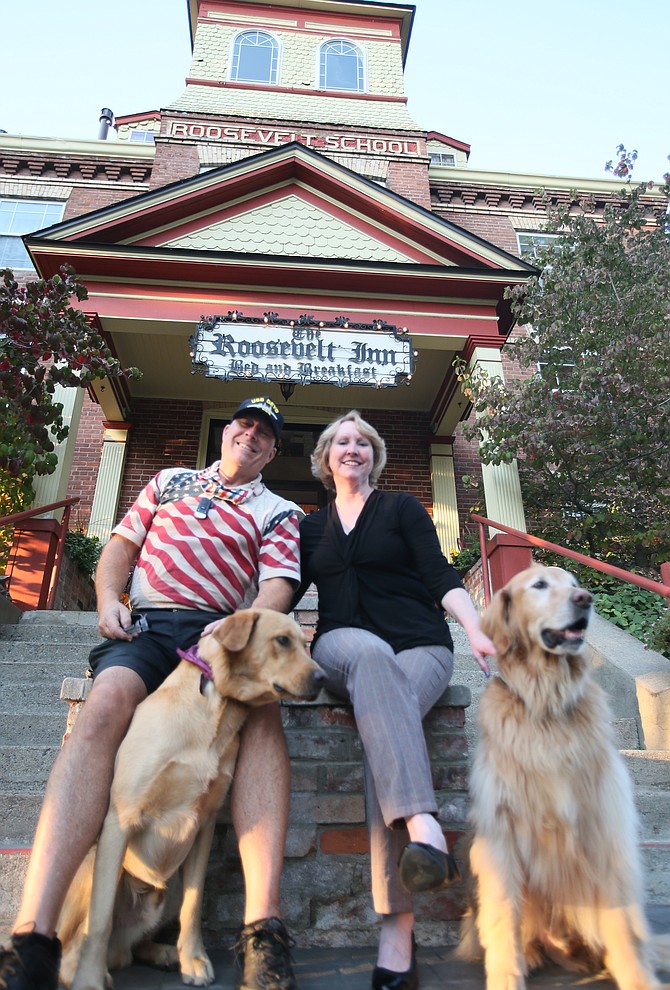 The historic Roosevelt Inn at 105 E. Wallace Ave. in Coeur d'Alene is for sale.
It's been on the market for three years, and it might be that way for a few years more.
Owners John and Tina Hough are eager to travel to Texas to spend more time with family. They're looking forward to spending time at their retirement property in Harrison.
But they're not going to sell this piece of local history to just anyone. They're waiting for the right buyer to come along.
"Our goal was to be out of here by the time he's 65," Tina said, seated on the patio of the inn on one of the last nice days in early October.
"Two more years," John said.
Tina said that through industry research, they were made aware that it would probably take five to seven years to sell the inn.
"We wanted to start the process before, so that the timing would be right that hopefully we would find that perfect person by the time he's 65," she said. "So we've got two more years."
"Or earlier," John added.
The five story, 14-room-and-suite Roosevelt, originally built as a schoolhouse in 1905, is going for about $2.7 million if it's bought as a residence, or $3.1 million if it's purchased to be used as a business.
The Houghs bought the Roosevelt 21 years ago and have invested hundreds of thousands of dollars into it through the years.
"I've always joked that for every quarter we made, we put a dime back into it," Tina said.
They converted the attic into a one-bedroom innkeeper's apartment with a lake view. They put the lunch room back in the basement. They've installed new sidewalks and beautified the grounds with landscaping and water features.
Tina said an important part of the deal that the future owners will need to agree to is to make good on events that will be planned after the transaction occurs.
"Anybody that buys this building, we need to make sure they will keep any contracts that we have, so any future weddings, anything that we have in that aspect, will be honored," Tina said.
The Houghs also have personal attachments to the building.
"John and all of his siblings went to school here. His dad was the PTA president for nearly a decade, so we have a tie here to this building," Tina said. "We'd hate to see somebody just come in and raze it."
The building housed Roosevelt School from 1905 to 1972. It was placed on the National Register of Historic Places in '76.
Tina said they want to make sure the integrity of the building is maintained.
"It's an important aspect to us to make sure this piece of history doesn't go away," Tina said. "To us we need to reverence and respect our past, as well as move forward. We think this building has served a great purpose here — it's been a school, it's been an office building, it's now been a wonderful bed and breakfast serving the community. We'd just like to see that continue. We don't want that to go away.
"We'd love to see it continue as a B and B."
Just a couple blocks up the street, the Greenbriar Inn is for sale, as well. Owner Kris McIlvenna said they're not quite ready to do a full story, but she shared fond memories of running the Greenbriar in a Press article in July.
"Who knows what tales these walls could tell!" McIlvenna wrote. "The house reminds me sometimes of that song 'You've got a spell on me,' as it has captured the imagination of so many. Because it was built in 1908, it has seen all the world wars, the other pandemic of 1918-1919, the Great Depression, and of course the turbulent times unique to North Idaho. It has protected and served during some very remarkable times in our ownership. Hopefully it will continue to do the same in this most recent series of unfortunate events we call COVID, and beyond."
For information about the Roosevelt Inn, visit www.therooseveltinn.com or call 208-765-5200.
For information on purchasing the Greenbriar Inn, 315 E. Wallace Ave., contact Marianne Ahrend, Keller Williams, 208-661-6486; or Bob McIlvenna, Keller Williams, 208-659-3133.