A Riverstone runs through it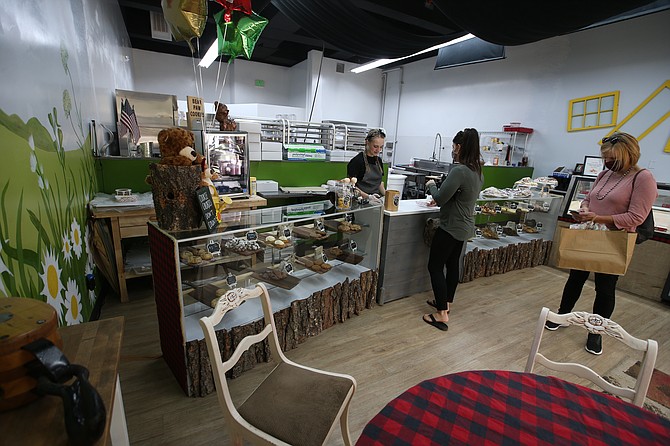 On a smoky September afternoon, a couple walks hand in hand on Main Street at Riverstone. They're trying to decide where to stop.
So they continue strolling along, window shopping, chatting, eating ice cream cones. A nice walk on a street lined with vehicles as condos loom overhead.
"We came here because we heard it was a great place to spend an afternoon," said Stephanie James, a visitor from Washington state.
They looked inside The Well-Read Moose. Checked out Escape Outdoors. Ventured across to Buckle and paused in front of Vine and Olive. Later, they passed Bear Paw Cookies and a sign around the corner for "Tom Sawyer Country Coffee."
Eventually, they backtracked to the cookie shop, where they were greeted by friendly staff and bought two cookies that were about as big as their hands.
"Glad we stopped here," James said.
A mom and daughter, laughing and eating, sit outside Grooveberries Frozen Yogurt. Down the street is Cork & Tap, which opened earlier this year. Two people sit outside Sola Salon Studioes, waiting their turns to go inside.
More walking tours and quick ventures into shops by visitors and locals take place on Main Street, considered by some the heart and soul of Riverstone, which recently marked its 21st anniversary.
While many shops closed temporarily or for good due to the coronavirus, those on Main Street in Riverstone held on, dug in, and are bouncing back thanks in part to an Idaho economy that stayed open.
"We work pretty hand in hand with all our clients," said Nikole Cummings, manager and co-owner with Riverstone Holdings, LLC, which owns the buildings facing each other on Main Street, and the one in which her office sits around the corner near Empire Eye and Orvis Outfitters. "We want to see them succeed."
Riverstone's roots goes back to 1999, "when SRM Development was founded when four experienced real estate, development, and construction professionals — John Stone, Dee McGonigle, Bryan Stone and James Rivard — joined together to form a different kind of development company," according to their website.
Riverstone was the vision of John Stone, who with SRM bought the 160-acre site in 1999 that used to be home to a sawmill and had become a desolate chunk of property.
Today, it is home to nearly 100 businesses, medical offices, health care, restaurants and financial services, creating over 4,500 jobs including operational and construction. 
There are about 900 residents living here and about 90 more to come with upcoming projects. 
There will also be a project coming up that will border Riverstone and add to the count of residential units in the general area. 
Since Riverstone broke ground there have been five new hotels constructed in and around the development. 
Everything here, the pond, the condos, the shops, the eateries, is part of the live, work and play concept when this development came to life two decades ago.
Its proximity to the Spokane River, the North Idaho Centennial Trail and downtown Coeur d'Alene created an opportunity for people to run, bike and swim, or just go for an evening walk around the manmade, six-acre pond where Canada geese roam.
"The developers always envisioned an experience where one can live, work, eat and play all without needing to drive," Cummings said.
With the recent addition of a pizza shop to fill the space of the old Bullman's Pizza, Riverstone Holdings' property at Riverstone is at 100 percent capacity.
Cummings said that throughout the coronavirus pandemic, when the state issued a stay-home order and ordered closed what were considered nonessential businesses, Riverstone Holdings was able to give some rent concessions.
It is important to support the businesses, she said.
"A lot of them just pulled through," she said. "Many just plugged along. It was kind of surprising.
"I think Idahoans are pretty stubborn in their ways," Cummings added.
But even then, their economic survival was never a sure thing.
"It was touch-and-go for awhile. Streets were dark; all our business were closed up."
But lights glowed again.
As soon Riverstone shops could open, they did. Local support has been great, Cummings said, and they're seeing plenty of clients from Washington state.
"I don't know how they're surviving in other places, where they are still closed," she said. "It's going to be very interesting and sad to see who survives and who doesn't."
Riverstone, as spread out as it is, is a tight community, she said.
"So when something like this happens, it's amazing to see Coeur d'Alene pull through the way that we do," she said. "We support each other and if you have the chance to shop local, to do so."
She has seen residents and business owners help each other.
"Kind of heart warming, actually," she said. "Our tenants do a good job of supporting each other. It's just been amazing. Whenever anybody needs something, they all kind of rally and pull together and lean on each other. It's been neat to watch."
Across from Main Street, Regal Riverstone cinemas has reopened, albeit to about 25 percent capacity, but it hopes to be up to 75% by November. Coldstone Creamery and San Francisco Sourdough Eatery are quiet on an afternoon.
Next to Anthony's Home Port, an apartment building is rising from the ground as construction continues on another development.
The Hampton Inn close to the Centennial Trail and the river has a steady flow of guests, as does Staybridge Suites closer to Northwest Boulevard where a line of cars waits at the McDonald's drive-thru.
On a corner of lush, green lawn around the corner from Cummings' office sits a "Space for Sale" sign. Cummings said there are plans for that piece of land.
Riverstone is close to being built out.
"After we do this, there's no other land to develop, really," she said.
They are looking to increase seating at the amphitheater, where summer concerts are held next to the pond, and perhaps add a bandshell for performers.
The 20th anniversary celebration last year featured a light show and Cummings said they are looking at creating a permanent lighting attraction.
It took some deep breaths to get here.
Cummings has worked with John Stone for 16 years and credits him with the development surviving the economic downturn in 2007.
"He's the reason why it survived, really. He just didn't give up," she said. "He's a visionary. He consistently surprises me because he comes up with solutions when you don't think there is one to be found."
Stone's vision of a live, work and play community became reality. Today, an array of medical and business professionals, restaurants, health care providers, retailers and residents call Riverstone home.
"I think all in all, the development did pretty well," Cummings said.