Oh, those beautiful beans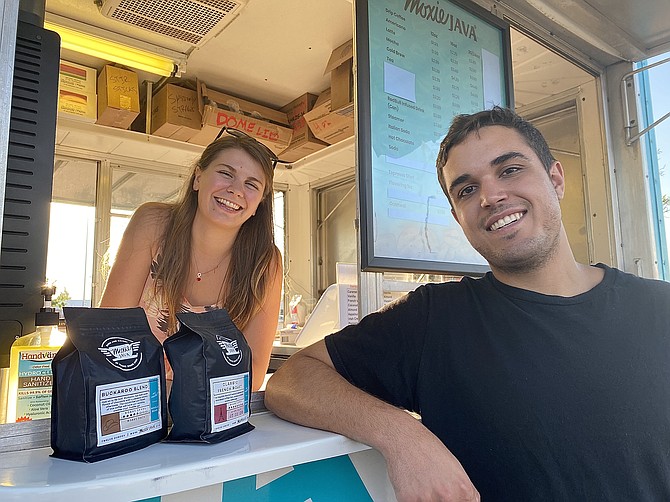 Few pleasures are better than the smell of fresh coffee in the morning without giving a thought to the science behind those beautiful brown beans, let alone going to all sorts of trouble brewing a cup or two.
That's Jarvis Abbott's department.
Abbott, a 24-year-old Sandpoint native, has devoted the last five years to living and breathing Moxie Java. Now he has brought his talents to Coeur d'Alene with the newest Moxie Java location at 235 Sunset Avenue just off U.S. 95.
The first coffee shop to serve espresso in the Treasure Valley, Moxie Java has been an Idaho brand since 1988. After graduating from Sandpoint High School, Abbott and now-wife Carsen, 24, moved down to Boise to attend university in 2015. To finance his way through college, Abbott started working for Moxie Java as a barista. Two and a half years later, they asked him to help with the roasting process.
"When I first started as a barista, it was just for the job and to help get through college," he said. "Honestly, it was when I started learning about coffee and how it interacts, I became drawn to the science behind the coffee."
The result of an understaffing issue, Jarvis went from a one time aide in the roasting process to the main man, Carsen said. After the company was bought by a new owner in 2018, Jarvis used his three and half years of experience with the roasting process and created unique blends to Moxie Java still used today.
"They took the chains off and let me roam free," he said. "I got to experiment, mix all the coffees, and try roasting them differently. I've always been interested in creating new products and experiences, new tastes in the coffee."
For the typical coffee drinker, brewing consists of scooping ground beans into a filter and letting the hot water do its thing. What people don't see is the meticulous process each roast travels through to transform from robot to brew.
Whether it's a blend or single origin roast, the taste of the coffee largely depends on the bean's origin. Abbott said Moxie sources all of its beans from regions resting on the Equatorial belt.
"Different areas have different taste profiles," Jarvis Abbott said. "If beans are grown closer to sea level, then the beans are going to be larger and are not as condensed with amino acids."
Some aspects of coffee will vary widely based on elevation, Abbott said. The higher the elevation, the more dense the bean, which will make the roast more acidic. Lower elevation beans produce notes of chocolate and more approachable flavors.
"Honduras, Nicaragua and Sumatra are pretty standard beans we use in our recipes," Abbott said. "If you wanted to get something more complex like a light roast, you might try an Ethiopian high mountain coffee."
Once the flavor profile is set, Abbott narrows down his bean set and experiments with the bean ratio to determine the bean's roast process and development.
Unlike some traditional coffee brands, Moxie Java uses the Sivetz Air Roaster instead of a drum roaster. Drum roasters are an adaptation of the cylindrical coffee roaster developed in the 17th century. Since then, it has been used and innovated by coffee roasters internationally.
"Drum roasters are a good technique, but you have to know what you're doing because there are little increments of change that you have to keep your eyes on to make sure it's not scalding the side of the bean," Abbott said.
Moxie Java uses the Sivetz for its ability to produce a more uniform roast with an efficient heat transfer system that levitates beans and alleviates bitterness. Like a popcorn maker, superheated air is transferred through the roaster, absorbed into the beans, and filtered through the afterburner.
"It gives a nice consistent roast and gives the coffee a robust flavor without being bitter," Abbott said. "Instead of touching a hot pan that works similarly to frying, it's more like baking beans in the air."
Once the sample roast is complete, Abbott performs the "cupping" process. Depending on how many samples have been produced, roasters like Abbott use the cupping process to triangulate which blend has the flavor that's closest to the target taste. After that, the sample beans are ground, steeped, and flooded with the water for the cupping taste test.
"The procedure has to be exactly the same for each sample so that the only inconsistent variable is the bean type," Abbott said.
Beans are left to steep for about three and a half minutes, Abbott said. Then he'll break the crust with his spoon, which submerges the top surface and releases a burst of coffee aroma.
"You can breathe the aroma of the coffee in and get a primer for what it is going to be like when you taste it," Abbott said. "It's actually really similar to wine tasting."
The roast brews for another 10 minutes while a top layer of foam develops. After 10 minutes, Abbott scrapes off the foam before finally taste testing the brew.
"It's pretty funny how you taste it. You have to slurp it, slurp it like something your Grandma would slap you for," Abbott said with a laugh. "That's going to aerate it across all of your taste buds."
That first taste of coffee is a full mouth experience: bitterness on the side of Abbott's mouth and sweetness on his tongue's tip. Once tested, roasters record the variety of coffee, place of origin, roast level, and roast length. Also noted are attributes like acidity, sweetness, thickness, and mouth linger.
While Abbott won't be able to participate in Moxie Java's roasting process as frequently, his dream of opening his own franchise is finally a reality. Jarvis and Carsen Abbott moved up north in May after Carsen was laid off during the COVID pandemic.
"We knew we always wanted to come back up north, especially since all of our family is up here," Carsen said. "We honestly didn't plan on staying in Boise as long as we did; we were just going to go to school and come right back. After graduating, we found really good jobs, made good friends, and built a life down there."
Before COVID, the two had been saving money to move closer to home, but they had always been too busy. With her newfound free time, Carsen began spearheading the house hunting in March. After looking all over the county in cities like Post Falls, Hayden and Rathdrum, Carsen found the perfect fit in Coeur d'Alene.
Jarvis and Carsen are the storybook high school sweethearts, discovering love at 15 in computer science class when Jarvis had to coach technologically-challenged Carsen through every lesson.
"I honestly would not have passed that class if it wasn't for Jarvis," Carsen said. "We ended up becoming good friends, then more than friends."
Eight and a half years later, Jarvis and Carsen are newlyweds who said their "I dos" only a few days before opening the Moxie Java stand on Aug. 28.
"It's always been my dream to open a coffee shop up here," Jarvis said. "In the beginning, I was planning on opening my own coffee shop, but once I worked with Moxie long enough, I didn't want to leave the company."
When COVID hit Idaho, Moxie Java could no longer travel to events with their portable trailer location, so they offered it to Abbott to start his franchise. The two looked all over for a spot for the trailer, Carsen said, sending out over 80 inquiries for Spokane, Sandpoint, Rathdrum, Hayden, and Coeur d'Alene.
Of those 80 inquiries, the Abbotts said only two responded. The Sunset Avenue location isn't their dream spot, but the duo is determined to make it their own. In a time when the pandemic has pushed many Americans to press pause, the Abbotts aren't slowing down.
"You can't stop. Life doesn't just stop," Carsen Abbott said. "With everything shut down, it feels like the world is trying to be on hold, and you can't do that at all."
With an abundance of coffee shops, stands, drive-thrus and chains throughout the Kootenai County and Coeur d'Alene area, the Abbotts aren't worried by the competition.
"I know once they taste it, they'll come back and break their old habits," Jarvis said. "Almost everyone that has tried our coffee has ended up coming back, and that's a great sign. It's just getting in the door and encouraging people to try it."
Ideally, the Abbotts would like to have their franchise wholly set up before winter. For the time being, they are testing the waters, making connections, and showing people their Moxie.
"Moxie is an adjective. It's spunk, showing your true colors, being authentic and genuine, not changing who you are based on those around you," Jarvis said. "That's what we've always been about. Being yourself, finding people are also themselves, and creating a great community around it. Coffee is a perfect fit for that."
Moxie's menu includes a chocolate and caramel Milkee drink, brown sugar cinnamon Havana cold brew, classic mochas, lattes, teas, and drip coffees, or wholesale bags of Abbott's roast creations to make at home.
Open Monday through Friday from 6 a.m. to 7 p.m. and Saturday from 8 a.m. to 4 p.m., lovers of all things caffeinated can try Abbott's roast for themselves. Moxie Java is also available through Door Dash, Uber Eats, and Grub Hub.
Information: Jarvis and Carsen Abbott, https://moxie-java-cda-coffee-shop.business.site, 208-304-8999