Drink, game, repeat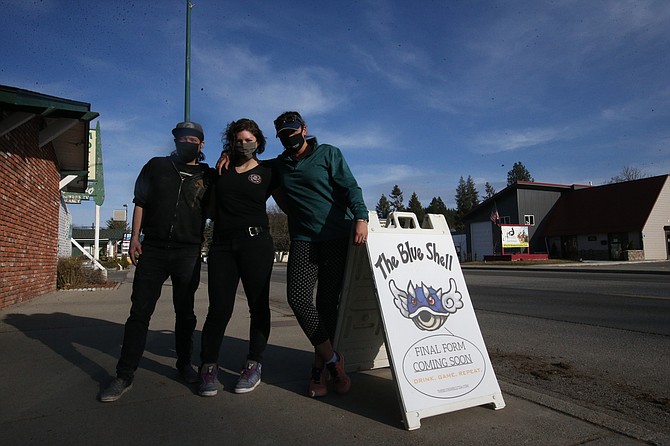 When they were growing up in the Coeur d'Alene area, sisters Nicole Schaffer and Katy Kellum were nerds. They developed a passion for games of all kinds — video games, board games and beyond.
"I got really sucked into Magic: The Gathering and Dungeons & Dragons," Nicole said.
After spending 19 years in Seattle, Nicole returned to Coeur d'Alene with her husband, Patric. But something was missing — the grown-up, nerdy hangouts they'd enjoyed in Seattle, where they'd met some of their closest friends.
"Having something like that in Seattle really gave us a place where we could go and be ourselves," Nicole said.
There was only one thing to do.
"Let's make it," she said. "Let's create it."
The Blue Shell, located at 1903 E. Sherman Ave. in Coeur d'Alene, is a self-described nerd bar set to open in April.
The bar has been about two years in the making, with renovations for the Sherman Avenue location ongoing since September. Nicole, Patric and Katy are business partners.
Their goal, Nicole said, is to create a space where people can drink and socialize with friends while doing something active.
"We're catering to a community that's underserved," she said.
A massive mural painted by Katy serves as a sort of visual tour through video game history in the main room, where the bar is located. The space features classic arcade games and video games, including old-school consoles.
"Maybe a pinball machine or two, if it fits," Nicole said with a laugh, adding that she plans to host video game tournaments.
The bar itself boasts 16 taps serving beer and cider, as well as a selection of wine, canned cocktails, hard seltzers and espresso.
In the back room, roomy booths and tables are available for other pastimes, from tabletop roleplaying games like Dungeons & Dragons, card games like Magic: The Gathering and board games of all types.
The Blue Shell maintains a library of more than 100 games for patrons to play. Patrons can also bring their own games.
"If you don't know what to play or you want to try something new, we can figure out a game you might like," Nicole said.
In addition to their passion for geekery, the trio bring other skills to this business venture. Both Patric and Katy have a background in bartending, while Katy has years of experience in the Coeur d'Alene restaurant scene.
"We like the idea of having something that we get to build from the ground up," Nicole said. "How would it be if you had the ability to create a space and have it come to life as you envisioned it?"
More than anything, Nicole said, she and her co-owners want to create the same kind of community space for geeks and gamers in Coeur d'Alene that they had the opportunity to enjoy elsewhere.
"We want people to have a fun place they can come to and feel comfortable and safe," she said.
For updates about the bar's opening, check out The Blue Shell on Facebook and Instagram.
Info: www.theblueshellcda.com