A place for all Seasons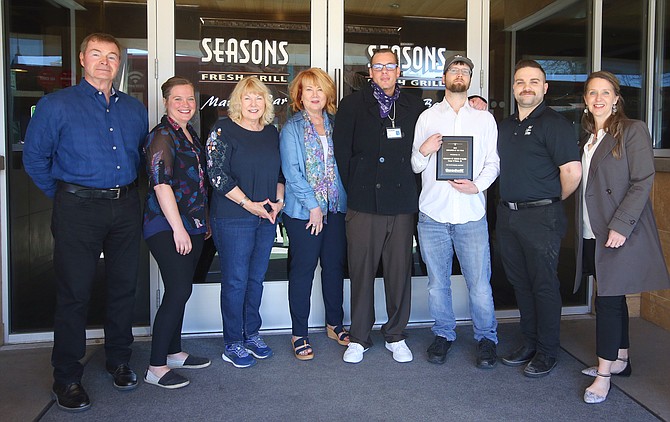 Kyle shows up early for his shifts at Seasons of Coeur d'Alene Fresh Grill.
Four days a week, he vacuums, dusts, washes dishes and performs other tasks that help keep the downtown Coeur d'Alene restaurant running smoothly. It's a nice gig, he said, with some perks.
"I like the food," he said with a smile.
There's something else he likes: the sense of camaraderie with his coworkers.
"We all have to work together," he said.
Much of the staff at Seasons is comprised of people who face barriers to employment, including adults with disabilities, like Kyle.
Seasons aims to provide more than a great dining experience for guests.
For almost 10 years, the restaurant has also existed to provide great jobs to people who need them the most.
"It's our mission," said co-owner Donald "Pepper" Smock.
In recognition of this work, Goodwill of the Inland Northwest has honored Seasons with its Employer of the Year Award.
Goodwill's Heather Alexander said Seasons was chosen among other nominees because of its ongoing commitment to hiring, training and promoting individuals who face significant barriers to employment.
"Our goal is to make people independent," Alexander said. "It's hard to do that without a job."
The unemployment rate for disabled adults in 2020 was 12.6%, more than 5% higher than in 2019, according to the Bureau of Labor Statistics.
Though this data reflects the impact of the COVID-19 pandemic, disabled people are twice as likely to be unemployed as people without a disability.
"It takes employers partnering with us to make it happen," Alexander said. "We can't do it by ourselves."
That's where employers like Seasons come in. Alexander noted that many businesses are hesitant to hire candidates from certain demographics, including those with disabilities and people with felony convictions.
"Not all employers are willing to take that chance," she said.
But those who do are often rewarded in the long run.
"I hear our employers say, 'These are the best employees we've ever had,'" she said.
Employees like Kyle often begin with a job coach who works alongside them, providing guidance, answering questions and helping them learn the skills they need to be successful at work.
Sean Devlin, Kyle's job coach, said he's been through struggles of his own. His work with Goodwill allows him to help others thrive.
"We all have limits that require advocacy," he said.
Seasons provides a supportive environment that has given Kyle and others the opportunity to develop.
"People fix things here," Devlin said.
General manager Daniel Bentley said employees like Kyle are vital to the success of Seasons. Each person contributes in meaningful ways.
"We need them as much as they need us," he said.
Seasons is a safe place where employees can flourish, Smock said. They're treated with kindness and granted trust.
"Our commitment to every single person who comes to work here is that they will leave someday with greater skills and greater confidence than when they arrive," he said.
Community employers like Seasons are a crucial element in the success of the people Goodwill serves, Alexander said.
"Every single guest who chooses Seasons contributes to that," Smock said.