Keep those cookies comin'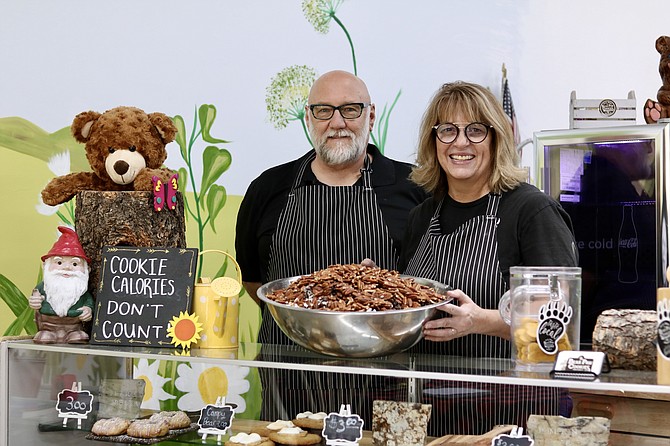 A dream shop that started just two years ago is already opening its third location to satisfy Coeur d'Alene's sweet tooth.
Lois and Ed Phillips, owners of Bear Paw Cookies, said they were delighted with the success of their second location, and opening a third location is icing on the cake.
"We're very happy," Lois Phillips said, adding, "also a little bit surprised."
The third shop was scheduled to open Aug. 28 in the Silver Lake Mall near the center court.
"I've always had a dream of having a cookie store," Lois Phillips said. "For 25-30 years I've been wanting to do this."
The couple opened their first cookie shop in July 2019 on Main Street in The Village at Riverstone.
"I was an X-ray tech," Lois said. "And one day I said, 'You know what, before I get much older I better get on that dream or it's going to be over with.'"
The Phillipses enjoyed sweet success, and opened their second shop on Sherman Avenue in July 2020 after the building owner begged them to move in when the lease was open.
"I found the best frosting-covered cookies I've ever found," said Starlee Taylor, as she walked out of the Sherman location one recent night with a box of sugar bears.
Having only been in the are a few months after moving from Beaverton, Ore., Taylor said she's already addicted to Bear Paw Cookies and stops by the shop on her evening walks almost daily.
"I walk for five miles every day so I can do this every day," Taylor said.
The Phillipses said their success comes from building relationships and offering a homemade product.
"We don't take any shortcuts, so our cookies are a little bit addicting," Lois said. "We build our tribe and we sell a really great cookie."
Besides using all scratch and real ingredients, Ed Phillips said the most important part of the business isn't the transaction sales, but the relationships they build with their guests.
"You want to see once you build that relationship whether they talk about you, they come back, they recommend you," Ed said. "That's part of our success story."
The Phillipses said it's also important to have the opportunity to offer young people a first-time job in a good work environment.
"They treat people like their own family, so it's pretty nice," said Kayleen James, 18, a new employee.
And just like their expanding cookie options, the Phillipses
hope to continue opening more locations.
"We're going to keep expanding if the opportunity comes up," Lois said. "My big, very audacious dream is to be one of the largest employers in North Idaho."