Professional recruiters bring gems to Gem State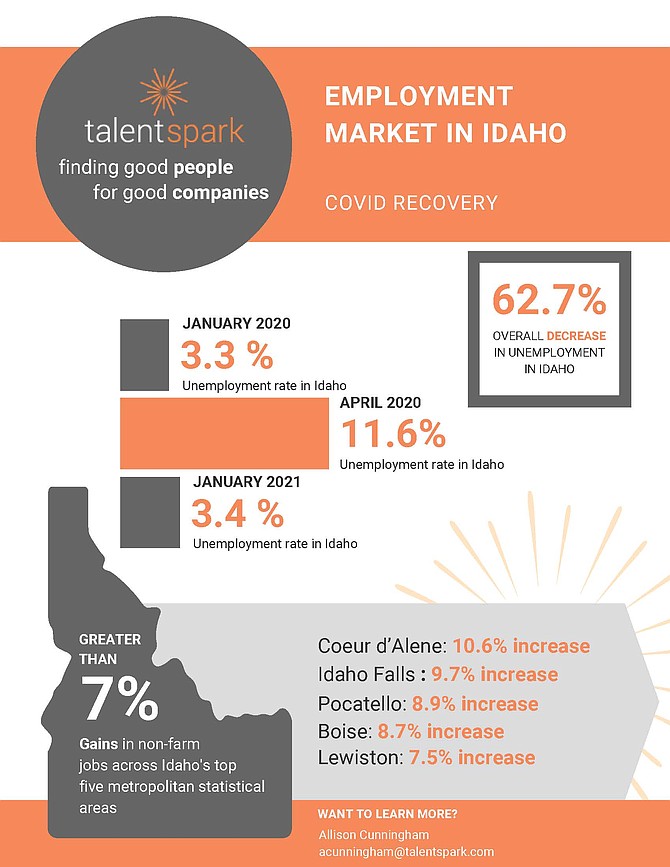 Allison Cunningham thoughtfully considered something Idaho Labor Department economist Sam Wolkenhauer said.
Wolkenhauer, in a recent interview with The Business Journal of North Idaho, was talking about some of the more creative lures employers are using to attract workers. He mentioned that some businesses are offering prospects free pet insurance and veterinary services.
While that's a nice little present in the benefits package, Cunningham said, the message behind it might be even more powerful in this post-pandemic age of frenzied, ultra-competitive and sometimes downright desperate hiring.
"It says, 'We know your pets really matter to you and they're important in your life,'" she said.
Cunningham would know. She's in the recruitment business, and she's paying very close attention.
For 17 years, Boise-based Cunningham has been recruiting talent to businesses ranging from health care to manufacturing to agriculture. For the past five years she's been a partner in the women-owned TalentSpark - a milestone in that only 4 percent of small businesses survive five years.
Part of the appeal of companies working with TalentSpark is its deep roots in the Gem State, said Jamie Brajcich, executive recruiter.
"We're all Idahoans, and our expertise is focused on Idaho," said Brajcich, who has 14 years experience in the recruitment field and works closely with a number of Kootenai County businesses. "Our goal is to bring top quality talent to Idaho."
Local clients include Mountain West Bank, Idaho Central Credit Union, Blue Cross and Harris CPAs, Brajcich said.
While pet insurance wasn't necessarily popping up in the TalentSpark crystal ball, Cunningham and staff saw this day of massive labor shortages and associated headaches coming even as the burden of COVID-19 was crushing the soul of most businesses.
"We knew there would be pent-up demand from a year of not hiring," Cunningham said.
What nobody could anticipate, though, was how exactly that pent-up demand would play out. It clearly has put good prospects in the driver's seat, Cunningham said.
Salary, commute and 401(k) used to be the three big questions employers were asked.
Now there's a whole new set of additional questions - questions the experts at TalentSpark hear over and over and, Cunningham said, love to answer by matching great employees with great employers.
Can I grow with this company?
How flexible are they? Can I work remotely, even a day or two a week?
Would they consider slightly less than full-time?
Are there day care subsidies or is in-house day care offered?
What kind of continuing education support does the company provide?
What are the values of the company, including environmental and diversity?
And this great question: How did the company support employees during COVID?
Cunningham's team takes it a step further, preparing to answer questions like what the office looks like and where employees go for lunch.
Another twist in the new normal of matching talented people with good companies is coaching those companies to be prepared for two realities: One, once a strong candidate is identified, don't sleep on it too long; and two, don't be shocked if what you've traditionally paid for the position is ancient history.
Example one: Cunningham cited a company that was interviewing five candidates in one week. By the end of that week, three of the five had already accepted other jobs.
Example two: Cunningham compared negotiating pay with negotiating purchase of a home.
"If you're advertising a job for $60,000," she said, "$65,000 or $70,000 is probably going to get that candidate."
But with wages escalating so rapidly, even higher ceilings are being reached.
"One employer expected to pay $60,000 to $70,000, but it took $95,000 and the ability to work from home two or three days a week," she said.
Even if some of you employers aren't in recruitment mode, don't get too comfortable. If you think your well-compensated and secure employees couldn't be lured away, think again. Cunningham said there's happy — and there's happier still.
"There are employees who think the company is great. They think the job is great. But there are people who are looking for more of what I call work/life harmony," she said.
And, frankly, those are the kinds of people Cunningham seeks.
"We're good at finding the person who is happily employed somewhere else," she said with a smile.
Information: https://talentspark.com/
• • •
TalentSpark's website offers lots of information on who they are and what, exactly, they do.
But perhaps nothing says it better than this:
Idaho. Iowa. Ohio.
It isn't the same, though if your recruiting firm is outside Idaho, they likely don't know the difference. Effective recruiting to the Gem State is about selling the amazing Idaho lifestyle: natural beauty, affordability, livability, outdoor access, cool downtown vibe and 15-minute work commutes. We live here, we work here, we love it here and we can tell the story like no one else.