COVID, schmovid: Local retailers revel in growth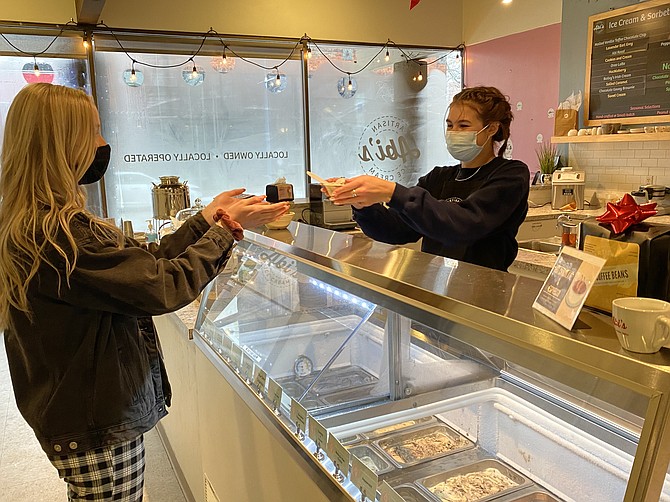 The omicron variant of COVID-19 has dimmed the national business growth forecast for 2022. But locally, it's easy to find retailers who say all's well — and more good tidings are expected in the new year.
Six years ago, Maren Scoggins and her husband moved to Coeur d'Alene and opened Abi's Artisan Ice Cream at 112 N. Fourth St. Business in 2021 has been "good and steady," Scoggins said. As expected, they typically see an increase in sales during the summer but so far this winter they haven't seen any decreases. This is the fifth year of double-digit sales increases, Scoggins said.
"I'm hoping for more of the same in 2022 as Coeur d'Alene continues to increase in popularity," Scoggins told BJNI. "I anticipate the numbers to continue to climb."
A "glass half-full" person, Scoggins said she loves that so many are visiting the area. When people come on vacation, they have money to spend, they eat ice cream, hike Tubbs Hill and buy souvenirs.
"That's a lot of fun and we all win," Scoggins said.
The only area the business has struggled with is staffing.
"I am retaining my staff but if I need to fill a position, it's been more difficult," Scoggins said. "The pool of potential employees is much smaller and it took me four months to fill my last open position."
Scoggins is always on the lookout for someone who might be the right fit for the rest of her team.
There's a difference between visitors to the area and those who are relocating, she said.
"The issue is that many of the people moving here are retired folks," Scoggins said. "They use services which is great for business but they aren't adding bodies to fill open jobs."
That phenomenon causes tremendous increases in business expenses, she said.
"I would say that all businesses are feeling the strain of growth and it is sometimes hard to manage," she said.
Hayli and Jerry Librande own three businesses in town, Blessed Salon at 1132 N. Fourth St. in Coeur d'Alene, Hawaiian Sun and Librande Real Estate Group, both at 6848 N. Government Way in Dalton Gardens.
"We just did a huge expansion at Hawaiian Sun," Hayli said. "We expanded to include plumbed in pedicure chairs, added 10 more staff members, more rooms and many more services."
Offering saunas, an array of tanning services, pedicures, facials, nails, hair services, eyelash extensions, fat reduction services for the body or face and massage, Hayli said she hasn't had any trouble with staffing. Most of her staff are independently contracted and rent booths or rooms from her, she said.
"We have had to turn away interested contractors," she said. "We've put a lot of TLC into making sure that the individual needs of each one is met. We ask them, 'What do you need to do good business here?' and then we take care of it."
Upgrades in lighting for their hair stylists is one example, Hayli said. Tailoring the atmosphere for staff and clients alike is the key.
"I pride myself in helping people to succeed," she said. "Bringing in new clients for my girls allows them to succeed and then we succeed too."
The COVID crisis has actually helped business, Hayli said. A lot of people are coming to Coeur d'Alene for services to escape the "COVID madness" in Washington.
With businesses shutting down because of COVID and more strenuous regulations, people are opting for Coeur d'Alene. "It's a whole different world over here," she said.
The Librandes have 16 service contractors at Hawaiian Sun and 10 at Blessed Salon while running their real estate business full-time.
"We are expecting more growth in 2022," Hayli said. "The more time and energy we put in, the bigger things will get."
The Librandes may expand with another salon. They say growth has been so tremendous, they rarely take a single day off work.
Ron Trenkle, Vice President of Fairway Floors, said business has been steady but they've had issues acquiring products this past year.
"COVID caused a lot of people to go on unemployment so the mills (for flooring materials) didn't have the needed staffing," Trenkle said. "The replacement staff (at the mills) were not producing the same quality product."
Trenkle said local clients were very understanding and he's seeing improvements lately. The company likes to focus on American-made products but are now acquiring quality flooring products from Germany and Asia too.
Staff shortages locally have affected the business also, Trenkle said.
"Job searchers would put in applications but were not earnestly looking for work," he said. "They wouldn't even show up for the interviews."
Despite staffing and product issues, Trenkle is optimistic for the new year.
"In 2022 I feel that things will get better," he said. "I see products coming in faster and more manufacturing in flooring coming in from the United States."
Wild West Rustic Furniture at 400 W. Clayton Ave. in Coeur d'Alene has been in business for 39 years, said manager Cody Folda.
"Business has been amazing," Folda said. "2021 was our best year ever and we project next year to be just as good if not better."
While COVID caused business shutdowns nationwide, Folda said that it didn't cause any problems for the family-owned business. COVID has brought a lot of people to the area and business has dramatically increased.
The store was technically closed during the 12-day shut down in 2020 but their employees were still building furniture in the back, Folda told BJNI.
"Customers kept on coming to the door so we'd let one or two in at a time," Folda said. "They appreciated it and accepted coming in at their own risk. They praised us for staying open."
Staffing hasn't been an issue for the Foldas.
"We've never had so many on staff," he said. "Everyone just got raises and it's been no problem."
Wild West Rustic Furniture employs 11 between sales and building staff, not including the owners, Folda said.