Branching out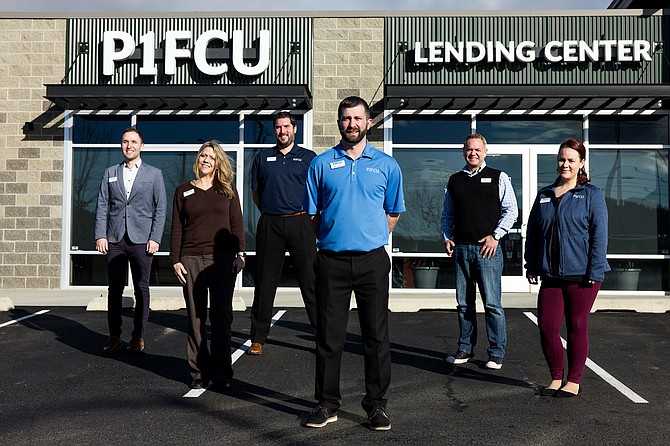 When local professionals are ready to expand their portfolios in North Idaho, P1FCU gives them options, services and support they need to make the most of their endeavors.
"It's been a very good experience," P1FCU commercial lending member Bob Head said in a Feb. 9 phone interview.
"When they moved to Rathdrum and built the new branch, I thought, 'Well great, we're both new,'" said Head, who is a co-owner of the up-and-coming Silverado Apartments in Rathdrum. "They saw the same vision that we saw and they were able to put it together for us with no problem at all."
The member-owned P1FCU (Potlatch No. 1 Financial Credit Union) was first organized by 12 employees of Potlatch Forests Inc. The original organization certificate was issued by the Farm Credit Administration on April 29, 1938. The first organizational meeting was held May 20, 1938, when nine board members were elected after being nominated by the first nominating committee that was appointed by the original incorporators.
P1FCU was formed by people who pooled their assets to provide each other with loans and other financial help. The first transactions were conducted out of the trunk of a car, and funds were kept secure in a cigar box. By the end of the first year of operation, the credit union grew to 353 members.
"They've been around for a long time," Head said. "I think they fired up for logging and mining, but they've branched off into construction and all types of general commercial and different things, and it's worked out great."
The dedication to its members and support for its communities have only grown with P1FCU through the years.
"We're a small and local credit union," business loan officer Nicholas Rosen said. "We care about our community and we're involved heavily in our community. We want to make it the best experience for every member and make something happen for anybody that wants a loan. We're going to try to get it done for them."
P1FCU offers a multitude of personal and business services that includes checking and savings accounts, credit cards, online banking and merchant services, as well as commercial lending at competitive rates and with minimal fees.
"In my portfolio, I have a chiropractor, accountants, businesses that build spec homes," business loan officer Jim Koester said. "We're able to service all types of businesses, which I think is great for our communities and the businesses that are in them."
Koester works one on one with borrowers when underwriting business loans and closely works with P1FCU's Loan Committee, which is populated by North Idaho people.
"They grew up in our area, they live in our area, versus a traditional bank where someone takes your application and someone else in Denver reviews the application," Koester said. "It's local people making the decisions."
Through the pandemic, the credit union thrived in its member-centered commitment. In 2020, P1FCU funded 476 Paycheck Protection Program (PPP) Loans, totaling $25 million. P1FCU is now accepting PPP applications for businesses that need a second loan.
"April 2020 was one of the most stressful months workwise," Koester admitted.
But for all those long days helping members through financial hardships and panic, he said it was "so rewarding to know the efforts were going to help our community, to help our business owners and their employees."
"Everyone who has had a hand in the PPP Loans would probably share all these sentiments," Koester said. "It's a great service we're able to provide and I'm so grateful Congress passed COVID relief laws so the Small Business Administration could offer PPP Loans."
P1FCU is based in Lewiston, but it's been expanding throughout the Inland Northwest. It opened the Rathdrum branch in June 2019 and established branches in Osburn in August 2020, Ponderay in December 2020 and Athol in January 2021 with more on the way in the region's more rural municipalities. It already had branches in Hayden and Post Falls.
"It just shows that we have growth potential," Koester said. "And I've got to say, business owners love it when there's a branch down the road so they can do their deposits and talk to a real human being in person."
Being owned by its members means P1FCU is steered by its members.
"That membership gives you voting rights of the board of directors, so you get a say in who is overlooking the policies, fee structures, loans, which is unprecedented to other banks," Rosen said. "We're a credit union, we're not-for-profit. We don't make a profit so we can offer lower fees, so there's no pressure to sell anything, product wise, which makes our employees happier, because it takes off the pressure of having to meet certain sales quotas."
Koester and Rosen both shared how proud they are to work for P1FCU.
"Every new loan request is a learning opportunity," Koester said. "I learn so much about the businesses in our community. It's one of the things I love about my job; every loan is different, the way they operate. It's fascinating to learn about."
"Our leadership, our executive management, all the way to the frontline employees, everybody loves their job and takes their job seriously," Rosen said. "It's all about the members. That's why I love working here."
Info: www.p1fcu.org